Graham Reid | | 2 min read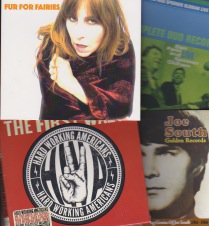 With so many CDs commanding and demanding attention Elsewhere will run this occasional column which scoops up releases by international artists, in much the same way as our SHORT CUTS column picks up New Zealand artists.
Comments will be brief.
Dan Penn and Spooner Oldham: The Complete Duo Recordings CD/DVD (Proper/Southbound): Together or separately, Penn and Oldham (whose albums and songs have appeared at Elsewhere previously, see here and here) wrote some of the most enduring and emotional Southern country-soul classics, most of them interpreted by black artists in the Sixties. In their long catalogue are I'm You Puppet, Sweet Inspiration, Cry Like a Baby, I Met Her in Church, The Dark End of the Street, Do Right Woman Do Right Man . . . And more. This double disc -- a 14 song live recording together from late '98 and a 22 song DVD of a 2006 concert in the 17th century Christopher Wren church in Piccadilly -- is a must for fans who will appreciate the almost conversational intimacy of their songs in these settings. Of course many of the same songs are repeated, but on the DVD they also deliver some equally fine less familiar material from solo albums. (For more on these guys and their history see here.) Peerless songs delivered with ease and engagement.
Joe South: Golden Records (Rare Rockin'/Southbound): Another Southern songwriter with The Gift was Joe South whose hits in the late Sixties/early Seventies included Don't It Make You Wanna Go Home, Walk a Mile in My Shoes, Hush and Lynn Anderson's massive Rose Garden. He was also a jobbing session musician (Dylan's Blonde on Blonde, Simon and Garfunkel) and a producer (Sandy Posey). This collection however -- subtitled The Early Songwriting Genius of Joe South 1961- 1966 collects 32 of his largely overlooked catalogue before the hits came . . . although here is Billy Joe Royal's chart-busting Down in the Boondocks ('65). These are mostly chipper-sounding if somewhat emotionally deeper lyrics delivered by the likes of Ray Stevens, Royal (all of whose songs here were produced by South), half a dozen by South himself and others by his band The Chips. The moving Fell by the Wayside by Pat Powdrill was produced by Jack Nitzsche. Some post-Fifties schmaltzy ballads (the pastiche Golden Records by Judy Thomas) are here but mostly South looked into the emptiness and nails disillusion and heartbreak amidst rare flashes of redemption. Well worth investigating.
Hard Working Americans: The First Waltz CD/DVD (Melvin/Southbound): This rich tapestry of working-class country-influenced rock might just as easily be presented as One We Missed because it came out many months ago but they were hailed at Elsewhere previously, and their topics are timeless (an examination of what it means to be American in the 21st century when you are under the yoke) and HWA is an alt.supergroup of Todd Snider, Jesse Aycock, Neal Casal, Duane Trucks and others (with Rosanne Cash guesting on Come From the Heart). This is country-rock in a time when Midwest farmers are as interconnected as urban people to global issues, and Hendrix's version of The Star Spangled Banner is more relevant than Kate Starr's. Live CD and a fine DVD film of interviews, location shots, rehearsals from around the 2013 shows in Boulder, Colorado. 21st century country-blues rock for the working poor who want to take their flag back from the blind patriotism of the Right.
Fur For Fairies: Fur Fairies (Green Monkey): FFF is Seattle artist Susanne Kelly, wife of musician Jeff Kelly who has appeared at Elsewhere frequently, but her work -- all songs here written and produced by Jeff -- goes to a very dark place and she's got the voice for it: menacing, sensual, low blues, getting under the skin of lyrics which allude to sex, sin and latent violence . . . Comparisons with PJ Harvey, Marianne Faithful, Patti Smith, cabaret-noir and a damaged Victoriana exoticism do not seem amiss, and Jeff provides her with suitably disconcerting musical settings, or some real groove-riding pieces (the seven minutes-plus Toward the Dawn). An impressively left-field debut. Available from Green Monkey here, iTunes and the usual digital outlets.
.
.