Graham Reid | | 1 min read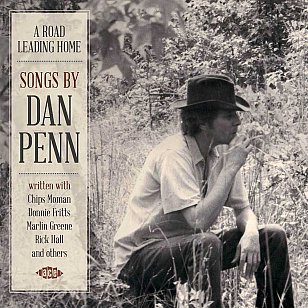 Those drawn to the more senior end of the Americana practioners -- who tend to deal less with death ballads and that ol' time religion which seems weirdly attractive to young secular artists -- found their band in the Hacienda Brothers.
Their self-titled debut of 2005 and What's Wrong With Right the following year brought a mature ease, and both were produced by the great songwriter Dan Penn, some of whose work with Spooner Oldham was gathered on the excellent collection Sweet Inspiration.
This 24 song collection is the sequel to that album picking up solo compositions by Penn, or with other writers such as Chips Moman and Donnie Fritts. Included among the songs is the title track to that second Hacienda Brothers album.
But there is also his classic tale of infidelity Dark End of the Street (written with Moman) in a persuasive version by Roy Hamilton.
Most songs here are not the versions by their most famous interpreters -- many would argue James Carr did the definitive Dark End -- but the songs are so strong that their stories of heartache, cheating and loneliness -- and yes, fidelity and love -- can take any decent treatment. And many here are much more than just decent.
Yes, there is pop included -- Linda Gail Lewis on Break Up the Party from '65, Come On by Tommy Roe from '63 -- but mostly this is soul music with sometimes just a touch of country.
So among the great songs and artists are Once More With Feeling (by Jeanie Fortune), Oh! What a Fool I've Been (The Sweet Inspirations), Far From the Madding Crowd (Drifters), Up Tight Good Man (Laura Lee), So Many Reasons (James and Bobby Purify), the classic Penn-Moman co-write Do Right Woman Do Right Man (Brenda Lee) and more.
Even in such elevated company some artists stand out: Esther Phillips tears up the horn-driven Cheater Man with its food/sex metaphor (another Penn-Moman), the aching Long Ago by Bobby Patterson (produced by Dale Hawkins) and Percy Sledge on Rainbow Road about dreams shattered (and written by Penn and Fritts for Arthur Alexander).
It's quite some collection that also has songs by the great Irma Thomas, Ronnie Milsap and Albert King. And Penn himself on his funky-soul '65 song Is A Blue Bird Blue which was a hit for Conway Twitty.
Many of these songs were recorded at FAME Studio (see here).
A fine collection and to paraphrase Bobby Purify here: you're better to have it and not need it, than to need it and it's gone.
For another fine collection in this series on Ace, see here. You might also like to check out this and this as good starting points for a journey into Southern soul with a country flavour.