Graham Reid | | 2 min read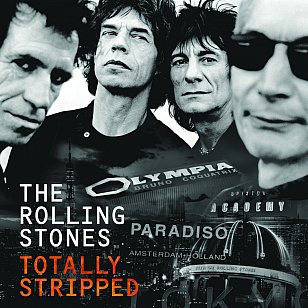 So here's a question Elsewhere asked last year: Whatever happened to the Rolling Stones' bassist Bill Wyman? He appears to have been written out of recent photos of the band in their various reissue projects . . . but let's ask another question.
Why doesn't his replacement Darryl Jones -- who has been an on-stage and in-studio Stone for 21 years -- yes twenty-one years -- not appear as an official Stone?
He's never on album covers or in promotional photos.
Yet when Mick Taylor replaced Brian Jones in '69 he was on covers, when Ronnie Wood replaced Taylor he was on covers straight away . . .
Ronnie became an Instant Stone (although on a salary for a very long time), but loyal bassist Darryl Jones has been there for more than two decades with them -- probably Another Salaried Stone -- and yet even on this collection of live concert tracks from '95 he isn't acknowledged.
And if you were ever going to invite him into being part of the band this issue of previously unreleased material from back then might be the perfect time: this was when Jones joined the band.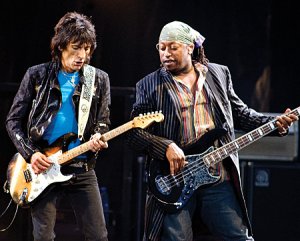 The Stones have been going through their archives for expansive reissues of important albums -- Some Girls, Exile, the live Ya-Yas and so on -- but this collection of songs recorded in smaller venues looks a litle like a stop-gap until the studio album of new material they are apparently working on.
Because the CD picks up many familiar songs (but also Not Fade Away, Dead Flowers, Faraway Eyes and I Go Wild) delivered in their stage language (big chords, short guitar solos which get the crowd baying as Keith steps forward) more interest alights on the 90 minute DVD.
Here we see them as a disciplined and focused band -- with the great keyboard player Chuck Leavell -- capable of working in a small studio yet still managing to get inside old blues (Love in Vain) and stuff from their distant back-catalogue.
"It's like being on some terrible Rolling Stones' game show," laughs Jagger, "where you have to perform ancient songs out of the book without referring back . . . [let's] see if I can do it without looking at the lyric sheet."
And so they work through Spider and the Fly, from 30 years before, as an acoustic blues: "I found it a bit of an effort, it really takes me back to a different period," says Jagger.
But they connect with the alt.country spirit of Wild Horses.
There's nice footage of Keith and Ronnie enjoying a day on the canals of Amsterdam, waving at fans like they were old friends before playing the famous Paradiso. We eavesdrop on rehearsals (although the Stones are never unaware of cameras which have followed them all their lives) and then its footage of the small scale shows at the Paradiso, Olympia in Paris and the Brixton Academy . . . with fans and fellow travelers like Jack Nicholson on hand.
So loyalists get their reward with the film because although there is a plethora of Stones movies out there these days none are like this one.
In a nice touch, the film closes with a lengthy sax solo under the credits by the late Bobby Keys.
Roll on the new album . . . if only to see if Darryl makes it onto the cover.