Graham Reid | | 5 min read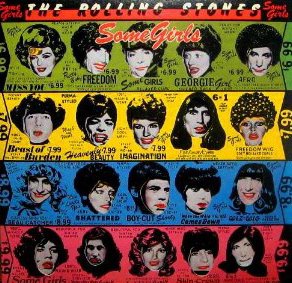 There are a couple of unusual features about the sporadic reissue of the Rolling Stones' back-catalogue. Although all their albums have been sprung on CD a few times in the past, the current phase of expanded reissues seem to follow no chronology but a pattern running on an interesting internal logic.
In recent years there have been the expanded live set Get Yer Yas Yas Out (with DVD) and of course the multiple format Exile on Main Street which came as an expanded CD set and a separate doco film.
And now, skipping chronology -- going straight past Goat's Head Soup, It's Only Rock'n'Roll and Black and Blue -- comes the reissue of Some Girls, not so coincidentally at the same time as an exciting concert film from the same year, 1978.
But -- as with Dylan's memoir Chronicles -- what the Stones organisation (and perhaps Mick Jagger in particular, more of that in a minute) is doing seems to be cherry-picking those crucial moments in their career and holding them up for inspection.
Exile needs no justification but Get Yer Yas Yas and the accompanying film came right before the disaster at Altamont so caught them at a particular peak, and Some Girls was also a zenith for a band which, at the time, was in serious trouble on many fronts.
Some Girls was also their last truly great, consistent album and because their sessions were so urgent and productive, left-over material from the album would appear on subsequent releases.
And, as a friend pointed out, if you look at the set list for that Martin Scorsese doco Shine a Light filmed in New York's Beacon Theatre in 2006, out of their long hit-making career they included four songs from Some Girls in the set.
Some Girls -- sketched out on the run and recorded in Paris -- was very much their New York album, despite it including country (the parody of Far Away Eyes which would doubtless appeal to slightly sneering and sophisticated Big Apple people) and tough-minded punk-influenced songs (Respectable, the New York/New Wave snap of Shattered). It kicked off with the disco tropes of Miss You (held down brilliantly by Bill Wyman's bass and Watts' smart drumming).
The other unusual thing about this reissue programme is how engaged with it Mick Jagger has been. The man who has always denied much interest in the past now seems keen to ensure the Stones' legacy is respected and curated in a way which is deserving.
He appears in contemporary interviews speaking about these long gone days in a tone which is amusing and bemused, sometimes lightly dismissive but always making a quiet claim to the importance of this music.
And if Richards was the one who could claim credit for Exile on Main Street, Jagger was very much the prime-mover behind Some Girls. He had to be.
As Jagger recently told Mojo magazine of his part in the making of the album: "Running the band? It was a role I had for good or bad. Keith was a heroin addict and if you're a heroin addict it's hard to do much more than be a heroin addict and play the guitar -- that's quite an achievement."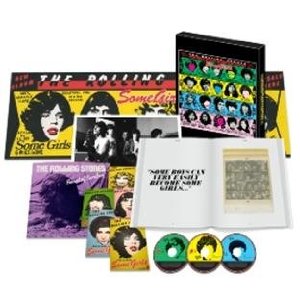 Doubtless this also explains his interest in seeing the album out there in the handsome reissue it has been given (apropos of no particular anniversary, unless you are vinyl-head and read something into it being 33-and-a-third years on).
At the time Richards had been busted in Toronto and there was the very real possibility he could get serious jail time (the charge was possession for supply), and new boy Ronnie Wood had joined the band after guitarist Mick Taylor quit and open audtions were held. (Some of the contenders appeard on Black and Blue, but unlike Wood were not in the cover photo).

While Richards was indisposed and troubled, Jagger -- who had moved to New York -- was haunting the clubs and coming across disco groves at Studio 54 and the American version of punk/New Wave in other places. Richards was also aware of punk, and how could they not be?
By '78 the Stones had been around for 15 years in a business which eats its young. Their former peers were no longer their rock'n'roll running mates: the Beatles had long since broken up, the Who had gone all conceptual and Pete Townshend struggled to identify a path ahead, and most other Sixties acts had dropped out of the race.
The Stones were looking increasingly redundant after the much dismissed Black and Blue (unfairly, it stacks up better than expected in retrospect) and punks were snapping at their heels, many naming them as part of the old farts brigade.
Some Girls was a multi-pronged, desperate reaction to all of this.
It was, as Richards writes in his autobiography Life, an album which had "a following wind from the moment we started rehearsing the in the strangely shaped Pathe Marconi studios in Paris. It was a rejuvenation, surprisingly for such a dark moment when it was possible I might go to jail and the Stones would dissolve. Maybe that was part of it. Let's get it down before it happens".
It was also an album where the core of the Stones -- only the five of them for the most part, horns and such were dubbed later -- just got down to business and Richards says they collaborated on the day for songs ike Before They Make Me Run and Beast of Burden (both semi-autobiographical given their circumstances), the choppy When the Whip Comes own and Lies.
Interestingly Start Me Up -- which appeared later on Tattoo You -- was recorded the same day as Miss You.
Jagger was also playing guitar on the sessions which brought in a more minimal element and allowed Wood and Richards to start working off each other.
So on Some Girls you can hear Jagger take the band for a walk through a New York disco (with some sly and sexual references), and the Stones responding to the challenge of punk in songs which were tough-minded and often menacing. (When the Whip Comes Down is about a New York rent boy). And in Before They Make Me Run is Richards under the weight of the looming court case.
Far Away Eyes is such a broad poke at country music -- the first time I heard it I actually thought it was a parody of the Stones -- that it sounds like the necessary relief in this context.
The album comes in an expansive version with a massive book of photos and essays, a dozen previously unreleased tracks as well as a DVD (the video clips for Respectable, Far Away Eyes and Miss You and live footage edited from that excellent concert in Texas).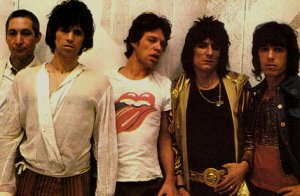 The extra tracks are, unlike the rather lame "bonus" tracks which came with Exile, rough-hewn and rocking: Claudine is a rollicking boogie with Ian Stewart on piano;So Young lets Chuck Leavell get away a honky tonk piano solo between the weaving and stabbing guitars of Wood and Richards; and Do You Think I Really Care is another Jagger-Richards country rocker.
When You're Gone (with Jagger on harmonica) takes them right back to origins and influences (notably Chicago blues and Chess Studio).
It isn't all up rock or downbeat blues: No Spare Parts is country-blues with Wood on pedal steel and Don't Be a Stranger has a lively Caribbean quick step (courtesy of Watts' drumming, Matt Clifford on percussion and Wyman playing marimba). The standout is Richards on a melancholy, acoustic We Had It All as he gets reflective obout those lost relationships -- and perhaps the ones he might have to let go of.
Jagger get his solo spot with a bluesy piano romp Petrol Blues.
Some Girls caught the Stones at a particularly low moment in their troubled history and the fact it was made at all was a victory against the odds.
That it should not only have been so defining an album and a deep dig into their well of resources and survival instinct was almost akin to a miracle.
A dark and sometimes desperate miracle, but a miracle nonetheless.
Now, roll on an expanded reissue of . . . December's Children perhaps?
There is much of the Rolling Stones at Elsewhere -- including film and book reviews, and a Keith Richards interview -- starting here.