Graham Reid | | 3 min read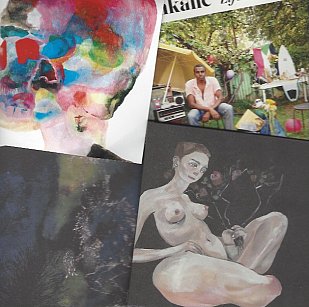 With so many CDs commanding and demanding attention Elsewhere will run this occasional column which scoops up releases by international artists, in much the same way as our SHORT CUTS column picks up New Zealand artists.
Comments will be brief.
Spoon: Hot Thoughts (Matador)
The joke over beers recently was that no matter how many favourable words you spilled over Texan groove-surfing indie-cum-prog rockers Spoon – now up to nine albums and closing in on 25 years in the game – you'd never be able to persuade civilians to take up arms for them. And this often safe, but nonetheless sometimes interesting, album wouldn't be overwhelming evidence in their defence.
Although they've made an embrace of electronic elements the result in places sounds almost retro-baggy, and at time looks even further back to New Wave pop-rock. The best in this album-length 10 tracks come at the end of side one in the more downtempo Pink Up with its almost pastoral feel and the sharp pop of Can I Sit Next to You which opens side two and comes with a synth-string part which has interesting allusions to North African melodies. The early-up WhisperI'lllistentohearit melts together echo-Lennon/Floyd and there's a lot of dream-prog Britishness about this album (as well as the Blur/Oasis elements in Tear It Down). But the obvious single seems to be the American, grit-edged Shotgun. The closer is the deliberately pompous instrumental Us which sounds the ideal scene setter in concert before they take the stage.
So another Spoon album, which shifts their ground, and doubtless we'll be here for number 10.
Shotgun, by Spoon
Bardo Pond: Under the Pines (Fire/Southbound)
Now a dozen albums into a 25 year career, this fuzzed out psychedelic band from Philly have managed to go past Elsewhere until now with these six gristle'n'feedback sonic stretches (the 11 minute Out of Reach) and the dreamy, ennui-filled slightly flattened vocals of Isobel Sollenberger. Guitarist brothers John and Michael Gibbons are the core here and they deliver flamethrower rock muscle or needle sharp barbs as required. This is stoner rock which flirts with free jamming and Blue Cheer distortion (My Eyes Out), Hawkwind's exploratory ethic and hard rock. And the 10 minute Moment to Moment opens with languid steel guitar and a lazy vocal before bringing in floaty flute then getting gently cranked.
Which might be the ideal listening condition, come to think of it.
Under the Pines, by Bardo Pond
Sinkane: Life & Livin' It (City Slang)
As one of the guests at the recent Womad, Sinkane's set was much anticipated given his prior form and the people he pals around with (David Byrne, Damon Albarn, sax legend Charles Lloyd and others in the Atomic Bomb! Band which plays the music of the late William Onyeabor). But his set, enjoyable though it was, came off as little more than a smart and popular amalgam on classic funk, pop-rock, soul and other source material. As does this, his sixth album where he creates smart grooves and leaves good solo space for his excellent band and guests (notably saxophonist and flautist Jaz Walton). So you can hear element of classic Marvin Gaye (the title track), pop with a juju/disco vibe (the memorable Favourite Song which is very MOR), electro-pop soul-reggae (The Way) and elements from funk-meets-Moroder (Telephone).
So while there is nothing here which makes you turn away there's also a sense that – much like his Womad set – this is enjoyable sum of influences, albeit some very diverse ones, pulled into the same orbit.
Favourite Song, by Sinkane
Methyl Ethel: Everything is Forgotten (Dot Dash/Remote Control)
Of last year's debut Oh Inhuman Spectacle by this band from West Australia, Elsewhere said it was, "One of those albums you either immerse yourself in, or it goes right past you and your life is no poorer. We're in the former". Their snappy songs – many with glam and dream pop reference points – were very appealing and this new one extends them further in that direction.
As with Empire of the Sun also out of WA, there's frequently a glitzy dancefloor intent at work, albeit more toned down than the more camp end of EotSun. Mainman Jake Webb also utilises his high and airy voice to fine effect on the acoustic ballad Act of Contrition (which also shows a serious brain at work). Although Webb has a tendency to overplay his hand in repetition of hooks, this comes with smart bass lines, funk-pop, a T.Rex fun factor and mirrorball moods which once again get them over the line.
We're firmly in the former again.
Summer Moon, by Methyl Ethel