Graham Reid | | 3 min read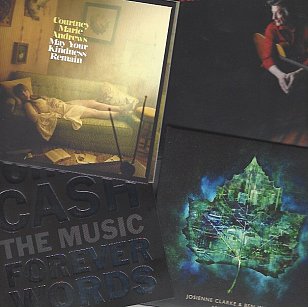 With so many CDs commanding and demanding attention Elsewhere will run this occasional column which scoops up releases by international artists, in much the same way as our SHORT CUTS column picks up New Zealand artists and Yasmin does with EPs.
Comments will be brief.
.
Chris Smither: Call Me Lucky (Signature/Southbound)
This consistent but frequently overlooked Americana songwriter has been around so long that three years ago he released a double disc Still on the Levee which was a 50-year retrospective recorded in New Orleans where he grew up.
This too is double disc – recorded in his spiritual home Austin – and alongside his penetrating and often gritty'n'grim ruminations he recreates Chuck Berry's Maybellene to turn into a much more gloomy road song, takes the blues standard Sittin' On Top of the World into a lonely backporch country reflection and Lennon's psychedelic She Said She Said into a remarkable, folksy reflection on the death of a relationship.
He turns up the rock on the raw Everything on Top, often seems to crafts lyric and melody simultaneously (Down to the Sound which Cohen could have written), goes back to his sometimes broody folk origins (Change Your Mind), delivers country-folk pop (Nobody's Home) and adds another classic to his lengthy repertoire with the thoughtful By the Numbers.
Chris Smither might never be considered in the pantheon alongside Townes Van Zandt, John Prine, Tom Russell and Steve Young among others, but he deserves to be considered in the same company.
By the Numbers, Chris Smither
Courtney Marie Andrews: May Your Kindness Remain (Fat Possum/Mama Bird)
Once a member if the Arizona rock band Jimmy Eat World, this singer-songwriter took solo flight a decade ago and really broke through with her previous album Honest Life where she married country-folk with her soulful yearn. This fine follow-up consolidates her reputation as a powerful singer full of folk-framed world-weariness combined with a touch country setting of electric guitars and Wurlitzer.
This House is a lovely flip on songs like Cottage For Sale with real heart and empathy, the key elements in these songs, whether she is channeling real emotions or putting herself in the place of outsiders and the Mexican migrant on Border. But she can also deliver angry but measured cynicism (I've Hurt Worse).
Perhaps a name new to you but if assured Americana is your thing then this is definitely for you.
Lift the Lonely from My Heart, Courtney Marie Andrews
Josienne Clarke and Ben Walker: Seedlings All (Rough Trade)
When this acclaimed British folk duo's previous album Overnight appeared two years ago we hailed it as a breath of folk which wasn't steeped in the tropes of Americana but included a piece by the Renaissance composer John Dowland.
There is a delicacy and pop melodicism at work on their albums and this opens with the dreamy folk-pop but pragmatic Chicago ("it's not Chicago's fault that no one came to see my show . . .you sing the best you can and then you let it go") based on an actual event. No one turned up at their Chicago show. Believe me, they didn't deserve that.
This is intimate Anglo-folk with piano, upright bass, subtle strings, and even works in a sad Rock-a-Bye Baby into the doubt-filled Maybe I Won't.
Poetic, nuanced, hearts weighed down by self-doubt and love . . . As before, recommended.
Things of No Use, Josienne Clarke and Ben Walker
Various Artists: Johnny Cash; Forever Words, The Music (Sony)
More than a decade after his death in 2003, Johnny Cash's family discovered screeds of his notes, poems and lyrics in various notebooks, some of which have been published as the book Forever Words. This album – produced by his son John Carter Cash and Steve Berkowitz – finds reverent and empathetic artists such as the Jayhawks, Kristofferson and Willie, Alison Krauss, Mellencamp, T-Bone Burnett, Elvis Costello and others rearranging some of these into song settings.
Needless to say some work better than others as lyrics but among the best are Brad Paisley with Gold All Over the Ground, Burnett with the twanging working man's story Jellico Coal Man, somewhat surprisingly Jewel with the delicate Body on Body, the bluegrass religion of He Bore It All by Dailey and Vincent . . .
Costello gets in an earnest, heavily string and horn embellished I'll Still Love You which swamps the sentiment, Robert Glasper and friends bring in beats for Goin' Goin' Gone which will irritate country purists but is very good . . .
Perhaps most interest alights on his daughter Rosanne with the haunting Walking Wounded about the disaffected and disenfranchised Johny wore black for (she and her father did the extraordinary and musically not dissimilar September When It Comes in which he addressed his impending death) and the late Chris Cornell with one of the last things he recorded, the powerful and chillingly prescient You Never Knew My Mind.
The Walking Wounded, Rosanne Cash