Graham Reid | | 1 min read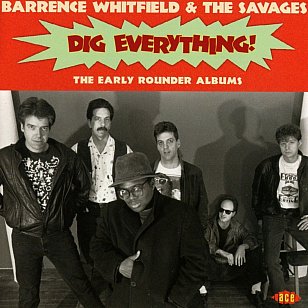 With a name which sounds straight out of the Motown stable in the early Sixties, Florida-born Whitfield (real name Barry, changed to avoid confusion with the Walrus of Love) actually grew up in New Jersey and while studying in Boston put white hot flame to r'n'b rock'n'roll in the Eighties and has barely let up since . . . although there were diversions for album with Americana singer-writer Tom Russell, a man with impeccable taste.
When the Whitfield/Savages 2013 album Dig Thy Savage Soul appeared – their debut for Bloodshot – we likened it to British pub-rockers Dr Feelgood in a collision with Chicago-soaked rock'n'soul and shoved it into our Best of that year list.
This 17 song collection of their original Dig Yourself album ('85) and Call of the Wild EP ('87) on Rounder comes with an even more raw energy and finds its source material in obscure Fifties rock'n'roll sides and Sixties garageband records (which he discovered while working in a record shop).
It's as thrilling as Little Richard's classic work, as hot-wired as stolen Chevy and as shamelessly enjoyable as the song titles: Dog Yourself, Hug Me Squeeze Me, Geronimo's Rock, Stop Twisting My Arm, Madhouse . . .
Oh, and Girl from Outer Space and Don Covay's Rockin' the Mule Back in Kansas.
Around the time these records were released they were playing in the States with the likes of the Del Fuegos, winning fans like UK DJ Andy Kershaw who caught them live on their home turf, toured in Britain to great acclaim and . . .
It's easy to hear why.
They conjure up the undiluted sound of original rock'n'roll and r'n'b with digressions into Cajun rock (Big Mamou given a shout-along treatment) and set land-speed records on material like Breadbox which sounds like fuel-injected Chuck Berry with Little Richard's band, and all of them are on speed.
It was retro then and even more so now . . . but it sweats energy and commitment out of every second of the songs' Ramones-length running times.
Seventeen songs in 50 minutes and a compilation fully deserving of that exclamation mark.