Graham Reid | | 1 min read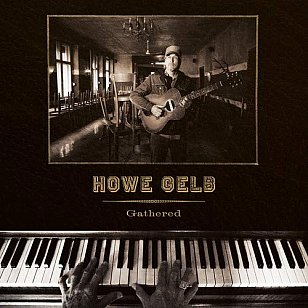 The always interesting and often great Howe Gelb – perhaps most familiar in his Giant Sand iteration – has a voice which gets darker and more melodic with every passing year: dry and careworn like a Dustbowl-raised Leonard Cohen (he here covers and embellishes Len's Thousand Kisses Deep with M Ward, Gelb playing the monochromatic growl over the Spanish setting of acoustic guitars), a musician who plays country, flamenco, rock and . . . more.
He is an elegant mystery in many ways (and a great interview), but while his recent albums Future Standards and Further Standards (with Lonna Kelly) boasted gorgeous melodies they were frequently weighted by dense lyrics.
They were fine albums but more demanding than they could have been.
But this one – despite being recorded in Ireland, Cordoba, France, Amsterdam, Portland and Copenhagen – has a lovely consistency in frequently quiet cabaret songs, notably when 78-year old Danish-French actress Anna Karina comes in to hoarsely speak-sing her way through the duet Not the End of the World with pure Fifties jazz trumpet from Stephanie Belmondo and Howe on electric piano.
Even the drum programmed instrumental Anna has a kind of noir-vibe about it despite it's more thumping presence in this context where Gelb's daughter Talula sings a straight-ahead and delightfully flawed Moon River over her father's piano quartet.
And where one-minute The Open Road instrumental reminds you that his hometown Tucson is in the desertscape and between mountain ranges in Arizona.
Gelb writes wonderfully understated songs (try Flyin' Off the Rails, the lazy Give It Up or Presumptuous with Danish singer Kira Skov) and on these 15 songs provides the link between lost Chet Baker, old Americana (Gathered with Pieta Brown), a rehearsal for a jazz quartet in a club before the audience arrives (My Little World) and early Tom Waits imagery (the solo Steadfast).
Very seductive stuff and a good starting point if you've only ever heard Howe Gelb with Giant Sand.
He's different. In a very good way.