Graham Reid | | 3 min read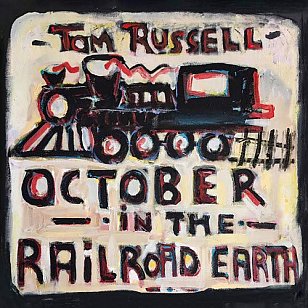 Among the many artists Elsewhere has championed over the decades, often to general indifference or for others to belatedly discover (Nilsson, Joe Ely, Richard Thompson, Badfinger, Pere Ubu and others for example) has been Tom Russell who has been making some of his finest work in the past decade and is well past pensionable age.
At 72, Russell remains one of the greatest storytelling songwriters of our time who bring a novelist-cum-film-maker's eye for narrative and detail in his literate (and sometimes literary) songs which explore – but not exclusively so – Americana life, characters on the margins of society, transience and often the landscape of Mexican America.
As we've probably mentioned previously he has written about boxer Jack Johnson, Edith Piaf quitting smoking by using chocolate cigarettes, separation and divorce, the desertscapes Out There which consume souls, a tracking shot by Orson Welles . . .
He also wrote an elaborate country-rock theatre/opera double album (with samples of Johnny Cash, Walt Whitman) and . . .
Really, truly, one of the great writers.
And we interviewed him years ago.
This October in the Railroad Earth album might not be the best in his extensive catalogue but it is more consistent than that of many of his peers – we'd argue he'd have no peers on a jury – and he still pulls down authentic stories.
So here is a snapshot of a man who works in his own garage, keeps his own books ("weed-cutters and leaf blowers, chainsaw rotors and outboard motors, one-day turnaround, prices are fair . . .") and is getting slowly broken by the 21stcentury economic downturn.
There's also a great story – with accordion – of Isadore Gonzalez from Monterey in Mexico who went to England with Buffalo Bill's wild west show, died in Bristol and lies in an unmarked grave; there's a bleak cowboy song – almost spoken word – entitled Pass Me the Gun, Billy about an ambush of poachers; something about where we might have been when Spade Cooley, Merle Haggard, Wes Studi died . . .
It's the alternate JFK//MLK/RFK/Elvis/Lennon thought . . .
Russell has the ability to pull you into these hard-edged, real stories with his emotional gravitas, economic lyrics and melodies which seem simple but are as resonant as anything by very early Dylan who managed the sleight of hand between poetic distillation and open-ended imagery.
The title-track opener here is a salute to (but not a hagiography of) Jack Kerouac and his world: many songwriters would pay good money just to come up with this one image: "flop-house afternoons of old warped-wood America" . . . and the song is full of such evocative images.
And over pedal steel he drives down into domestic detail (Jack lived with him Mum remember) and asks "what was the thing called fame really worth . . ."
And while Kerouac went on the road – albeit more briefly than many fans might think – Russell has always been a traveler.
So on the terrific T-Bone Steak and Spanish Wine he revisits a roadhouse he used to play in many decades ago where the canyon has now been torn apart by wildfires (climate change never mentioned but . . . ).
The woman owner says, "we now cater to a mostly older retired crowd, the music ain't like what it used to be, when you could tear our hearts out in any song and any key, it's all just background noise to me . . ."
It is an emotionally incisive song/story in its refined imagery and the protagonists' voices all ring true and the moment as lived . . . even if it wasn't. (Although you suspect, given Russell's attachment to various pasts that it is, and he recalls himself as a younger man, a minstrel kid crawling his path across this wild across this honky-tonk land).
But although it may seem steeped in sentiment he spins it in a different direction, as has often been his wont.
He takes you to a roadhouse where you just want to go and hear Russell sing Goodnight Irene and Ain't It Funny How the Time Slips Away . . .
If you aren't in tears by this point in the song . . .
Then I dare you try Red Oak Texas about damaged twin brothers who survived WWII with their souls scoured out and a Robert Graves poem . ..
It's a song about lost lives and an ineffable sadness.
Red Oak, Texas
Again we say: Tom Russell is a rare one and for some odd reason those who would genuflect before Guy Clark, Townes, Kristofferson, Butch Hancock and now Alejandro Escovido (another regular at Elsewhere) many seem to have let this seminal American artist – a painter, a memoirist, a musician and storyteller – slide right on by.
So, oddly enough, this is not among his best albums.
But even in that tier just one down from the top he is never less than compelling, bleakly funny at times and most often drills down deep into America's lost soul(s) and has much to say.
It is Tom Russell again.
And he is always . . .
Highly . . . no, hugely .. recommended