Graham Reid | | 2 min read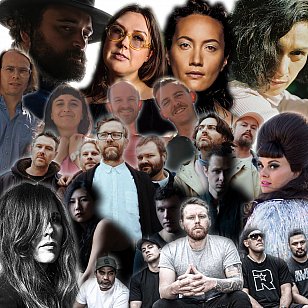 Named after the late Dylan Taite, one of New Zealand's most respected music journalists, the Taite Music Prize recognises outstanding creativity for an entire collection of music contained on one recording.
The award is open to all genres of music and judged on artistic merit regardless of genre, sales, or record label.
Any New Zealand album released during the calendar year of 2020 was eligible for nomination for the Taite Music Prize 2021. The winner receives a newly increased cash prize of $12,500, thanks to Founding Partner Recorded Music NZ and supporting partner NZ Music Commission.
A voting academy of all current members of IMNZ, musicians, and music industry personnel voted to produce the shortlisted finalist albums. An independent panel debates and scrutinises the shortlisted albums to decide the winner. That panel comprises musicians, journalists, and music industry professionals with a wide variety of different professional backgrounds and personal tastes.

The announcement of the winner will happen in Auckland at Auckland's Q Theatre on 20th April 2021.
This year's ten finalists, from a list of nominations submitted by record labels both independent and major from across the country, are as follows (and highlighted albums link to Elsewhere's review):
.
Anna Coddington - Beams (Loop Recordings Aot(ear)oa)
L.A.B - L.A.B IV (Loop Recordings Aot(ear)oa)
Nadia Reid - Out Of My Province (Slow Time Records)
Reb Fountain - Reb Fountain (Flying Nun Records)
Ria Hall - Manawa Wera (Loop Recordings Aot(ear)oa)
Tami Neilson - Chickaboom! (Neilson Records)
The Beths - Jump Rope Gazers (Carpark Records)
The Phoenix Foundation - Friend Ship (The Phoenix Foundation Ltd. / Universal NZ)
Troy Kingi - The Ghost of Freddie Cesar (AAA Records)
Wax Chattels - Clot (Flying Nun Records)

The Auckland Live Best Independent Debut Award celebrates the freshest talent of Aotearoa.
The winner receives a $2000 cash prize plus a performance or technical upskilling opportunity thanks to Auckland Live.
The three albums nominated for the 2021Auckland Live Best Independent Debut Award:

Amamelia - WOW! (Sunreturn)
Dick Move - Chop! (1:12 Records)
Na Noise - Waiting For You (1:12 Records)