Graham Reid | | 3 min read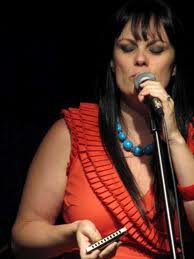 Canada-born Tami Neilson has been a longtime Elsewhere favourite for her unique blend of classic and traditional country with originals which have a contemporary spin. She has won the country album of the year three times (2009, 2010 and 2012, in that between year she picked up best female country artist), impressed audiences on solo tours, when out with Lauren Thompson and Jackie Bristow, and even Emmylou Harris' people when she opened for the country-rock legend last year.
Neilson -- from a musical family so as a kid was in the family band on shows with the likes of Johnny Cash -- doesn't stay still for long either. She is now out with Marlon Williams and Delaney Davidson on a Grand Ole Hayride national tour (dates here).
Given the affection she is held in (at Elsewhere and elsewhere) it was time for Tami to answer the Famous Elsewhere Questionnaire.
The first piece of music which really affected you was . . .
Billy Joel's Still Rock and Roll to Me. My Dad had the single and I claimed ownership of it, took it up to my room, put it on my plastic Fisher Price record player and danced with mad joy while I played it over…and over…and over. I was 3 years old.
Your first (possibly embarrassing) role models in music were . . .
Judy Garland. I was an 11 year old girl with a gay man's musical tastes trapped inside of me. She's still my hero.
Lennon or Jagger, Ramones or Nirvana, Madonna or Gaga, Jacko or Jay-Z?
Lennon and Jacko, but I'd trade in the rest for Dolly Parton, Patsy Cline, Roy Orbison and Johnny Cash, please.
If music was denied you, your other career choice would be . . .
A movie critic…I figure people who watch movies for a living have got it made. All while continuing to be a full-time Mom to my 11 month old son Charlie, who would steal my popcorn.
The three songs (yours, or by others) you would love everyone to hear are . . .
Long Black Veil, The Man That Got Away (Judy's version), Whiskey & Kisses a song I just co-wrote with Delaney Davidson…and your newest song is always your best, isn't it?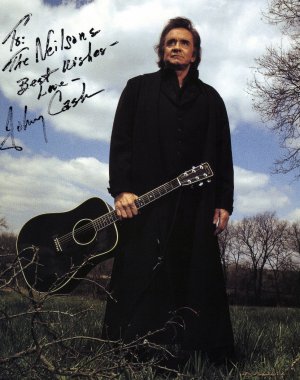 Any interesting, valuable or just plain strange musical memorabilia at home?
An autographed photo of Johnny Cash made out to The Neilsons, my family band back in Canada who opened for him, and a photo of Charlie sleeping, signed To Charlie, Sweet Dreams Always by Emmylou Harris after I supported her at The Vector (still pinching myself daily).
The best book on music or musicians you have read is . . .
My dog-eared, op-shop copy of Loretta Lynn's Coal Miner's Daughter (also signed at a festival we both played in Ontario…yes, I am obviously one of those annoying people who ask for autographs instead of just hanging back and looking cool.)
If you could get on stage with anyone it would be . . . (And you would play?)
Hank Williams Sr on the Grand Ole Opry singing a duet of Lovesick Blues.
The three films you'd insist anybody watch because they might understand you better are . . .
It's a Wonderful Life, Anne of Green Gables, A Star is Born (1954 version)
The last CD or vinyl album you bought was . . . (And your most recent downloads include . . .)
CD; Aaradhna's Treble & Reverb: Vinyl; Delaney Davidson & Marlon Williams' Sad But True, Vol 1: Download: The Olympics' Western Movies.
One song, royalties for life, never have to work again. The song by anyone, yourself included, which wouldn't embarrass you in that case would be . . .
Everytime I sing Patsy Cline's She's Got You by Hank Cochran I wish that I'd written it. So simple, but cuts straight through.
The poster, album cover or piece of art could you live with on your bedroom forever would be . . .
Hatch Show Print letterpress posters. I have three framed throughout our house…it's a bit of an addiction. My dream is to one day be able to afford to have one of my own tour posters made by them. Sigh.
You are allowed just one tattoo, and it is of . . .
I already have just one…does it have to be that one? It's a music note and it's a bit lame.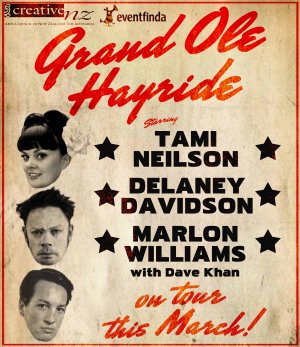 David Bowie sang, "Five years, that's all we've got . . ." You would spend them where, doing . . .?
Spend every minute soaking up my beautiful boy, watching him grow with my gorgeous hubby, travel the world for the first couple years and then alternate between NZ and Canada to be with family, make music and read books.
And finally, in the nature of press conferences in Japan, "Can you tell me please why this is your best album ever?"
We've recorded an album that will be available as a pre-release exclusively on the Grand Ole Hayride tour -- it was recorded in a 24 hour whirlwind trip to Lyttleton, a handful of obscure old covers peppered with some little original gems -- one written on the back of an Air NZ sickbag on the flight down, and a duet finished the morning we recorded it, rough and ready. When you place three individual artists with distinctly different voices and musical flavours into a little pressure cooker on a Southland summer's day, you actually end up with a bit of magic.