Graham Reid | | 3 min read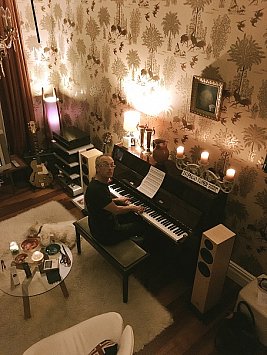 With the release of singer/songwriter and multi-instrumentalist Dominic Blazer's album The Light of Te Atatu last week we offered a potted biography of this well respected Auckland-based musician.
What we didn't note was he was born and raised in Kingston, Jamaica (where his father featured in the James Bond film 'Doctor No'), before moving to the UK and then New Zealand.
He formed his first band Boys Will Be Boys ("all neighbours, make-up and frills") in London in 1981, before he joined North London indie-pop band A Riot of Colour in 1985.
Part of the C86 generation, they released singles on labels Dreamworld (run by The Television Personalities' Dan Treacy) and Everlasting, and have a compilation due out on German label Firestation. Their finest moments including supporting David Thomas (Pere Ubu), the Wedding Present, meeting John Peel and subsequently recording a Peel Session in April 1986, which was broadcast three times.
After he moved to New Zealand he played keys for Greg Fleming and the Trains from 1993 to 2012, and The Chills in 1995/96 (playing their 1996 Big Day Out show), and was Hammond organist/songwriter with Auckland's favourite lounge-revival supremos, The Peter Stuyvesant Hitlist, who released their self-titled album in 1998 on BMG(NZ), and appeared in the films "I'll Make You Happy" and "Jubilee".
From 1998 he was singer/guitarist/songwriter in the sharp powerpop band Smoothy, sharing many stages (often the King's Arms) with members of Auckland's pop royalty, such as Voom, Mary and Shaft, and performing "Ear Honey" on TVNZ with Auckland Girls' Grammar choir.
And shall we mention his in-demand session skills? For: Pash, Dean Savage, Topp Twins, John Rowles, Ray Columbus, Shaft, The Nudie Suits, Phase 5, The Pet Rocks, Polaar, Garageland, Fang, Dimmer, The Brunettes, Jan Hellriegel, Goldenhorse, David Kilgour & The Heavy Eights, and The Clean, not to mention appearing on the Richard Dorfmeister compilation, A Different Drummer Selection, and playing keyboard for cult US musician Rodriguez's 2013 NZ dates. He's been a "key" member of SJD and Don McGlashan's bands, and is currently in Ghost Town alongside the legendary Jed Town (Features, Fetus Productions).
This is a man with considerable prior form as they say, and with an album out – vinyl and download – it is very timely that he answer one of our questionnaires . . .
The first piece of music which really affected you was . . .
"Je t'aime… moi non plus" by Serge Gainsbourg and Jane Birkin. It made a Hammond player of me and I still have our family copy of the single.
Your first (possibly embarrassing) role models in music were . . .
Abba and Alvin Stardust, who was only aping '68 Comeback Special Elvis but I didn't know it then.
Lennon or Jagger, Ramones or Nirvana, Madonna or Gaga, Jacko or Jay-Z?
Jagger, Ramones, Madonna. I've never heard a Jay-Z track so J5 and "Off the Wall" era Jacko.
If music was denied you, your other career choice would be . . .
Restoring motorbikes, cheesemaking or rescuing dogs.
The three songs (yours, or by others) you would love everyone to hear are . . .
today, it's "The Ballad of Lucy Jordan", Nina Simone singing "I Shall be Released" and "Simple Love" from my album.
Any interesting, valuable or just plain strange musical memorabilia at home...
Far too much! How's a small piece of the "Magical Mystery Tour" coach for starters? Jim Webb, Marvin Gaye and Burt Bacharach's autographs. I love my "Haere Mai" 78 on Tanza, too.
The best book on music or musicians you have read is . . .
The 10 Rules of Rock & Roll by Robert Forster. And anything by Greil Marcus.
If you could get on stage with anyone it would be?
My two singing brothers.
The three films you'd insist anybody watch because they might understand you better are . . .
The Go-Between, The Castle, Dr. No. (my Dad's in it.)
The last CD or vinyl album you bought was . . . (And your most recent downloads include...)
I don't download, my CD player is misbehaving, so "Bunny Walters Sings for Lovers and Rockers"
One song, royalties for life, never have to work again. The song by anyone, yourself included, which wouldn't embarrass you in that case would be . . .
As it's for my benefit it should be one of my songs, so "Baby, What Can I Say?" from the album.
The poster, album cover or piece of art could you live with on your bedroom forever would be . . .
The cover of New Order's "Power, Corruption and Lies" ("Roses" by Fantin-Latour).
You are allowed just one tattoo, and it is of . . .
the Jamaican streamer-tail hummingbird.
David Bowie sang, "Five years, that's all we've got . . ." You would spend them where and doing what?
Business as usual, exactly as he did. Making music.
And finally, in the nature of press conferences in Japan, "Can you tell me please why this is your best album ever?"
It's the one I've had the most creative influence over, that most honestly represents the many facets of who I am as a music-loving human. It's where I see myself clearly realised as an artist (flaws and all) and I know that is something many musicians don't ever get near. I am extremely lucky to have reached that point with the help of my many gifted collaborators.