Graham Reid | | 3 min read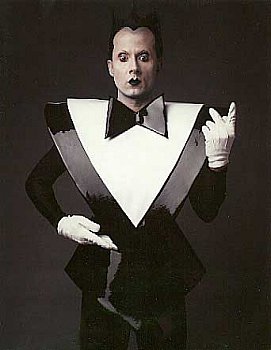 There have been some remarkable voices who have landed in rock culture -- that strange world where people like Tom Waits, Antony Hegarty (of Antony and the Johnsons), Yoko Ono and other people clearly not "rock" end up in the same magazines as Aerosmith, U2 and Lady Gaga.
One of the strangest voices -- and most visually engaging images -- belonged to Klaus Nomi who began his musical career singing opera in a German disco for gay patrons in the Sixties when he was in his 20s then relocated to New York, his natural home in many ways, in 1972.
Nomi was possessed of an exceptional voice (think musical saw), an ear for the camp end of pop (he covered Lou Christie's falsetto hit Lightning Strikes and Lesley Gore's You Don't Own Me), and was a smart scene-maker whose friends included the artists Jean-Michel Basquait and Keith Haring.
He was favoured by David Bowie (who had him as back-up singer in a '79 Saturday Night Live performance). With an eye for distinctive design (the cover of his self-titled debut album of '81, below right, is considered a classic), Nomi had star plastered all over him like pancake makeup.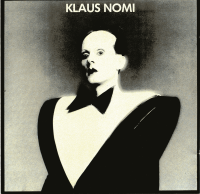 "When I decided to wear make-up, " he said in '79, "it was very difficult because for a male person, wearing make-up is a very strange thing to do in the eyes of the masses.
"Actually, it began when I was a child in Germany. I had a good time going to the opera at night as an extra onstage, and I enjoyed doing make-up there because I could do it without being bothered. I've always felt very much related to the theater and music, yet I never found a way to do operatic material seriously."
He mixed up techno-disco with operatic arias, dance beats and original songs which showcased his drama and melodrama. And presented it all as high art from the street.
He confidently placed a song by Renaissance composer John Dowland in the same context as Doris Troy's Just One Look (the hit for the Hollies) and Falling in Love Again (made famous by Marlene Dietrich).
"I always loved rock n' roll, actually. For me, the biggest name in rock n' roll was when I was 12: Elvis Presley. I bought an EP, King Creole. I hid it in the basement but my mother found it. She went to the record store where I bought it and exchanged it for Maria Callas operatic arias.
"Well, I was very agreeable to that too. So I got into that, but every time I bought a rock n' roll record, at the same time I bought a classical record. That was the point of my confusion because I like each as well as the other. So I was constantly freaking out.
"I saw Maria Callas once, and I always had a vision to met her. In Germany, there is a custom on New Year's Eve. You melt a certain metal over a candlelight, and when it becomes liquid you pour it into cold water. Something very bizarre comes out of it.
"The idea is that you take it and judge for yourself what it could possibly mean to you. This shape looked like two people facing each other, and of course it was Maria and I.
"Well, three months later it was announced that she was to come to the small town where I lived to give a concert. It was perfect - of course I wa there. And of course, I jumped onto the stage and was facing her as close as I thought I would be.
"I caught a glimpse of her eye, and it was like a fire burning in me. I almost fainted. The next day, I went to see a vocal teacher and started to sing professionally, and every time I am succesful in anything, in honor to her I play one of her records."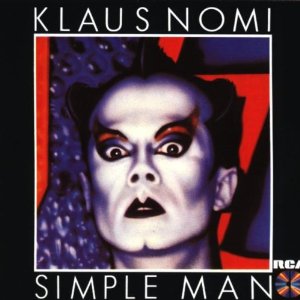 Regrettably he didn't have long -- he died in '93 at age 39 of illnesses related to Aids -- and only released two albums in his lifetime.
The final track on his last album Simple Man album is Dido's death aria from Dido and Aeneas, where he sings "'Remember me, but forget my fate."
Nomi also died before the full impact of MTV which could have made him a massive star -- a year later Malcolm McLaren mixed opera and dance to considerable success with an aria from Madame Butterfly -- because of his very appearance, let alone that remarkable voice.
His amalgam of New Wave kabuki, Bauhaus-style costumes, opera/rock/dance and space-alien persona ensured that he was captured by film makers, notably Andrew Horn whose 2004 The Nomi Song was nominated as best documentary at the Berlin and Chicago film festivals (it won in Berlin) and brought this extraordinary cult figure into the spotlight again.
At the time of his death, Nomi was little known outside of New York's hip circles (although many would recognise that album cover) but fans in subsequent years have included Marc Almond and Morrissey, and even now -- more than David Bowie -- Klaus Nomi really does come off as the man who fell to Earth.
For other articles in the series of strange characters in music, WE NEED TO TALK ABOUT . . . go here.