Graham Reid | | 4 min read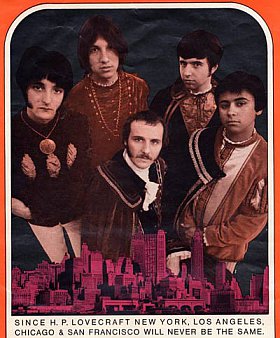 Now, I'm neither ashamed nor proud of this, but some while back – decades ago – I enjoyed perpetrating pranks and hoaxes, especially postal pranks.
Of the latter I would, for example, anonymously send increasingly large blocks of wood to a friend in some far flung place inviting him to join my "Plank of the Month Club".
Or I would send off elaborate A4-sized artwork . . . but each side would also be stamped and have a different address, with the invitation to the recipient to simply repost it and see if it came back, or went elsewhere.
I once did a three sided one with my address included also. Took weeks to turn up again at my place.
I went off the idea when I sent a heavy concrete block to a friend on some remote geological site and he recounted how the postman on a bicycle faithfully pedaled and wheezed up long dirt tracks to deliver my "joke".
But when a student at the teachers' college I perpetrated a hoax by announcing an imminent concert by a band called HP Lovecraft, a name I picked because it was that of the famously macabre author.
I created suitably psychedelic posters (it would have been about '72) and got the gossip going about how extraordinary they were.
Of course on the day many turned up in the college hall to see the mystery band . . . and there was none.
Well, I laughed.
About a year later the joke was on me when I discovered there actually had been a band called HP Lovecraft and they were . . ..
Well, that's why we are here . . . because we need to talk about them.
If any band epitomised the cultural and musical confusion of 1967, the year of their self-titled debut album on Philips, it was this five-piece group on the hippie/Blues Magoos-like cover photo.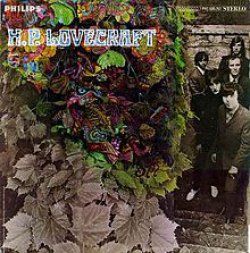 The photo itself is telling, they wear cool Mod suits (some of them in ties), their hair is fashionably longish (but not too long) and the rest of the cover is a swirl of leaves and what looks like psyched-out Marrakech-influenced colours and designs.
The cover, incidentally, was by the late John Cabalka who had gone on to be art director/designer on covers for Deep Purple (Stormbringer), Frank Zappa (Studio Tan), Van Morrison (Wavelength) and Devo (their debut) among others.
But as to HP Lovecraft, they were a band of their era . . . and remained there.
They'd formed in Illinois but inevitably ended up in San Francisco after the album came out, and the various band members came from folk, rock and classical backgrounds. The mainmen were co-founders and singers George Edwards (a multi-instrumentalist) and keyboard and clarinet player Dave Michaels who did some interesting vocal harmony work.
Guitarist Tony Cavallari was also a player of considerable heft and he could lacquer in psychedelic solos which references North African or Indian music. Their bassist Jerry McGeorge had been in Chicago's r'n'b band Shadows of Knight who'd had a big hit with Van Morrison/Them's Gloria.
So out of these diverse backgrounds, abilities and interests came HP Lovecraft's debut album which was, to put it honestly, all over the place.
Although the album includes a number of covers – Dino Valenti's Let's Get Together was on the Jefferson Airplane Takes Off album the previous year, Randy Newman's ballad I've Been Wrong Before, and two Fred Neil compositions, That's The Bag I'm In and Country Boy & Bleeker Street – it's their original material which is of most interest.
The gently orchestrated and understated White Ship – based on a story by author Lovecraft – is a magical and mysterious six and half minutes with eerie bells, weaving guitar lines, great vocals (you'd swear Michaels was channeling Grace Slick), hints of a sitar sound, Middle Eastern clarinet . . .
It's a delightfully dreamy trip with just a whiff of Ravel's Bolero at times.
It wouldn't have sounded out of place on a Jefferson Airplane album (and turns up on a few psychedelic compilations as a lost classic), and Country Boy & Bleeker Street which follows is a more punchy country-rocker with Cavallari peeling off guitar lines which make him the equal of Barry Melton in Country Joe and the Fish.
The album opens in fine fat-free pop-rock mode with Edwards' Wayfaring Stranger ("I'm just a poor wayfaring stranger looking for brighter day") which leads into Let's Get Together (with sprightly piccolo and interesting harmony vocals which put their own stamp on the song).
But because there was a lot of whimsy in the hippie era, their song The Time Machine is a vaudeville thing sung through a megaphone (shades of Winchester Cathedral which had been a hit around the time the band formed) before easing into a trippy breakdown then the trombone and tubas come in and drag us back to the Thirties.
Yowza-yowza.
That's How I Love You Baby (More or Less) is a slippery jazz-pop thing which sounds written for a more hip Four Freshmen.
And the album ends with the vocal-only 28 seconds of Gloria Patria, the religious chant which dates back about 1500 years.
Throughout there's a hippie vibe ("that's the bag I'm in") but it is those interesting vocals and Cavallari's guitar (and Michaels' sometimes eerie organ playing) which are the glue here.
So a stylistic jigsaw puzzle . . . but oddly enough, the pieces did fit together.
Not enough for it to sell however and although the band played on bills with their peers like the Airplane, the Dead, Moby Grape and so on, Edwards quit during the making of the second album (he reverted to the name Ethan Kenning and made a decent career in jingle writing) which was even less successful.
It featured a piece written by the eccentric Ken Nordine -- then Michaels (born David Moike) walked out.
He finished university, graduated with masters degree in piano and these days explores the Great American Songbook.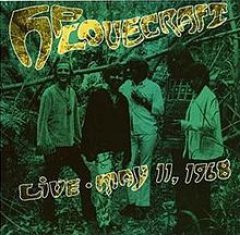 That second album contains the excellent At the Mountains of Madness, and in '91 there was the release of a live album recorded at the Fillmore West in May '68 which features much of the first album (including a seven minute version of The White Ship) and the Mountains/Madness track.
There were other incarnations as Love Craft and Lovecraft but . . .
I have no idea what happened to guitarist Cavallari (who co-wrote White Ship and Mountains/Madness) who was certainly an artist deserving wider recognition.
So HP Lovecraft weren't around for a long time, but certainly longer than they were the day they didn't show up at teachers' college to play.
Bastards!
.
For other articles in the series of strange or different characters in music, WE NEED TO TALK ABOUT . . . go here.