Graham Reid | | 1 min read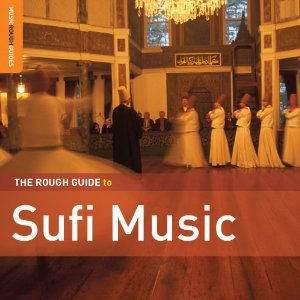 When a musical genre loses its figurehead -- as reggae did with the passing of Bob Marley and Sufi music did with the death of Nusrat Fateh Ali Khan, both of whom had taken their music to a global audience -- it can have two results.
At one level the music's profile can drop for a more general audience (as happened post-Marley), but that it can also allow other artists to come through or smaller, established names to get their due.
This edition of Sufi Music follows the first collection of this Islamic mystic music a decade ago and which of course include Nusrat Fateh Ali Khan, who had died just four years previous.
This collection is in the very reliable hands of Scots-born writer William Dalrymple who has lived in India for two decades and who has been a commentator on Islam as well as having made documentaries on Sufism.
There is a broad sweep here (as before) and those used to the emotional, soaring style of Khan and others may be surprised by the more intimate, meditative sound here of Modou Gaye on the seven minute Sindidi or Cheikh Lo's strong folk-sounding acoustic ballad Zikr. Dalrymple also includes an electro-driven track by London's Transglobal Underground (Ali Mullah featuring Natacha Atlas and the Rajasthan gypsy group Musafir).
So this wide-ranging overview -- from Turkey, Algeria and London to Pakistan, Senegal and beyond -- is an inclusive and diverse selection which comes with useful liner notes. And a bonus disc of the album Sufu Fakirs of Bengal which is equally fascinating (not the least for the instrumentation of flute, clattering percussion and one-stringed ektara).
And often just plain transporting (and sometimes danceable).
Like the sound of this? Then check out this.