Graham Reid | | 1 min read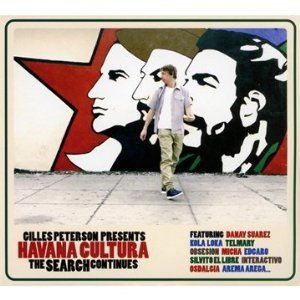 Although UK DJ Peterson has tripped lightly around the globe to unearth lost classics in bargain bins or to work with local musicians, he has developed an abiding love for Cuban musicians and this double disc follows his mostly excellent Havana Cultura collecton (see here) of 2010.
This time out, things were rather more planned in the initial stages. In January 2011 he and Mala (of the dubstep production duo Digital Mystikz) went to Havana and had pianist Roberto Fonesca and his band lay down some basic tracks, then they came back later (with producer/remixer Simbad) and had an open door for guests -- percussion players to singers to rappers -- to come in and add their energy and ideas.
The first disc is Peterson's Havana Cultura Band and guests, and the second is billed as the New Cuban Underground and features everything from breathtaking and claustrophic rap (on Bailalo) to the Creole Choir of Cuba working out with local bands. The Heavyweight Brass Band weigh in with the witty Nueva Orleans.
Some of it sounds utterly mad (the impenetrable psychobabble vocal messing on the percussion-driven No Me Da Mi Gana Americana), other songs are hip-swayingly seductive (Melvis Santi's Tu Momentico, Armena Arega with Ay) and Danay Suarez's Yo Aprendi is like Havana trip-hop.
Djoyvan's Afro Nupa Adandao sounds like it could provide the soundtrack to a smoky night in the jungle around a campfire with lashings of rum and a light show.
And that's only the second disc. The first -- rather more conservative -- opens with the Sexto Sentido choir -- and then turns sharp left into vigorous Cuban jazz or woozy melodies and shifting rhythms.
Peterson has done us and the Cuban musicians a great favour in breaking the cliche of Cuba being full of quaint old cigar-smoking singers and players. Some of these artists should also be commanding equal time on the world stage.
And in other good news, apparently Mala was in another studio weaving his own particular alchemy and the next Havana Cultura release will be his soundclash between Cuba and Jamaica.
Meantime there is plenty of thoroughly enjoyable homework to be done with these two volumes.
Like the sound of this? Then check out this, or this.