Graham Reid | | <1 min read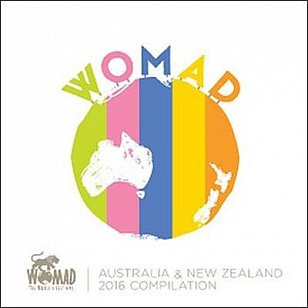 Just a quick heads-up on this 16-track compilation in advance of the Taranaki Womad which opens in a fortnight.
This is one of those pleasurable homework assignments for the car if you are driving there.
It kicks off in fine fashion (wait until you are out of city traffic to push play) with the vibrant and percussive sound of 47Soul from Palestine, Jordan and Syria who deliver an electro-street beat and then things get serious with Spiro from the UK who offer some finely wrought white-line concentration with their blend of folk and minimalism with fiddles, mandolin, accordion and acoustic guitar.
And so it goes: plaintive Spanish gypsy music (singer Diego el Cigala) Colombian harpist Edmar Castaneda, Iranian singer Mahsa Vahdat, the urban funk and blues/New Orleans r'n'b fusion of Hazmat Modine from the US . . .
Also here are a track apiece from John Grant, Calexico, Songhoy Blues, Tulegar, Seun Kuti, St Germaine . . .
It's a scattershot collection but as interesting as the Taranaki Womad will be over the three days.
Enjoy.
Elsewhere has covered a number of these acts recently or in the past: click on the highlighted ones or go here for more.