Graham Reid | | 2 min read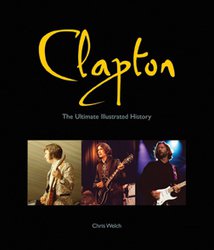 Open this handsome, cleanly presented, large format book at the midpoint of its 256 colourful pages and you learn much about its contents from just two words.
The words are "Blind Faith", the name of the band Eric Clapton formed with drummer Ginger Baker, keyboard player Steve Winwood and bassist/violonist Ric Grech in 1969 and was launched by a debut concert in London's Hyde Park before a crowd of 100,000.
As with Clapton's previous band Cream (Baker and bassist Jack Bruce), Blind Faith was billed as a supergroup and could command that kind of immediate interest.
But Blind Faith formed when Clapton was barely 24, yet the remainder of his career -- the following 40-plus years -- only gets half this book.
That speaks volumes about how volatile and interesting Clapton's first decade as a professional musician was, and how much he has just become part of the furniture in the last three or four.
Before Blind Faith, Clapton had been in the Yardbirds (for one album, then he quit), with John Mayall's Blues Breakers (one album, gone) and Cream (about 18 months, then they imploded). Blind Faith lasted for one album, a brief tour and less than six months before Clapton drifted into playing with Delaney and Bonnie, with John Lennon and Yoko Ono, on George Harrison's All Things Must Pass and finally settling as Derek and the Dominoes for the Layla album and then . . .
Acclaim as "God" when he was in the Yardbirds, through that one classic album with Mayall, two supergroups, his famously tortured love triangle with Harrison's wife Pattie Boyd and the descent into heroin addiction (and shaking it, although adopting booze as the substitute) all came before he turned 30.
Little wonder that Welch's interesting but hardly revelatory biography throws the spotlight on those years but reduces the past few decades to something like a discography -- "He teamed up with B.B. King for Riding with the King and another solo album, Reptile, followed in 2001" -- and even more photos and memorabilia such as posters, ticket stubs and album covers.
Because Clapton's story has been so well covered -- he was in the music press from the Yardbirds onwards and has written his Autobiography, which is quoted from here -- there is little new Welch can bring.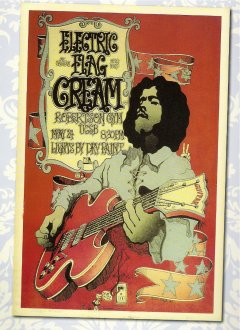 But as one who met Clapton in his first week as writer for Melody Maker in late '64, who casually jammed with the guitarist (on drums, playing Buddy Holly's Well, All Right) at Clapton's home when Blind Faith was first mooted, and interviewed him at the time of the Cream reunion in 2005, Welch can at least bring some personal insight to these pages.
The key is in the book's title.
This is an "illustrated" biography and in that it scores well with 200 photographs of old singles and albums, of the young Clapton from the pages of Melody Maker and elsewhere, of guitar picks and ads for records and concerts, of rare posters (from the dirt cheap to blindingly psychedelic) and through breakout pages on his guitars and "classic albums" (was Money and Cigarettes a "classic", but not Journeyman?), plus numerous intimate or previously unpublished pictures.
In that, this well laid out book sits neatly alongside Clapton's own account of his singular career -- and perhaps rather well on a coffee table where its gold embossed cover invites you to pick it up.
Clapton; The Ultimate Illustrated History is published by Voyageur Press and is available in New Zealand through Bookreps: $$64.95