Graham Reid | | 2 min read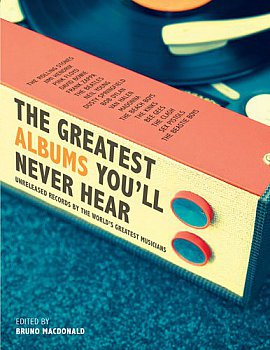 Rock culture is littered with albums which were never released (either at the insistence of the artist or the record company), sidelined in favour of other projects or simply existed in the world of rumour.
There have also been albums released which were not what people initially believed they were: Canadian band Klaatu for example who got a long way when people thought they were the Beatles anonymously reformed.
As Bob Dylan's Bootleg Series has shown, just that one man had albums worth of material in the can which has only in recent decades started to see the light of day. And Ryan Adams just seems to enjoy emptying his vaults sometimes too. His latest self-titled album was recorded after he ditched 16 other songs recorded with Glyn Johns.
This colourfully illustrated 250-page hardback is subtitled "Unreleased Records by the World's Greatest Musicians" and lists among missing albums those by the Rolling Stones, Hendrix, Pink Floyd, Bowie, Dusty Springfield, Neil Young (of course), the Clash, U2 . . .
Moving through the decades from the Sixties we get the background to the artist/album and circumstances, a brief note on "What Happened Next . . ." and an equally short one "Will It Ever Happen?"
And here's the problem.
Much of "Will It Ever Happen?" already has as the internet offers bootlegs, or the artists themselves are revisiting and releasing the albums, or including "lost" tracks on expanded edition CDs and box sets.
The Beach Boys' SMiLE, for example, exists in so many official versions of outtakes and rehearsals these days as to be bewildering. Many of the albums mentioned were never actually completed (Hendrix's Black Gold, Jeff Buckley's My Sweetheart the Drunk) but enough tracks have emerged for us to get the picture.
The Who's Lifehouse is available in a number of versions and revisions.
Most of the Beatles tracks mentioned here have appeared in subsequent years on the Anthology or the BBC sessions, although the whole rooftop album remains a tantalising possibility in the absence of a reissue of the Let It Be film (with a tie-in double disc of sessions perhaps?)
Others like Beck's Song Reader were never recorded and in that instance deliberately only existed in sheet music form (although recently an album appeared of versions by Juanes, Jack White, Norah Jones, Jarvis Cocker and others, including Beck himself).
And given the little we've heard -- or heard of -- from Pink Floyd's Household Objects album loosely slated for the mid Seventies (they used no actual instruments just as the title says) you wouldn't really want it.
Well intentioned but very distracting here are the contemporary inventions of cover art for these "lost" albums. Few leap out and make you think that is exactly what the artist might have chosen.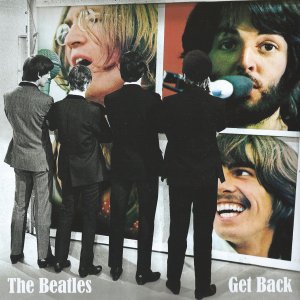 Some aren't bad though, especially when they use period photos (as on the cover for Springsteen's Ties That Bind around The River era) or allude to the artists' intentions at the time, as in this for the Beatles abandoned Get Back.
Still, this is an interesting if hardly essential read and the final pages are devoted to those album "Not Coming Soon" and another on ones you did hear eventually (Big Stars' 3rd/Sister Lovers, Diana Ross' Diana album as produced by Chic, Prince's Black Album, the Gunners' Chinese Democracy and Wilco's Yankee Hotel Foxtrot among them).
The birthday present for your mate who goes to pub quiz music nights. Or for yourself if the margins and arcane aspects of rock culture ring your bell.