Graham Reid | | 6 min read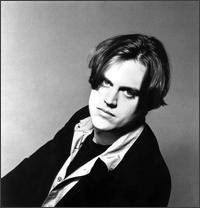 Matthew Sweet comes with a double handicap: the unthreatening "Matthew" and then . . . "Sweet" Hmm, very soft, very sweet.

It isn't a promising start and he made life doubly difficult by calling his last album Girlfriend and putting a lovely furwrapped, teenage Tuesday Weld on the cover.

Wow, Matthew Sweet's Girlfriend ? Would you go into your local store and ask for that?

"Sure, you want the Cowsills' Greatest Hits and the Richard Carpenter solo album too?"

Needless to say, he's nothing like any first impressions the names might suggest.

He's a rangy guitarist and penetrating lyricist who writes great songs which catch a little of the post-Byrds/R.E.M. shimmer (Your Sweet Voice on Girlfriend) or serrating Neil Young grit (Ugly Truth Rock on his new album, Altered Beast).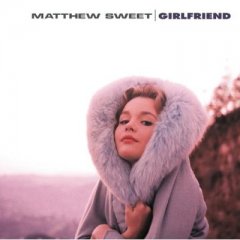 He can float and sting … and between the Essential Elsewhere album Girlfriend ("one of the finest albums of '92 and easily one of the greatest pop songs of recent years in I've Been Waiting," insisted Lynden Barber in the Sydney Morning Herald) and Altered Beast ("a tougher but even more dazzling exercise in pop-rock perfection," says Billboard) he slipped out a promo-only, mostly acoustic and live album called Goodfriend.
It includes faithful and extraordinary versions of Young's Cortez the Killer and Lennon's Isolation.
Any way you cut it, Sweet is a major contender. And it isn't just the critics who think so. Ask yourself, would Robert Quine (ex-Voidoid and Lou Reed's bands), Television's Richard Lloyd, Big Star drummer Jody Stephens, Lloyd Cole and ex-Attraction Pete Thomas line up to play with Sweet if he was just a pretty face?

So where does this R.E.M. offsider, onetime Golden Palomino and big cult thing come from?

Lincoln, Nebraska, actually . . . but then Athens, Georgia and New York.

As a teenager, he says, he got into British bands such as Generation X, the Buzzcocks and XTC. By inclination he preferred the more melodic people like Nick Lowe and Elvis Costello, "then I went on this American rock kick and got into Television and Richard Hell and the Voidoids -- ironically, some of the people I've ended up working with. Then it was into the dB's, early R.E.M. and Big Star."

After high school he moved to Athens, Georgia, largely prompted by meeting R.E.M. on their way through Nebraska way before they had any major-label records out.

That friendship established, he began a correspondence with Mitch Easter (Let's Active), who had produced R.E.M.'s indie releases.

"I wrote to him many times and he said Athens was a good place to go, so I went -- for lack of any other ideas."

He stayed for two years, made a record with Buzz of Delight (which also included R.E.M. Michael Stipe's sister Lynda) and cut demos which he passed around. One fell into the hands of someone at Columbia who immediately signed him to a development deal.

"They gave me money to quit school, an eight-track recorder and a contract with a clause which said they'd make an album. That was uncertain – but it was a great deal anyway, so I moved to New York in mid-'85 and have been there since up until very recently."

He did make an album, Inside, which he says "is very poppy; I was very young on it," but it provided a wealth of experience. In the manner of many records of the period, it was recorded with a variety of producers (latter-day R.E.M. producer Scott Litt among them) and had members of the avant-rock Golden Palominos playing on some tracks.

The album didn't sell especially well (although it was reissued after the cult success of Girlfriend) and when his contact within the company moved over to A&M, Sweet went with him. In '89 he released Earth for them, co-produced with Fred Maher and David Allen (latterly a Cure producer).
"It was a more mysterious album than Inside but didn't do much saleswise, either. It was closer to Girlfriend than Inside. It's the missing link in the Sweet story.

"I actually recorded Girlfriend for A&M but my guy resigned and said, because they were going through a whole lot of internal changes, that I should be free to find someone else to release it. It was my third album, so we spent months trying to sell it and finally got a deal with Zoo, who had already passed on it."

The story goes that the president of Zoo heard Girlfriend being played in his A&R chief's office one day and -- in spite of the fact that his company had already rejected the album -- insisted Sweet be signed immediately.

"It was just a big surprise to us that it came out at all, and it was already a year old when it did."

And for those who got past the Sweet name and Weld cover, there were treasures aplenty, from the acerbic Beatlesque Divine Intervention ("I cannot understand my God . . .") through the sad ballad You Don't Love Me ("what a beautiful moment, the truth comes out at last") to the acoustic closer, Nothing Lasts.

It was at times the sound of a man opening his heart and veins to memorable melodies.

"People thought it was exactly autobiographical, but it wasn't," he laughs.

"I'd always written depressing break-up songs or dumb, happy songs, and the title suggested to people it was all true. Originally it was going to be called Nothing Lasts, but we really wanted to use that Tuesday Weld photo. So when her management agreed but asked if she would have a problem with the album title, I changed it.

"They thought it might be some comment on her -- which it wasn't. I'd liked the photo because it was this really young person who thought they knew everything and was extremely cocky. I hadn't actually seen any of her movies . . . but she was in that Michael Douglas movie Falling Down recently. And she looks really terrible now."
The new album, Altered Beast, pushes the extremes of Girlfriend's emotional range even further -- "not so much me-and-you but more you-and-yourself" -- in the hands of an unlikely producer, Richard Dashut, known for his work on Fleetwood Mac's Rumours and Tusk.

It was that latter work which drew Sweet to him: "It's an amazing record, really heartfelt and quite Beatlesque in its dry quality. I thought I'd like to try something different but also make something different from the Mac albums. I wanted a really fast, trashy record and he was into that because he's only ever done these long, studied records."

With its pop sensibilities, scouring guitars and sometimes country-rock attitude, Altered Beast puts Sweet once again into the lineage that runs from Big Star (he is an admitted early fan), Jules Shear (ex-Jules and the Polar Bears) -- "funny you should mention him; he's a friend and we co-wrote when I first went to New York") – and R.E.M.

It's good company and with the single Ugly Truth taking off in the States, it looks like Sweet has found his audience at last. He's been out opening for the Indigo Girls -- where he met violinist Scarlett Rivera, who plays on that promo-only Goodfriend -- and recently headlined an 80,000 festival in Chicago.

Hardly a household name yet, but a sweet thing once tasted, much sought after. One of the best of that current American crop which includes Mark Eitzel of American Music Club, Paul Westerberg and Jules Shear.

"Writing for me is actually the easy part; it's trying to have success and deal with all the real world things that is the hard bit."