Graham Reid | | 5 min read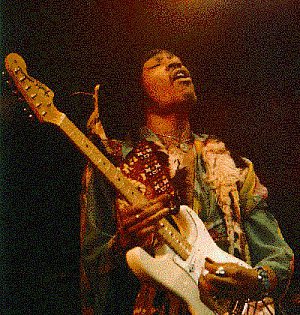 From the moment Jimi Hendrix arrived in London in the early hours of September 24 1966 to his death in the same city just a few days short of four years later, he seemed to be constantly moving, playing and recording.
He played his first jam in London the night he arrived, and a fortnight later -- after jamming with the Brian Auger Trinity, the VIPs at the famous Scotch of St James and Cream -- the Jimi Hendrix Experience had been formed. They played in France and Germany a few days later and within two months he had been interviewed, had supported John Mayall's Bluesbreakers and borrowed $50 from his old band leader Little Richard, recorded Hey Joe . . .
From then on there seemed no let up.
Within weeks of the Experience's first UK tour -- 30 dates in as many days, mostly playing two sets a night -- the band didn't get much chance to celebrate the release of their debut album Are You Experienced because they were back in Europe (France, Germany, Sweden, Denmark, Finland, then back to Sweden and Germany).
It was a remarkably grueling schedule but Hendrix seems to have undertaken most of it in good humour, and managed to find time to jam, do interviews and get into the studio.
All this explains why there are so many posthumous Jimi Hendrix albums.
As Elsewhere has previously noted, there was a time you felt it was "another week another Jimi album", then over time as the pace slowed a little it became "another month another Hendrix album".
Latterly however, with the family back in control of the estate, there has been a fine and considered reissue programme of his studio albums and the live Band of Gypsys, as well as the reconstructed "final" album First Rays of the New Rising Sun. More recently there has been the Valleys of Neptune and South Saturn Delta albums.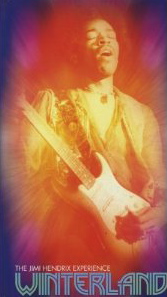 Now it seems it might be "another year another Jimi box set".
This time a year ago there was the superb West Coast Seattle Boy which delivered rare pre-fame tracks . . . and now comes the four CD longbox Jimi Hendrix Experience: Winterland.
The title distinguishes it from the Live at Winterland double album -- produced by the controversial Alan Douglas and Chip Branton -- which was originally issued in '87, and later remastered for CD.
This expanded set has material drawn from his three night stand (two shows a night) at the Winterland in San Francisco in October 1968, some of which also turned up on the Jimi Hendrix Concerts album and the for-fans-only bootlegs Star Spangled Blues and The Winterland Days.
The difference with this edition is not just "never mind the width" but "feel the quality".
Engineered and mixed by Hendrix's longtime engineer Eddie Kramer (who did all Hendrix's albums and a number of the most creditable posthumous ones), this just feels and sounds exciting.
And sometimes intimate.
By the time Hendrix and the Experience arrived at Winterland, they had reached a pivotal point in their short career. Behind them were the hit singles Hey Joe and Purple Haze, two albums (Are You Experienced? and Axis: Bold As Love) and they had already recorded the expansive Electric Ladyland double which would come out the following week.
As a performing outfit they were road-hardened after two years of touring and at the top of their game, although bassist Noel Redding told the audience on their final night, "This is our second year and we're still standing. I don't know how".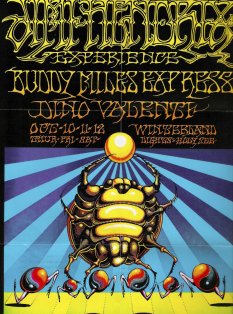 Although the set list rotated 18 different songs -- still playing crowd-pleasers such as Hey Joe, Purple Haze, Fire, Red House, Dylan's Like a Rolling Stone, Wild Thing and Foxey Lady -- Hendrix was also including his searing version of Star Spangled Banner, a year before it became that iconic moment at Woodstock. (Here however in one version it sounds more playful as he tosses in quotes from the theme to the popular television western series Bonanza.)
So the first three discs here cover all those bases -- the songs different every night however as they stretched and pulled at them -- and the fourth disc includes an almost eight minute muscular workout on Voodoo Child (Slight Return), a song that would appear on Electric Ladyland.
Although plagued by amp problems, Hendrix is in a good mood although before introducing their version of Cream's Sunshine of Your Love he feels obliged to say wearily, "Right now we're gonna do a song by some real groovy cats, it's too bad they are breaking up, it's one of the heaviest groups in the world . . . it's not sayin' we can play the thing better than them, it's just sayin' we dig the cats and dig this song and we'd like to do it our own way, which will be an instrumental jam".
And that is what it is, a dirty and blues-infected riff on the song which, a third the way through its seven minutes, becomes gritty and gloom-laden chords over a choppy rhythm which Hendrix also lays down.
It sounds like there are three guitarists up there and after it stumbles to an end Hendrix says "Ah yeah . . . anyway" . . . and then introduces the next piece with "we're going to attempt this, it's called Getting My Heart Back Together Again, or either I See My Train Coming . . . or anything like that, anything you want to call it right now, it's nothin' but a jam again".
It is his great blues-based Hear My Train A Comin'.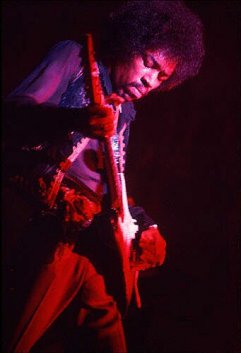 On the final disc he digs into the blues again ("we'd like to go way back in time, way back to about the 17th century") for his contemporary blues classic Red House which becomes a spacious, 15 minute roam through its numerous possibilities and drifts off into barely-there around the 10 minute mark before rebuilding.
The atmosphere of jamming for friends, pulling familiar songs sideways into improvised feedback and sky-scaling notes, exploring new sounds and losing himself in the music until he can do so no longer is what makes this set so exciting. He has guests (among them Jack Casady from Jefferson Airplane on bass for Killing Floor).
That there are four versions of Purple Haze and three of Hey Joe, Foxey Lady and Red House is immaterial. Each treatment is teased out or reconstructed. Out of a maelstrom of noise on the fourth disc they pull out an exceptionally dense, seven minutes-plus version of Are You Experienced?, the piece they opened with on the first night, which cascades into a piercing and crying solo.
They also play Spanish Castle Magic (on the the third disc) which was one of the few Axis songs they ever performed outside the studio.
At the end of the final disc is a 20 minute backstage interview at a Boston show a month later when he has asked who he has influenced (he is typically modest and evades any claims for himself) and says he couldn't imagine himself having a career in a shiny mohair suit (playing in backing bands) and isn't trying to copy those who influenced him (like Johnny Guitar Watson etc).
He says he just wants to make "honest music" and that these are "my notes". He says he wants his music to be respected.
Certainly this is a lot of Jimi Hendrix and perhaps not for the casual listener.
But it is also yet more evidence that there was no one like him before or since, and that even on the same night on the same raw material he could also be unlike himself.
There is much more in Jimi Hendrix at Elsewhere, including rare tracks, starting here.
The four CD with booklet set Jimi Hendrix Experience: Winterland is available from JB Hi Fi here. Post free within New Zealand.