Graham Reid | | 15 min read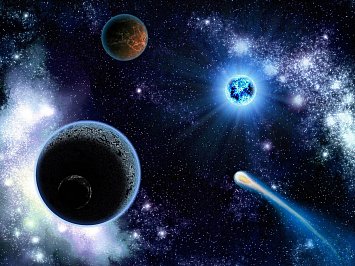 Warning!!!!! This was big stuff, songs went for 15 - 20 minutes, there were double albums and triple albums, records had linked narratives so you have to listen to the whole thing . . .
Whew!
So not pop then, huh?
ORIGINS OF PROGRESSIVE ROCK
The Beatles extending the contract of pop into Yesterday and Eleanor Rigby (both with strings) and the St Peppers album as a loose/incomplete "concept album" (the Beatles were now Sgt Pepper's Lonely Hearts Club Band?) . . .
And there was a whole new generation of musicians coming into popular music because it was a viable career. Many of these musicians were educated, classically trained, had read "important" books etc.
They were different from the working class/art school crowd which came along in the wake of the Beatles (Who, Animals, Small Faces, Kinks, Troggs, Dave Clark Five etc etc)
Procol Harum: A Whiter Shade of Pale (May 1967)
A Whiter Shade of Pale
and this is a piece by Bach from almost 250 years earlier: Ich steh mit einem Fuß im Grabe (I am standing with one foot in the grave) aka Cantata No 156
Cantata No 156 by Johann Sebastian Bach
Moody Blues: Nights in White Satin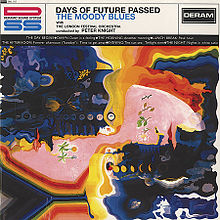 and in December 67 with the London Festival Orchestra.
The album Days of Future Passed was the first concept album in rock in that it was an orchestrated song cycle about the passage of a day.
(There had been many other themed albums like Frank Sinatra's In the Wee Small Hours, 1955, or Johnny Cash's Ride This Train, 1960, which was railroad songs but a concept album has the songs integrated into a whole. You might check out Lee Hazlewood's Trouble is a Lonesome Town from '63 also, which could be argued as the first concept album. But it was more country than rock.)
Days of Future Past is widely considered to be the first "progressive rock" album in that it was ambitious beyond the bounds of pop music, and it was coherently conceptual. (cf the Beatles' Sgt Peppers of June that year).
In September 1967 they'd been invited to record an adaptation of Antonín Dvořák's Symphony No. 9 as a stereo demonstration record. Instead, the band chose to record an orchestral song cycle about a typical working day.
Recording sessions at Decca Studios in West Hampstead, London during May 9 to November 26, 1967.
You can listen to/watch the full album here.
The Nice (1967-70)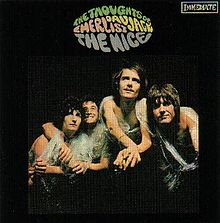 Classically trained keyboardist Keith Emerson (who also studied jazz and was the pre-eminent organ player in rock), bassist/vocalist Lee Jackson, guitarist Davy O'List and drummer Brian Davison.
Debut album The Thoughts of Emerlist Davjack considered to be a formative (if not the first) progressive rock album for its blending of classical influences and musical quotes into the rock context.
This was the path they would continue to pursue, incorporating passages from Bach, Leonard Bernstein's music from the stage musical West Side Story etc into sometimes loosely conceptual albums. Their follow-up to Emerlist Davjack was Ars Longa Vita Brevis (Latin: art is long, life is short) and is in "movements".
From Emerlist Davjack here's America (but first this, "I like to be in America" from West Side Story)
America by the Nice, 1967
For their piece Rondo they drew on JS Bach but also this jazz piece Blue Rondo a la Turk by the Dave Brubeck Quartet from '59.
Here's the Brubeck
Blue Rondo a la Turk, the Dave Brubeck Quartet from the album Take Five
Here's the Nice's Rondo
Rondo by the Nice, 1967 (extract only)
Emerson Lake and Palmer (aka ELP)
Emerson quits the Nice and forms Emerson Lake and Palmer with bassist/singer Greg Lake (from King Crimson) and drummer Carl Palmer (from Arthur Brown's band and Atomic Rooster).
A prog-rock supergroup with massive pretension!
Pretentious: attempting to impress by affecting greater importance or merit than is actually possessed!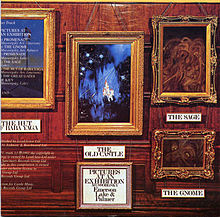 Right from the start they seemed individuals who sometimes played together, they would take lengthy showcasing solo passages on record and in concert (20 minutes in a show while the others had a martini at the side of the stage) and Emerson drew heavily on classical music and popular songs (Bartok, Aaron Copland's Fanfare for the Common Man, Henry Mancini's theme to Peter Gunn, William Blake's Jerusalem).
Their third album was their live interpretation of Mussorgsky's Pictures at an Exhibition.
Their self-titled debut album from '70 however sprung this original hit. It is very long and dull (radio played it though) then suddenly something happens a fair way in, the bit everyone remembers.
Lucky Man, ELP. 1970
From Pictures at an Exhibition
First here's New Zealand expat pianist Henry Wong Doe playing a piece Baba Yaga from Pictures at An Exhibition to let you hear what it sounds like in a classical style
The Hut on Hen's Legs (Baba Yaga)
and here is Emerson Lake and Palmer on the same piece
The Hut of Baba Yaga, live 1971
Here is ELP again from Pictures at An Exhibition
Promenade by ELP (introduction, extract only)
and a bit later
Promenade (extract only) by ELP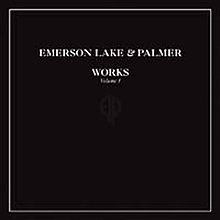 In '77 they released a double album Works Vol 1 (each player dominating a side apiece and all together on the fourth) and a single album Works Vol II.
These were replete with classical references (and "covers").
On the first one Emerson writes his concerto for piano and orchestra, Lake sings mostly ballads (co-written with Pete Sinfield who had written for King Crimson) and Palmer revisits some ELP material, Bach and Prokofiev.
The final side is them with the Orchestra de l'Opera de Paris, it opens with Copland's Fanfare for the Common Man.
Piano Concerto No 1 (extract) Emerson w London Philh Orch
Lend Your Love to Me Tonight by Greg Lake (w Pete Sinfield)
New Orleans by Carl Palmer
Emerson Lake and Palmer broke up in 1979, after the album Love Beach.
"With Works," said Lake later, "the public had begun to notice there was too much self-indulgence which was not why they'd made us famous. They made us famous because they liked the group. That got forgotten, and the public were quick to remind us. We crashed from three and a half million albums to 125,000 for Love Beach."
The never-ending story of King Crimson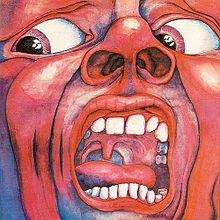 The band grew out of the group of Michael and Peter Giles with guitarist Robert Fripp (who has remained the sole constant in a bewlidering number of line-up changes and side projects ever since).
Key early album however is the King Crimson debut of October '69 -- In the Court of the Crimson King -- which had Greg Lake (later of ELP) on vocals and with lyrics by Pete Sinfield which evoked mythology, Anglofolk and psychological disturbances in different songs.
An unusual album in that it managed to bring together all that lyrical content with crunching guitar and rhythmic passages not far from heavy rock, some pastoral songs with flute and striking sound dynamics.
Much maligned, much admired, and either a masterpiece or something of a misfit depending on how you hear it.
By the second album King Crimson was the sole preserve of Fripp (who would subsequently work with Brian Eno, David Bowie, his own League of Crafty Guitarists etc etc)
21st Century Schizoid Man (incl Mirrors) by King Crimson, 1969
I Talk to the Wind, King Crimson 1969
The Court of the Crimson King/Return of the Fire Witch/Dance of the Puppets, King Crimson. 1969
Deep Purple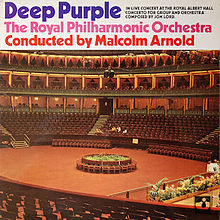 Deep Purple: Concerto for Group and Orchestra
Composed by keyboard player Jon Lord who had studied classical piano, lyrics by singer Ian Gillan, first performed in London on September 24, 1969.
In the liner notes to the album Lord writes this about the first movement.
"Here I have tried to present the orchestra and group as you would expect to hear them, as antagonists.
"The movement starts with a lengthy orchestral introduction built around the opening clarinet tune and the following five note semiquaver figure. This merges into a slightly grotesque little tune which starts to get hold of the orchestra until violently thrown aside by the group who then settle down to their own interpretation of the clarinet tune.
"The orchestra interrupts, regains control and celebrates the conquest with a hearty tune on the French horns, taken up in turn by various others instruments before being blown up one more by the group . . ."
Concerto for Group and Orchestra, first movement. (extract)
Soft Machine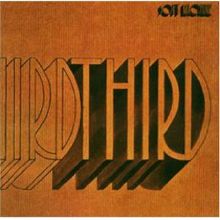 Out of Cambridge, Soft Machine: Where rock meets jazz, part of the London Underground (notably at the UFO Club where Pink Floyd and the Incredible String Band also played), supported Jimi Hendrix in the US in '68, changing line-up but included at various times influential (or subsequently influential) players like Kevin Ayers (guitar), drummer/singer Robert Wyatt, saxophonist Elton Dean and various jazz players . . . .
Most significant album is Third (June 1970), a double album with each side taken up by one piece (ie. each about 18 minutes long) which is very much in the manner of jazz-rock/fusion. In fact might be hard to make a case -- as with many latter-day prog albums -- that it owed much to rock at all.
Slightly All the Time (extract only), Soft machine from Third
The Incredible String Band
Originally a folk trio from Scotland, they gelled around Mike Heron and Robin Williamson, both multi-multi-multi-instrumentalists and their lyrics drew on ancient British folk imagery, the Bible, Indian and Buddhist philosphy and scriptural texts, old ballads, Nature, poetry . . .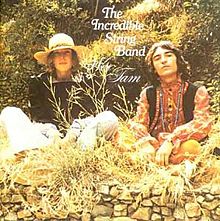 Their music sometimes touched on blues (early on) but mostly was exotic folk with Indian and African instruments alongside guitars, kazoo, violin, Irish harp, harpsichord . . .
Never a big seller but very influential (Robert Plant a major fan who incorporated some of their mystical and mythical style into his folk lyrics for Led Zeppelin).
Utterly inexplicable for most listeners because of the diversity of their ideas (always very gentle however) but they certainly expanded the parameters of the possible in popular music. Produced by Joe Boyd.
If they weren't "rock" their appeal was to folk and folk-rock listeners, the latter audience growing considerably at the time of the late Sixties/early Seventies with the popular and critical success of groups like Lindisfarne, Fairport Convention etc.
The Hedgehog's Song, the Incredible String Band. 1967
The Half Remarkable Question, ISB, 1968
Air, ISB, 1968
The Greatest Friend, ISB, 1968
The Iron Stone, ISB, 1968
THE ROAD TO CONCEPT ALBUMS
Themed albums not uncommon (Frank Sinatra etc)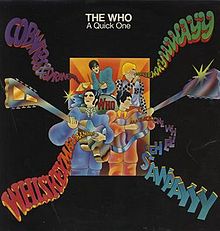 The Who: A Quick One While He's Away (Dec 1966)
A series of thematically linked songs about infidelity and forgiveness. It appeared on their album A Quick One.
In his autobiography Who I Am (2012), songwriter Pete Townshend writes about it as a coded account from his subconscious mind about being abandoned by his parents and the childhood sexual abuse he suffered.
A series of songs which opened up the possibility of something larger which would come with Tommy, released in May '69.
A Quick One While He's Away (recorded Sept-Nov 66)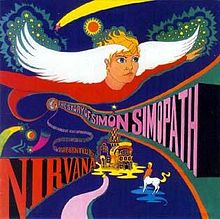 .
Nirvana: The Story of Simon Simopath (released 1967, a month before Days of Future Passed).
"The first truly realised narrative concept album . . . was broadly representative of the story-telling approach taken by most psychedelic artists -- its plot started in realistic mode but soon began to introduce fantastical imagery and out-of-the-blue plot twists" -- Gareth Shute in Concept Albums (independently published 2013)
By songwriters Patrick Campbell-Lyons and Greek composer Alex Spyropoulos (who sang on the albums, other musicians were session players).
Young Simon dreams of being able to fly, as an adult has a breakdown and is hospitalised but escapes on a spaceship where he meets a tiny goddess and a centaur . . .
Widely disparaged in retrospect and little heard at the time (see here)
Here are the opening three songs
Wings of Love
Lonely Boy
We Can Help You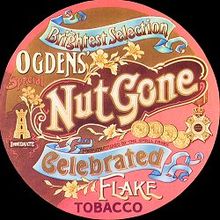 The Small Faces
Ogdens' Nut Gone Flake (May '68)
At Olympic Studios, the Small Faces were working on Ogden's Nut Gone Flake at the same time as the Pretty Things (see below) were writing and recording SF Sorrow in Abbey Road which was a full album with a narrative.
Ogdens' however had one side of which was a series of songs (about a boy looking for the other half of the moon) with the linking narration by Stanley Unwin.
As with the Who's A Quick One While He's Away, not a full blown concept album in the manner of the Moody Blues' Days of Future Passed released six months previous or the Pretty Things' SF Sorrow, but rather a song cycle.
Here are the first 10 minutes
Rollin' Over
The Hungry Intruder
The Journey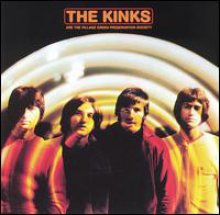 .
The Kinks
The Kinks Are The Village Green Preservation Society (November 1968)
Not so much a concept album either but rather a series of songs in celebration or commemoration of Englishness as songwriter Ray Davies mentions, for example, the corner shop and suggests that such things are passing.
The England he knew as a child is going . . . Interestingly his 2008 album was Working Man's Cafe and included a lament to the passing of that very British institution, the cafe on the corner where working men would stop in for a mug of tea and sandwich.
And the final song here from this brief selection off the album was a single which only appeared on early (non-UK and US) versions of the album.
It has Davies' sense of wistfulness as a farewell to someone now passed on, although he would later say he was also thanking the band because by this time they were in disarray and bassist Pete Quaife would quit shortly after.
The Village Green Preservation Society
Do You Remember Walter?
Village Green
Days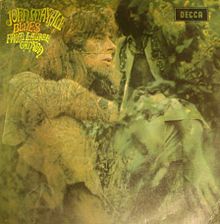 .
John Mayall
Blues from Laurel Canyon (November '68)
Bluesman Mayall recounts his journey to LA (specifically Laurel Canyon, the hangout of the blues band Canned Heat, numerous singer-songwriters, various Byrds etc) and constructs the narrative starting with Vacation, being on Sunset Strip (Walking on Sunset), hanging out with Frank Zappa (2401) and blues collector Bob Hite of Canned Heat (The Bear), meeting a groupie (Miss James) and so on, then going back home on the final track (Fly Tomorrow). The album featured teenage guitarist Mick Taylor (soon to join the Stones) and Peter Green (of Fleetwood Mac) on one track.
Given its coherent structure and narrative elements, could the case not be made that this is a concept album?
2401
Medicine Man
The Bear
Fly Tomorrow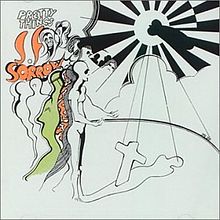 .
The Pretty Things
SF Sorrow (December 1968)
The Pretty Things had started life as a raw rhythm and blues rock band (Dick Taylor had been in an early version of the band that would become the Stones) but by the late Sixties had progressed towards more ambitious ideas, like this.
SF is born into a working class family in the early 1900s and as boy joins his father in the Misery Factory, there is a romantic attachment but he joins the army although they plan to meet in America. Her airship explodes on landing (ie the Hindenburg) and he falls into a deep depression and goes mad, there is a journey through his subconscious to become the "Loneliest Person", cut off from the world.
Sessions started in Abbey Road in late '67 as the Beatles were working after Sgt Peppers and Pink Floyd were also recording. It was released in December '68, the same month as the Beatles' White Album.
SF Sorrow is Born
Balloon Burning
The Journey (extract)
Loneliest Person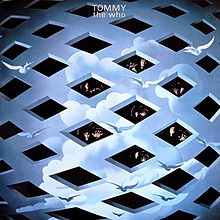 .
The Who
Tommy (May '69)
The big one. A "rock opera" around the story of a boy Tommy who appears to become deaf, dumb and blind after a traumatic childhood event.
"One of the important documents I referred to while writing Tommy was a diagram I had sketched at the beginning and end of seven journey's involving rebirth," wrote Townshend in Who I Am.
"I was attempting two ambitious stunts at once: to describe the disciple/master relationship and, in a Herman Hesse-style saga of reincarnation, to connect the last seven lives of that disciple in an operatic drama that ended in spiritual perfection . . . each time the child/disciple Tommy is reborn, he returns with new inner wisdom, but still his life is full of struggle. Since the boy's ignorance of his spiritual growth is a kind of disability I decided my deaf, dumb and blind hero could be autistic. That way when I wanted to demonstrate the glorious moment of his God-realisation, I could simply restore to my hero the use of his senses.
"It was a good plan, the boy's sensory deprivation would work as a symbol of our own everyday spiritual isolation."
Fortunately it also sprung hit singles!
A sampling of Tommy
Overture
It's a Boy
Amazing Journey
Christmas
Fiddle About
I'm Free
We're Not Gonna Take It
See Me/Feel Me/Listening to You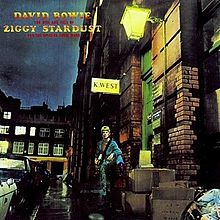 .
David Bowie
The Rise and Fall of Ziggy Stardust and the Spiders From Mars (June '72)
In which Bowie trumps Marc Bolan (T. Rex) in the glam-rock stakes and builds a platform for a career.
Metaphorical, ambiguous, perspective-shifting, nominally a pop star-cum-alien story (the notion of the "outsider") and a series of snappy songs as building blocks which could be played out as thematic stage show with Bowie as Ziggy.
This is gender-blending David/Ziggy presenting it
The background to the album and Bowie's concept is here
.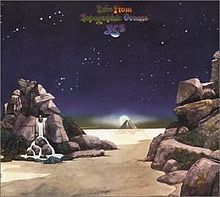 .
Yes
Tales from Topographic Oceans (December '73)
Pro-rock gets spiritual but also pulls the band even further apart (increasingly sections of their albums would be the preserve of individual members).
A double album based very loosely around Hindu scripture from Paramhansa Yogananda's influential book Autobiography of a Yogi (first published 1946 but reprinted in the Sixties).
Each piece took up a single side of the records, so get a cup of tea and settle in.
The Remembering/High the Memory (extract)
Keyboard player Rick Wakeman left after its release to pursue a solo career, mostly with concept albums (see below).
.
.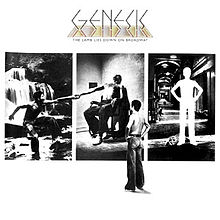 Genesis
The Lamb Lies Down on Broadway (November '74)
Their debut album From Genesis to Revelation in March '69 (before Tommy) were songs very loosely around the theme of the Bible -- so loose as to be mostly indistinct -- and their subsequent albums were undeniably prog-rock, but this one -- a double vinyl with an ambitious over-arching narrative full of metaphors -- is one of the most enduring concept albums.
It would also be singer-writer Peter Gabriel's last with the band.
.
The concept-based career of Rick Wakeman
The Six Wives of Henry VIII (January '73, all instrumental)
Catherine of Aragon, from Six Wives
Journey to the Centre of the Earth (May '74, recorded live with the London Symphony Orchestra and the English Chamber Choir)
Journey to the Centre of the Earth (extract)
The Myths and Legends of King Arthur and the Knights of the Round Table (April '75) He performed it live at Wembley Arena over three nights -- as an ice show with skaters etc
Was that the highpoint or nadir of prog-rock? Rock becomes Cats/Starlight Express/a Broadway or West End production?
.
Jethro Tull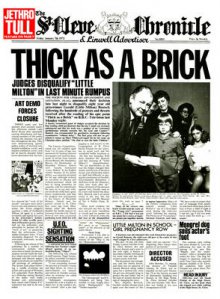 Helmed by flautist/singer/songwriter Ian Anderson: debut album in October '68 This Was included a version of US jazz saxophonist Roland Kirk's Serenade for a Cuckoo (appropriately) alongside folk-rock/pastoral rock; second album Stand Up had their treatment of JS Bach's Bouree . . . fourth album Aqualung in March '71 a loose concept about homelessness (which sprung two stand-alone singles, the title track and Locomotive Breath) then . . ..
Thick As a Brick in March '72 which came in an elaborate foldout cover and was two sides of a conceptual piece, although Anderson would always claim it was a poke at the whole notion of over-blown concept albums.
"I might make you feel, but I can't make you think . . ."
Raises the age-old musical question though: do repeated arpeggios and motifs make for a concept?
Thick as a Brick ("really don't mind if you sit this one out ")
Then there was this as the follow-up.
.
CONCEPT-SCMONCEPT!!!!!!
Here's this insightful parody (the Sid Gormless, above, speaking here became Nigel Tufnel of Spinal Tap, ie Christopher Guest) and the liner notes on the album which this comes from (Goodbye Pop from '75) said there are 27 groups wrong with this song, can you spot them ..............
"The record company, being the cheap lot of bastards they are, wouldn't let us do it the way I wanted it to be, the way I conceived it in my mind. They said, 'Sid, we can't afford to send your group and the Sadler's Wells Ballet and the London Philharmonic into outer space'.
But that was my vision for this record. Me and the group and all swirling about in orbit, playing and singing in these huge clear plastic bubbles, dropping flowers and balloons bloody great Marshall amps down on the Earth while this fantastic music of mine, like a symphony really, more than a symphony, comes drifting up from these thousands of undersea speakers . . .
-- Sid Gormless, singer with the Dog's Breakfast
Sid speaks, his symphony, more than a symphony