Graham Reid | | 2 min read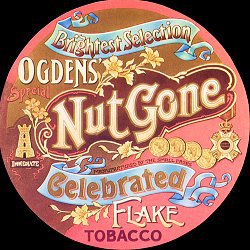 With Small Faces' brief catalogue of albums now remastered and reissued, their growth towards Ogdens' Nut Gone Flake -- famously in a round cover like a tobacco tin and with panels that opened out -- can now be traced to this, their finest moment.
Singer/writer/guitarist Stevie Marriott was one the great British r'n'b singers and the band of singers/writers Ronnie Lane and keyboard player Ian McLagan, and drummer Kenney Jones quickly outgrew their Mod roots, became a chart-damaging pop-rock band (All or Nothing, My Mind's Eye, Tin Soldier, Here Comes the Nice etc) and captured the typically whimsical English brand of psychedelia with Itchycoo Park and Lazy Sunday, the latter on Ogdens.
Often written up as a concept album, Ogdens is a game of two halfs: the first side is separate songs and the second (the concept) is a tale of Happiness Stan who sees the half moon and goes in search of the other half.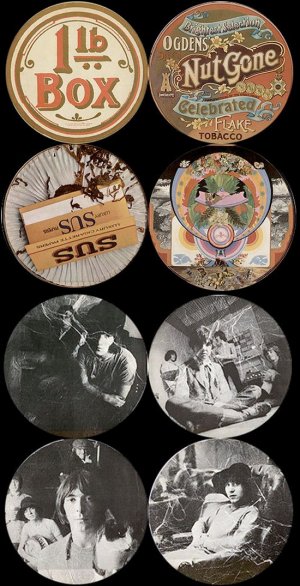 Told in his witty gobbledegook by Stanley Unwin (first choice Spike Milligan declined), the story includes the proto-heavy metal Rollin' Over (which owes a nod to Hendrix's Foxy Lady), slightly scary Mad John and jaunty-Cockney HappyDaysToyTown -- three very separate-sounding pieces and indicative of the musical reach the Small Faces commanded.
On the first side are Marriott's soul-searing Afterglow, the heavy Song of a Baker (sung by Lane and driven by Jones' powerful drumming) and -- because they were good lads from the East End music hall tradition -- there is Rene ("the docker's delight") which is in the pub-singalong vein of Lazy Sunday.
As Mark Paytress notes in his liner essay to the double CD mono reissue (the second disc of previously unreleased sessions, stereo mixes), "Like the Beatles' White Album issued several months later, it wanted to be both fanciful and down-to-earth".
So (aside perhaps for the swirling Journey), Ogden's wasn't really a psychedelic album as many claim, and the Small Faces were more a lagers'n'pot band than tripping-out acid heads (witness the boozy career of their off-shoot the Faces, and Marriott's subsequent band, the hard rocking Humble Pie).
Produced by Marriott and Lane, and engineered by Glyn Johns, the album topped the UK charts for six weeks but did absolutely nothing in the US where it has undergone constant "discovery" since, as Kenney Jones says in an interview here.
But for the Small Faces, Ogdens was the breaking point and Marriott quit a few months later to form Humble Pie with Peter Frampton. There was the Autumn Stone collection but the Small Faces -- who left a trail of classic singles and this one shining, cohesive but diverse album -- were all but forgotten, except by fans.
It wasn't until this year they were inducted into the Rock and Roll Hall of Fame, as were The Faces.
No matter maybe, their reputation was always secure with those who lovingly unfolded that faux-tobacco tin and turned up the volume.
These Essential Elsewhere pages deliberately point to albums which you might not have thought of, or have even heard . . .

But they might just open a door into a new kind of music, or an artist you didn't know of. Or someone you may have thought was just plain boring.
But here is the way into a new/interesting/different music . . .
Jump in.