Graham Reid | | 3 min read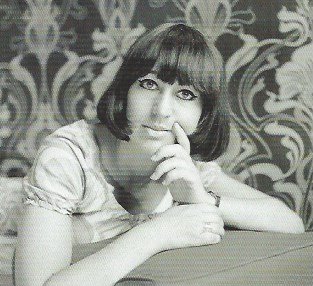 Britain in the Sixties threw up a number of great female pop singers when the world's attention turned in that direction after the explosion of the Beatles.
There were many talents like Cilla Black and Lulu – capable of an extraordinary range of emotion from heartache to nail-hard hammering – and Dusty Springfield (who grew from MOR ballads and pop into soulful depth culminating in her Dusty in Memphis album in '69).
There was the virginal Marianne Faithfull (and as a 17-year old Catholic girl she was certainly that until she fell in with alternative London), the older former child-star Petula Clark and others commanding serious attention, and their music from that era is as enduring as any out of Swinging London.
The famously barefoot Sandie Shaw has unfortunately been characterised as the poppet who sang that idiotically annoying Puppet on a String which won Britain the '67 Eurovision Song Contest. But she too had songs which were better than that, and deserves to be remembered for them rather than that inane Euro-pop.
But just as behind every Beatles there were a dozen bands like the short-lived Merseybeats, Unit 4 + 2 and Koobas (collected on an appropriately-entitled compilation What About Us?) so too behind every Sandie or Cilla stood a Jan Panter, Val McKenna and Tammy St John.
Among Sandie Shaw's more interesting – if not downright scary – songs was Run from '66 written and produced by Chris Andrews who did a very good line in high camp, overly dramatic pop.
Run is in that lineage but to hear Sandie against a windblown string section (Andrews' aural fingerprint) sounding terrified as she flees a former lover ("he must never find me, he thinks I still belong to him, so I must run") is still appallingly contemporary.
She sounds tough, but if there's a knock that door must remain shut . . . and the wind is calling that he is following . . . the rain on the ground is the sound of his footsteps . . .
It is a scary song made more tense but the repeated string figure which coils around her like a noose.
And if you think getting a casual and dismissive kiss-off from a relationship is a new thing in this goodbye-text age then Sandra Berry on We Were Lovers (When The Party Started) learns by the end of the night that he is with the other girl now. And "everybody watched me cry".
And Tawny Reed on the soul-belting cover of Baby Washington's I Got a Feeling "things ain't going right" just needs to look in the mailbox because "that's where you put my ring". And dammit if he ain't changed his number.
Swinging London was often quite stinging.
But it was also very soulful as women singers – and perhaps more tellingly their producers and managers – looked to the US girl group, r'n'b bands and songwriting factories for material.
And while we might say great voices stood behind belters like Cilla and Lulu, many of them stood as their vocal equals, if not gifted with cut-through hits.
Every now and again – as with Barbara Ruskin on the Dylanesque Well How Does It Feel ("to be out in the cold . . . there's no one at home") – the girls get their own back.
The Pye label which spanned 1964-71 – and its sister label Piccadilly -- was the home of Sandie Shaw and Petula Clark, but also many more second-tier artists like Berry, Reed, the Breakaways trio (who backed everyone from Dusty, Jimi Hendrix and the Walker Brothers to Dione Warwick and Billy Fury) and Dana Gillespie.
All of these artists and songs – Shaw's Run, Berry's We Were Lovers included – are collected on the 24 song collection Scratch My Back; Pye Beat Girls 1963 – 1968 (Ace through Border in New Zealand) and it can be an ear-opener.
Aside from those already mentioned you also get Petula Clark bashing out Heart (produced of course by her partner in hit-making Tony Hatch, the Bacharach of Britain), the truly awful politicised ban-the-bomb It's Hard to Believe by Glenda Collins.
And the Satin Bells (pictured) from '68 whose song clearly owes a musical debt to Brian Wilson's arrangements for Good Vibrations . . . but is hauled back to earth by it's lyrics. The title tells you as much, it is Da-Di-Da-Da.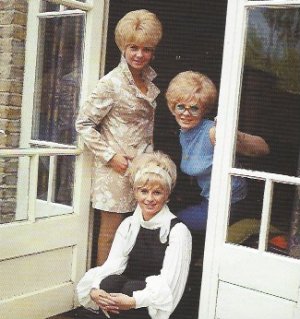 There are counterpunches in these arrangements from Bond themes, Bacharach, soul-funk, soaring srings (hold tight for Glo Marcari's Spectorish treatment of the Goffin-King heartaching He Knows I Love Him Too Much) and Northern Soul hits. So much so that sometimes the names and voices fronting the songs are incidental (Antoinette on Why Don't I Run Away And Hide).
And check the fine print in the excellent booklet for who played on a few of these tracks: members of bands to be called Led Zeppelin, Deep Purple . . .
Across the 24 songs on Scratch My Back there are only a few songs which alert you to a great, ignored talent.
However there are half a dozen songs here – Sandie Shaw and Chris Andrews' Run being the most outstanding – which will stop you in your tracks.
But the overview will allow you to say – as when you wind up Sheila Carter and Episode Six on Incense – that these women had a whole lotta rock'n'soul in their veins, and voices.