Graham Reid | | 3 min read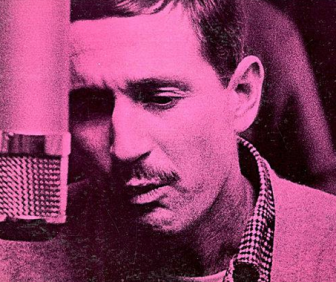 If you were ever bewildered how music can cross cultures and even oceans then you wouldn't go to the British blues boom of the early Sixties for answers.
As the snooty BBC-styled radio host said of r'n'b ("or rock and roll") in the parody of prog-rock on the National Lampoon album, Goodbye Pop, "Why is this indigenous, crude, powerful, black American music invariably best interpreted by young long-haired British homosexuals . . . "
But more seriously, we can easily explain away young British musicians' infatuation with the likes of big ol' hard-livin' bluesman like Muddy Waters, Howlin' Wolf, BB King, Elmore James and others because they seemed exotic outsiders, distant, mysterious . . . and they were real Men.
But Mose Allison?
Allison's piano blues songs -- which were often word-driven, wry, muted, poetic and jazz-flavoured -- were a world removed from the spit-floor grit and rowdiness of other American blues artists . . . and Allison, a white guy, sang them in a light voice at some distance from the gravitas of his black counterparts.
Yet the Yardbirds, Them, the Who and many other picked up on his songs and recorded them.
In fact it's likely Allison – if he is known at all to rock audiences – it is because the Who covered his Young Man Blues (as recorded on their Live at Leeds album of '70) and Pete Townshend included a Who version of Eyesight to the Blind in his rock-opera Tommy, a Sonny Boy Williamson song he'd heard interpreted by Allison.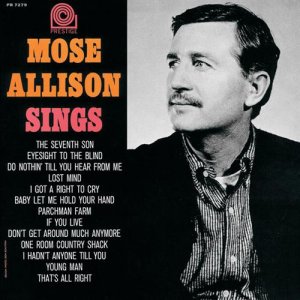 And, perhaps more improbably, Townshend credited Allison's Young Man Blues – in Allison's original a slow and open-space piano blues – for inspiring his incendiary My Generation.
And Allison's Parchman Farm – which has a punchline – has been given a number of rock reworking, none more distorted, feedback-filled and fiery than by the SanFran biker's favourite band Blue Cheer.
Allison – swing pianist, jazzman, social observer and perhaps even a more sophisticated model for the young Tom Waits – seems an unlikely character to be even considered part of rock culture's influences.
But stranger things have happened.
Just compare this Allison original with that Blue Cheer version linked to above. See the connection? Hmm . . .
Parchman Farm by Mose Allison (1958)
Mose Allison – that's his real name -- was born in the bayou of Mississippi in '27 and grew up picking cotton and working the land. He briefly went to university and then hit the road trying to make a name for himself as a blues pianist influenced by Albert Ammons' boogie-woogie then later on Sonny Boy Williamson who made him take the deep, dark blues more seriously.
Yet he brought wit and an almost elegant quality to the blues, even when he covered songs by Williamson, Willie Dixon and Big Joe Williams.
In Britain when his albums were released in the late Fifties and early Sixties they were scooped up by the likes of pianist George Fame (who covered Allison's Parchman Farm, Baby Please Don't Go which Williams had written and was also known in the Lightnin' Hopkins' version and Willie Dixon's I Love The Life I Live he'd heard Allison do). Others to the Allison party were the young Yardbirds (I'm Not Talking) and Brian Auger and the Trinity (Foolkiller).
The newly released 24-song selection Mose Allison: I'm Not Talkin'; The Song Stylings of Mose Allison, 1957 – 1971 picks up Allison's key tracks but aside from the vague familiarity of many for those of the r'n'b-influenced British rock era it is Allison's dextrous and sometimes hard-edged piano playing (check Foolkiller) or angular swing (The Seventh Son) which seem both distinctive and timeless.
Mose Allison may seem an unusually sophisticated, sometimes droll (you need to get to the end of songs like If You're Goin' to the City for the wit), elegantly and emotionally cool jazz-blues influence on the British pop-rock scene in the Sixties . . . but stranger things have happened.
In his autobiography Who I Am, Pete Townshend references Allison in his record collection and among his influences: He described I Can't Explain to a friend as "Bob Dylan with a hint of Mose Allison" and writes My Generation was "very much inspired by Mose Allison's Young Man Blues.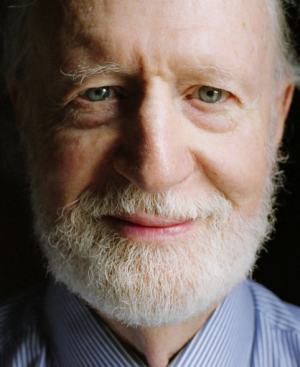 Mose Allison – at the time of this writing – is still alive at 88 and his last album of original material was just six years ago.
The Way of the World (lovely title from a man who often positoned himself as an outsider looking in) was produced by Joe Henry.
That means Mose Allison – who played with Stan Getz, Zoot Sims and Gerry Mulligan and has had his songs covered by Elvis Costello, the Clash, the late Dutch rocker Herman Brood and Van Morrison among many others – has been a recording and performing artist for almost 60 years.
Time to catch up with him if he's gone past you?
Start with I'm Not Talkin' (through Border in New Zealand) and prepare to be surprised and delighted.
Mose Allison died 10 days after this article was published in November 2016.