Graham Reid | | 5 min read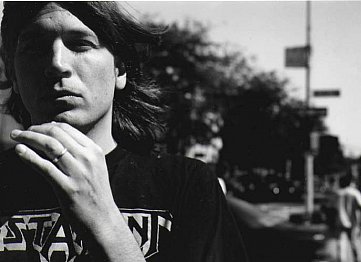 When Evan Dando emerged on the cusp of the late Eighties/early Nineties in the Lemonheads he was the gift to the grunge era.
He was very good looking, part slacker but undeniably smart, had impeccable taste in covers (on the Lemonheads '90 EP Favourite Spanish Dishes he covered Mike Nesmith's Different Drum, Glenn Danzig's Skulls, the New Kids on the Block's Step By Step without overt irony) and wrote songs which might have come from the pen of Gram Parsons' like Ride With Me.
And in short order he would cover Parsons' Brass Buttons as well as furious version of Paul Simon's Mrs Robinson – a song he said he hated – for the video release of the movie The Graduate in which it had featured.
And that little bit at the end also told you somethng about Dando, he could be expedient when he wanted.
He was going somewhere.
But it was his songwriting and singing which elevated the Lemonheads in the Nineties and songs like My Drug Buddy on their major label breakthrough album It's a Shame About Ray saw them all over indie.rock radio.
That Dando hung around with actresses, Oasis and hip grunge people was testament to his personable nature, often bouyed up by his intake of drugs.
Interviewing Dando then and in subsequent decades could often be a chore because of his stoned demeanor, but then again he wasn't put on this world to do interviews: he was here to write and sing.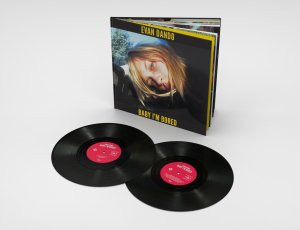 And that he could do.
There was an inevitablity about the break-up of the Lemonheads – line-up changes and him taking control – but his debut solo album Baby I'm Bored in '03, a full seven years after the Lemonheads last album of original material, initially seemed downbeat and more obviously in a very low-key kind of zone.
Anyone wanting the grit and fuzz of the Lemonheads pop-rock was bound to be disappointed, and Baby I'm Bored received indifferent reviews from many quarters.
But now reissued and expanded to a double CD with a 24 page boooklet – apropos of no particular anniversary but the double vinyl edition appearing for Record Store Day back in April – it is the album Dando is taking out on tour (to play New Zealand in early June, dates below).
Becaise it's the only solo album he's got. He is not prolific.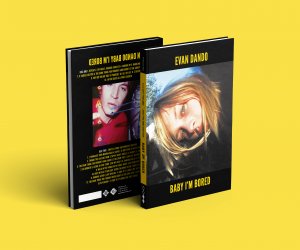 We can only hope he is in better shape than he was when he appeared as a guest with MC5 in Auckland in 2004. He was out of it and it wasn't charming.
And MC5 were self important shit, mate!
We had been warned however.
In an interview beforehand a very stoned Dando said that – like the admirable Rod Stewart who believed dating blonds, partying and having great sex was part of the contract of rock'n'roll – drugs "was part-and-parcel of the whole thing. I wanted to do it properly, be in a rock band, get successful and do tons of drugs - and I wouldn't have done it any other way had I had to do it again".
That on-going consumption didn't seem to do much particular damage to him other than stop him writing and recording, and ironically the Baby I'm Bored album contains exactly the kinds of songs you suspect could benefit from a little more looseness around the edges, if not the centre.
The reissued double set – the second disc of rarities, alternate versions, B-sides etc – reminds you that Dando could deliver simple but resonant ideas (Hard Drive), craft lovely melodies which existed on the edge of Americana (Rancho Santa Fe) and sound weary but vaguely optimistic behind the glaze (All My Life).
The gently multi-tracked and acoustic Shots is Fired has a hypnotic, almost drone-like Lennonesque/Syd Barrett quality; the spirit of Parsons is here in Why Do You Do This To Yourself? (another take on the Stones' message to/from a junkie in Wild Horses) and the closing track of the 12 is the gently bent In the Grass All Wine Coloured, an unashamed celebration of the woozy life he had enjoyed . . . and those are pretty much all the lyrics with a half thought guitar solo.
And when he takes an energy pill (It Looks Like You) he comes off like a country singer out of Austin who'd spent a couple of weeks listening to acoustic Kurt Cobain.
The extra disc traverses some of the same territory although Shots if Fired is more edgy with dark electric guitars and Liv Tyler on flattened vocals (see, he knew who to know) and Rancho Santa Fe finds him dropping his voice into a cracked lower register and the melody not soaring quite as it did. The cello also pulls it into a more reflective landscape of the soul.
The B-sides I Wanna Be Your Mamma Again, Tongue Tied and the live Hannah and Gabi do sound tossed-off but not without their wonky charm.
Au Bord de la Seine is like his reimagining of Merle Haggard (in his Okie From Muskogee persona) gone to Paris with a bottle in hand ("I'm fat, drunk, stuck, tired, old, flat-broke armed and angry . . .") and pissed off about his son marrying a man like the liberals say he can . . .
It's hilarious.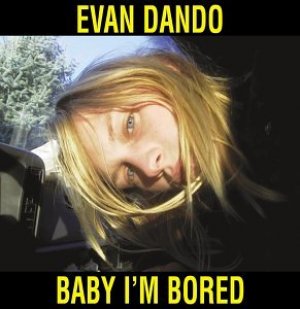 Yes, Evan Dando was so smart that he could write something like that alongside deeply insightful and introspectively personal songs alongside the searingly atonal and deliberately clunking Sucker Punch all in much the same breath.
You tend to think that perhaps Evan Dando at this point in his life really might have been bored.
Bored maybe – as with Ryan Adams in the same decade, and Prince too who was also profligate with his genius – with how easily all these ideas flowed through him.
The opening line of gobbling mouthful The Same Thing You Thought Hard About Is The Same Part I Can't Live Without goes like this: "Another joke at my expense, I can't believe where the time went. My past became a present tense. It's all blown out for me . . . I can't believe how far I slid, But secretly I'm glad I did. I can't believe how far I slid, I guess I had to see . . ."
Evan Dando at 50 – the age he is when touring on the back of Baby I'm Bored – doesn't look like the poster boy he once did and we can guess won't sound like that former self.
But when you listen to this first and so far only solo album under his own name, and especially the second disc, the seeds of his present tense are all there.
He was always smart and maybe even wise beyond his years when you hear how he could tap into Americana and country lineages as much as being part of the slacker/grunge mindset/generation.
Let's hope he doesn't fuck up when he plays here.
Because that too seems part of the contract for him.
Evan Dando's Baby, I'm Bored double vinyl/double CD reissue is available in New Zealand through Southbound.
EVAN DANDO TOUR DATES
June 3, Blue Smoke, Christchurch
June 4, Tuning Fork, Auckland