Graham Reid | | 8 min read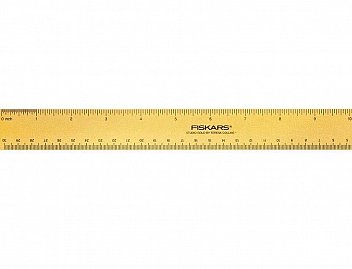 In the past Elsewhere has indulged itself with a column entitled promisingly 10 Shameful Record Covers I'm Proud to Own (and the there was 10 More and another 10 More and Another 10).
Then there was 10 Shameful Records I'm Embarrassed to Own as well as 10 Album Cover Parodies and 10 Good Albums in Bad Covers.
Oh, and 10 Odd Unplayed Albums in My Collection (and inevitably Another 10).
Things got more serious (perhaps) with 10 Somewhat Rare Reggae Albums I'm Proud to Own and 10 Rare Free Jazz Albums I'm Proud to Own.
Given the clutter of vinyl on my shelves this could go on and on for a long time, but here's a diversion . . . into 10 inch records which is a very tidy format, usually about six songs but in a cover large enough to be attractive.
For years I have picked up a few here and there, mostly there because secondhand record shops here tend to bury them among albums so they are hard to find.
And I have been quite indiscriminate.
I have bought classical music and old jazz (Ella, Ellington and Louis alongside Paul Whiteman and Glenn Miller) as well as rock'n'roll-era pop, spoken word, comedy albums and so on.
I also have a swag of French 10 inch records (one day I will do a column on my large collection of French artists, poets and such, and explain why I have them in abundance) but here from the smaller shelves are 10 unusual 10 inch albums (big EPs?) and some explanation of the how and why I might have acquired them.
Bit sad really, isn't it?
Anyway here goes . . .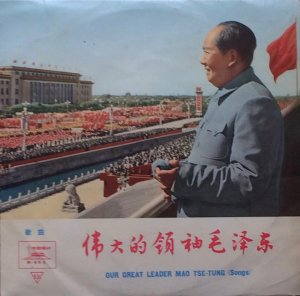 Various Artists: Our Great Leader Mao Tse-Tung Songs (date unknown)
This delightful little 13 song collection features all your popular favourites such as the familiar title track, A Song For Chairman Mao, Chairman Mao is with Us All, The Flower of Happiness is Nurtured By All (a soprano solo); Chairman Mao Scales the Peaks of Lushan, The Helmsmen Sets the Ocean Course and so many more.
Actually let's have some more titles because they are cult classics: Chairman Mao in Olive Green Uniform, The Goodness of Chairman Mao is Deeper Than the Sea, Mao Tse-Tung's Thought is Incomparably Bright, Chairman Mao You Are the Red Sun in the Heart of the World's People and the family favourite for evening singalongs in the commune, Chairman Mao is Dearer to Us Than Our Parents.
I bought this in Hong Kong I think. I wonder what they have in Pyongyang record shps these days. Similar stuff I imagine. Only the name would be changed.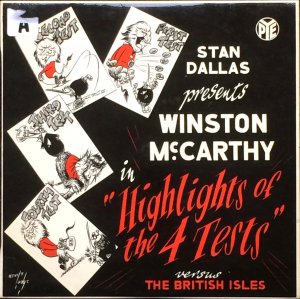 Winston McCarthy: Highlights of the Four Tests (1959)
And who wouldn't want to listen to this, the edit highlights of all four All Black tests against the British Isles? Because these were the All Blacks of legend: captain Wilson Whineray, Don Clarke, Colin Meads, Kel Tremain . . .
Spoiler alert: if you are now enthusiastically going to seek it out, New Zealand won the first three tests and the British Isles (as they were mostly called then) won the last.
What was of moment was the Lions' backline speed which our boys sometimes struggled to contain and the results showed how close three of the four games were: 18-17 in the first; 11-8 in the second; a more trouncing 22-8 in the third and that win to the Lions 9-6 in the final. And remember the scoring was different then, three points for a try and two for a conversion. Cover art by Neville Lodge too. I must listen to it some time . . .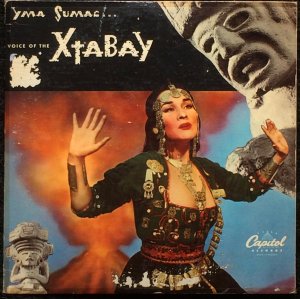 Yma Sumac; The Voice of Xtabay (1950)
The astonishing voice of the remarkable Pervian singer Sumac came to immediate international attention with this still astonishing debut album which to contempoary listeners probably sounds closer to some weird amalgam of Martin Denny exotica, left-field contemporary opera-cum-world music and a voice which is easy to confuse at the high end with synthesiser sounds or bird song.
It seems that about every 15 years after this release Sumac underwent another new "discovery" for her octave leaping voice -- about five octaves -- and the strangeness of her vocals, on this album placed in orchestration (and sometimes odd backing vocal chants) by Leslie Baxter.
Rather than say much more -- I picked it up at Real Groovy many years ago -- we refer you to Spotify where there is a shedload of Yma Sumac including an expanded edition of this still beautifully bewildering album.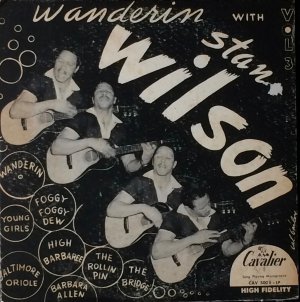 Stan Wilson: Wandering (1955)
This American folk singer (who died in 2005 age 83) was -- alongside the likes of Burl Ives -- in the vanguard of the emerging traditional folk music scene in the States. He would play sailor songs and calypso, and had a big and powerful (and tuneful) voice and a couple of his songs were covered by the Kingston Trio to great success.
This album -- which unfortunately shares a title with the Folksmen in the folk parody film A Mighty Wind -- is pretty good if you like simple folk which sounds recorded live in the studio.
The calypso/Caribbean voice he adopts in a couple of places might grate a bit, but Wilson was important . . . although if he'd lived in New York and not San Francisco he might have made a greater impact in popular culture if Dylan had learned/stolen songs from him in Greenwich Village.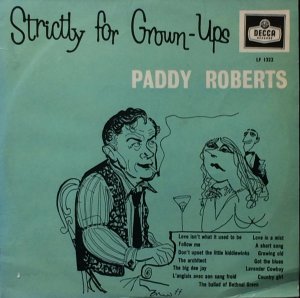 Paddy Roberts: Strictly for Grown-Ups (1959)
Despite the slightly salacious looking cover, Patrick Roberts was an interesting guy and quite some distance from the barroom louche the illustration suggets. He was an acclaimed songwriter who frequently won Ivor Novello Awards, wrote for movies and a few of his songs when covered by others were huge hits in the Fifites.
But he had a risque side (in that long English music hall tradition which includes Ronald Frankau and George Formby) and delivered his suggestive songs -- as on this album -- in beautifully modulated tones full of innuendo (some pretty lame) and references to the birds and the bees.
He laments the state of marriage (which ends in divorce days later) in the "free love" days, takes a poke at self-important radio DJs and, describing himself as a South African and "ruddy colonial", he takes good swipe at English hautiness and reserve . . .
Came from a bunch of albums and 10 inchers that I inherited from someone whose taste had improved.
Sort of a low-rent Noel Coward without the bitterness of the more satirical and acerbic American Tom Lehrer. Not on Spotify.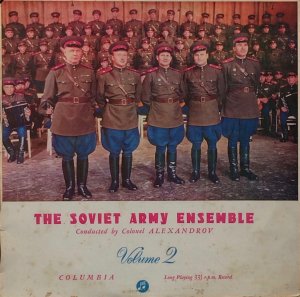 The Soviet Army Ensemble: Volume 2 (1963?)
Seemingly pressed in New Zealand (probably during one of those hard Left Labour governments we have!), this enjoyable -- but for most people probably unlistenable -- album opens with Black Eyebrows (a Ukrainian folk song) and closes with, get this, the old spiritual Song of the Hammer aka If I Had a Hammer (introduced to the Soviet Union by Paul Robeson) and . . . Tipperay sung in English (as in "it's a long way to . . .").
Along the way are Oh No! John! which is apparently a song from Somerset (also in English), The Volga Boat Song and a Russian folk song The Little Bells which the liner notes admit sounds very Irish. The chief conductor Colonel Boris Alexandrov took over from his father in '46 and over the decades got the ensemble an international reputation through touring and recordings such as this.
Big solo voices, big choir and odd repertoire.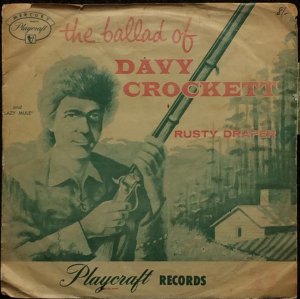 Rusty Draper: The Ballad of Davy Crockett (1955)
I know this one only too well. Like Scrooge McDuck who kept his first dime, I have kept this. It is the first record I called my own and family lore has it that as a wee boy I sang this -- doubtless in a Scottish accent -- at the top of the Eiffel Tower.
My guess is we bought this in Scotland where I was born (8 shillings was a lot of money, and it is just a 10 inch single with Lazy Mule on the flipside) and of course it was the time of the Davy Crockett craze and so yes, I also had the fake cookskin hat. And later a hula hoop when we came to New Zealand.
The next record I called my own was Johnny Horton's Sink the Bismark 7" (1960) and the next the Beatles album Please Please Me (Christmas present 1963). And I still have those too.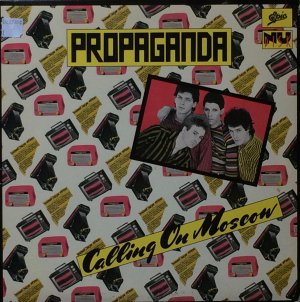 Propaganda: Calling on Moscow (1980)
Not every 10 inch I have is old, although something from 1980 is starting to look that way. On Epic, Propaganda seemed a bit undecided as to whether they wanted to Clash-punk or pop-New Wave . . . with messages.
Two Lovers is about a gay couple and Cowboys Alone seems to be about men coupling out there on the prairie (with giddy-up as the hook).
Snappy power-pop with New Wave hooks and energy and the title track is very catchy . . . but the most relevant is the snappy Something About You I Don't Like which opens with "Watch out, he's got a gun and he aims to use it at your face . . ." And despite having a heart of pop it get more emotionally complex thereafter.
This -- from a secondhand shop in Paeroa -- was apparently part of series of 10 inch releases by Epic who seemed to have saved a few bucks by pressing on very thin vinyl, so thin that this feels more like a flexi-disc.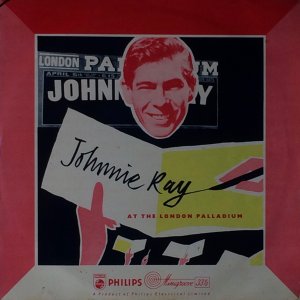 Johnnie Ray: At the London Palladium (1954)
Celebrated in song by Dexy's Midnight Runners, "poor old Johnnie Ray" was the man who could turn on the tears and immediately incite hysteria in his teenage audience . . . as he did when he played the London Palladium in '53 where this was recorded.
A few have suggested Ray from Oregon was in the vanguard of rock'n'roll but most of this -- with an orchestra -- is kind of upbeat swing jazz (the opener is a fast tempo Please Don't Talk About Me When I'm Gone, Somebody Stole My Gal) and slow ballads (Glad Rag Doll, A Hundred Years From Today, With These Hands, As Time Goes By). But it's when he arrives at his tear-jerking hits like the belting The Little White Cloud That Cried and the aching Cry at the end of this set that his appeal makes sense. He closes with the upbeat gospel of I'm Gonna Walk and Talk With My Lord.
Like a teenage Tony Bennett for the pre-Elvis demographic for whom Sinatra was an old man, Johnnie Ray was an entertainer and performer who acted out the part of the heartbroken lover. There's plenty of Ray on Spotify to put a catch in your throat, some of his song certainly put one in his.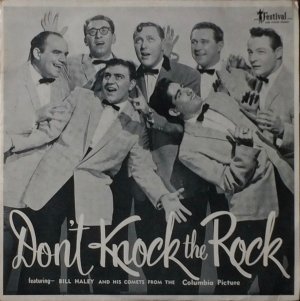 Bill Haley and His Comets: Don't Knock the Rock (1957)
Bill Haley suffered from a few curses: he didn't look like a teen idol yet made music for teens (and looked less so when standing beside Elvis); his big hit Rock Around the Clock was immediately associated with juvenile deliquency when it appeared on the soundtrack to Blackboard Jungle, he wasn't a songwriter of any merit and as an interpreter of other people's songs (like stuff by Little Richard) he was rather bland.
But he was there at the dawn of rock'n'roll and did appear -- alongside a toned down Little Richard -- in the film Don't Knock the Rock in late '56 presenting his country-flavoured take on rhythm and blues. At the time the eight songs here (among them Rip It Up) don't quite have the energy of pure rock'n'roll as witnessed by the song selection which includes Choo Choo Ch'Boogie, a couple of generic rock'n'roll originals (Hot Dog Buddy Buddy and Hook Line and Sinker) and the instrumental Calling All Comets. He's all over Spotify.
Given the sheer number of 10 inch records on my shelves I suspect this won't be the last such column . . . and next time we will get more obscure.