Graham Reid | | 8 min read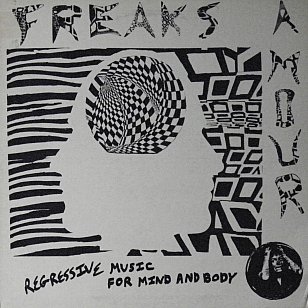 The occasional installments in this series of shameful record covers which I have in my possession always comes with this caveat: if you're curious about any you shouldn't pay more than $6 for them. I didn't, and that's the point.
If you buy an album for its cover art -- odd, frightening, kitsch or whatever -- then you do need to keep some perspective. Given you probably won't know the musical content, you shouldn't be paying for it. Oddly enough, most of the albums mentioned in this series (see here) actually have a little something going for them. Sometimes very little . . .
Freaks Amour: Regressive Music for Mind and Body
Clearly enjoying a play on the title of the Country Joe and the Fish's psyche-era classic Electric Music for the Mind and Body, this trio of Grant Miller (guitar), Rich Vaughan (cello, toy piano, vocals) and Stuart Werner (voices, violin, screech, found objects) billed themselves as "Connecticut's Premier Improvisational Music Ensemble" -- we are no position to dispute the claim -- and recorded the nine pieces here at WWUH studios in early '89.
Titles include Mother F Incidentally, Sneaky Weasel, Lavalamp, Live Radio Feedback, Disposable Car and Noisy Mersey. And if you like improvised noise with one ear on the Velvet Underground and another on prog-improv-grunge it is rather good. Goes for a decent price on auction sites too.
On the Nart label ("non-art, that which is not art") and with the scribbled liner note which says "no overdubs. once is enough".
Pinkiny Canandy: Pinkiny Canandy
There's a school of thought -- admittedly corralled in a very small corner of the internet -- which would have it that this '69 album by Michael Chain (as Canandy) is something of a minor lost classic. Which is not the reason I spent $6 on it.
I was taken by the Greatest American Hero-styled front cover and the Spiderman-like cartoon on the back and inside of the gatefold sleeve.
Musically some of this sounds like a Seventies singer-songwriter version of the Beatles . . . if Lennon had been replaced by Elton John in his Tumbleweed Connection/Crocodile Rock modes.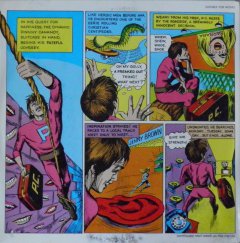 There are Beatles ideas everywhere: the opener is Hello Hello, the closer Goodbye Goodbye; the country-rock song Monday Tuesday Wednesday Someday is a bit like She's Leaving Home, after she's left; Sadie Godiva about a taxicab driver ("the mouth of Manhattan, my belle of the Bronx") seems to have peeled off ideas from Sexy Sadie and Lovely Rita . . .
There's also some mundane Fifties-style rock (Crocodile Rock?) on Jenny Brown, and the hokey-country Mutual Indemnity Insurance Company sounds like Bernie Taupin following Lennon adapting a Victorian circus poster for Being for the Benefit of Mr Kite. If Bernie had been similarly inspired . . . but by a letter from an insurance company. Hmmm.
Oddly enough MIchael Chain -- once in the Sixties band the Knack -- is still out there and performing (you can see him do Santa Claus is Coming to Iraq here).
And that's enough said. Except to note this was produced by the famous Mike Post who was one of the writers of the theme to . . . The Greatest American Hero?
Various Artists: 16 Hollandse Hits!
No country has a monopoly on lousy pop but the Dutch put in a strong bid for consideration with this 16 song collection with songs by De 3 Roosies, Pete Corn (en zijn trompet), De Four Tak, Beppie, De Harmonica Boys, Herman En Dick and Nelly Wijsbek.
Lisette and Marian Kampen were so popular they got two tracks each.
As with recent series such as Now That's What I Call Music etc, this early Seventies collection belongs to a gene pool of compilations which all come in themed covers, these have playful blondes featured prominently on the front (see here for more).
The contents of this one however are far from playful and fun. It's mostly leaden ballads (Pete Corn is a little chip off Herb Albert though) and mostly sounds like an Abba 45 played at 33rpm.
This is when buying cheap goes horribly wrong. The football themed 16 Ajax-Knallers in the same series might have been a better bet. The blonde on that cover looks terrifyingly healthy.
The Vulcaneers: Beat Me Off Scotty!
From the same California record distribution company which brought us the Blood Orgy of the Leather Girls soundtrack, Mexican Rock and Roll Rumble And Psych From South of the Border, and the Galactic Blasters came this Mad magazine-reading, surf-rock garage band of dubious merit and with something of a Star Trek fixation.
The dumb fun factor remains high.
A sticker on my copy, hand-written in marker pen, reads "TURN BASS ALL THE WAY UP!!!!"
By all accounts they were pretty awful and their career was short, but their album turns up every now and again as a desirable item among those thrash punk followers who prefer energy over coherence.
I know nothing about them (out of the Bay Area, that's it) and sometimes wish I had the Mexican compilation instead.
But this serves a useful function. It can clear a room in no time.

Antix: Get Up Get Happy
It was the hair really. And the bandana tied around the knee.
Add those to the disproportionate and ugly jester at the top, the album title so small you can't read it and an opening track entitled Daze Gone By and you have . . .
Mid Eighties hair metal pop from California. What else?
Interestingly though this generic debut album -- well, five song album -- was produced with Don Dokken and Jeff Pilson (also of the band Dokken) and a bit of research shows just how close Antix sailed to greater fame: they appeared on a compilation alongside Slayer, Anthrax and Megadeth, and Eddie Van Halen produced their third album.
They seem to have bedeviled by line-up changes however and so perhaps their greatest contribution to rock history was this album cover which you could almost pinpoint to the month in '84. It's the knee bandana which is the giveaway.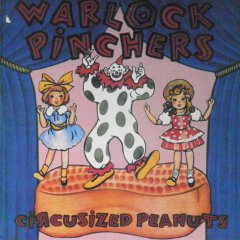 Warlock Pinchers: Circusized Peanuts
And they rode in from Denver, apparently. The reason for this one is obvious: a band name that makes little sense at all and an album title that makes less.
Add in cover art which somehow conjures up killer-clown John Wayne Gacy and you have something certainly worth $5.
And among the song titles are Jesus on the Urinal Cake, Electric Hoedown, Island of Misfit Toy Boys and Don't Play This Song on the Radio. You can guarantee very little, if any, of these rap-metal yuck-yuck shouty songs on this '91 album came close to radio play.
Frankly they don't have much going for them musically (they broke up not long after but do a nice line in devil-mask logos on facebook) but their interesting story is told in enormous detail here. On the final page we are told Mark Brooks is involved in comedy now. No surprises there then.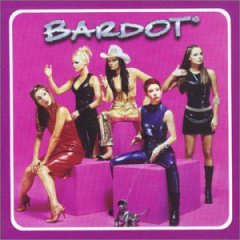 Bardot: Bardot
Got no problem with manufactured bands here at Elsewhere (the Monkees, right?) and certainly not this Australian version of the Spice Girls who were Katie, Tiffany ( who became Tiffani, of course), Sophie, Belinda and Sally.
Put togther in '99, they were enormously successful the following year after a single and this album came out, then they moved to Britain (Katie left) and after another album they split up.
Musical differences?
That's neither here nor there -- and nor are they now -- but this album cover, while aiming for the provocative, leaves one rather large question hanging: did no one in the art department notice that the seated one on the right looks like she is . . . micturating on that toy dog?
Is that shameful enough?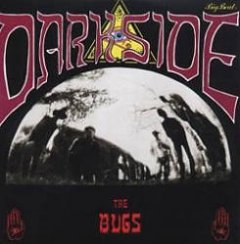 The Bugs: Darkside
Few would accuse this British post-punk/garage-psychedelic band of originality on the basis of the 12 songs on this, their sole album which was released in '87.
In fact you could say they took as their model early 13th Floor Elevators . . . but you might have guessed that from the album's front cover with its pyramid eye. But more particularly when you turn the cover over and the lettering mimicks the Elevators' debut album The Psychedelic Sound of 13th Floor Elevators . . . except in place of the eye there is the Bugs' bug logo.
If they neatly sidestepped originality on all fronts, songwriter LLoyd Tripp made a decent career for himself. He'd previously been in the Vibes -- a local psychobilly band in Essex -- and after the Bugs he lit out for the US (which seemed his natural musical home) and as Rockin' Lloyd Tripp and the Zipguns (in which he plays upright bass) makes a good living -- and good music -- with rockabilly originals. He lives in Austin, hometown of . . . . 13th Floor Elevators.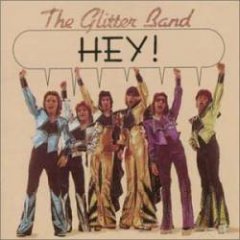 The Glitter Band: Hey!
The great rock photographer Gered Mankowitz who shot classic images of the Rolling Stones, Hendrix etc must have wondered what had happened to rock music when he was commissioned to do the cover for this Glitter Band debut album in '74.
Still, it doesn't look like he spent much time on it (less time than it took for them to get dressed probably) because the back cover is just a photo from the same session of them standing looking sorta serious.
Like Sha-Na-Na of the glam era, the Glitter Band mostly did covers (Twisting the Night Away, Sealed with a Kiss, Gimme Some Loving, Sea Cruise are all here) or simple upbeat material which producer Mike Leander could shape into handclap pop.
It worked too: Angel Face here -- twice, the single and a reprise -- went top five in Britain, proving again there's no accounting for common denominator pop.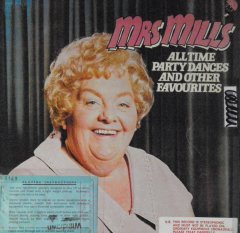 Mrs Mills: All Time Party Dance And Other Favourites
It goes without saying that everyone should have one album by this piano-playing Abbey Road contemporary of the Beatles (also on Parlophone) whose many albums usually had the words party, dance or favourites in them.
This early Seventies compilation (all songs produced by the great Norman Newell and most with accompaniment by Geoff Love) manages the trifect in its title.
And what a wonderful pot-pourri of songs and styles . . . from traditional English music hall (Underneath the Arches, Pennies From Heaven, Boomps a Daisey, The Lambeth Walk) through American counterparts (Ragtime Cowboy Joe, De Camptown Races, Oh Susanna) as well as those all time favourites Happy Birthday To You, I'm Twenty One Today, He's a Jolly Good Fellow and Auld Lang Syne. Who could ask for more?
You won't of course, and will perhaps need to head straight to Joy Division to get back on an even keel after so much jollity, but Mrs Mills -- born Gladys Jordan and managed by Eric Easton who later did the same turn for the Dave Clark Five and the Stones -- was active and popular through the Sixties and early Seventies.
Which reminds you again that despite the poplarity of pop and rock, drugs and long hair the Old World was still out there, nursing bitter ale and waiting for its scampi in a basket.
Elsewhere has a number of columns along these lines, click the title for the following
10 Solo Albums by Group Members
Five Odd Albums No One Should Own (but I do)
Five French Albums I'm Surprised I Own
10 Shameful Records I'm Embarrassed to Own
10 Odd Unplayed Albums in My Collection
Another 10 Odd Unplayed Albums in My Collection
10 Unusual 10 Inch Records I'm Surprised I Own
10 Shameful Record Covers I'm Proud to Own
And Another 10 More Shameful Record Covers I'm Proud to Own
10 Rare Free Jazz Albums I'm Proud to Own
10 Somewhat Rare Reggae Albums I'm Proud to Own
and there is probably much more . . .