Graham Reid | | 7 min read
As mentioned previously in regard to Record Store Day -- the day when artists release albums and singles on vinyl to encourage people back to the format and into record shops -- people who just download music are missing something.
Quite a lot of something. Not just sound quality but that tangible object: the record cover.
Not all album covers are works of art however, and there's something to celebrate about those which aren't. Many are simply in bad taste, are crass, cheaply done or just plain awful. Qualities we can celebrate and should defend.
No person or lobby group should want to ban things on the grounds of bad taste. You cannot legislate in matters of taste. You can however enjoy and be amused by a lack of taste, whether it be a multimillionaire's decor in their show-off mansion . . .
Or the cover of the album by the Zebras, the French-Canadian duo of Jack August and John Hagopian who gave the world their Paradise Garage album in a cover designed by Illusions Too P'tit.
You cannot deny the cover is eye-catching however and at $7 in a secondhand store I thought it worth every cent. Of course the music is awful as you might have expected -- thin-sound Seventies rock with titles like Bondage and Domination, Razor Girl and Animal -- but sometimes it isn't about the music.
It is about the cover . . . and here follows a selection of pretty bad album covers (all bought for much less than The Zebra's entry into the bad taste stakes). If you download you deny yourself these dubious pleasures, and a lot of laughs.
(By the way, if you want to know more about the model on Paradise Garage, it's a '52 Cadillac. Hope that clears that one up.)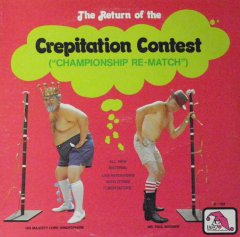 His Majesty Lord Windesphere and Mr Paul Boomer; The Return of the Crepitation Concert.
Boasting "all new material", this '76 album written, produced and performed by "Robert Wotherspoon" (who is also credited with album design and photography), this is on Laff Records out of California but the host's voice is aristocratic English and it is about an imagined farting contest in Canada.
Presumably aimed at 14-year old boys, it rather misses its target audience by taking far too long to get to the first flatulent sound which doesn't arrive until the second side.
The Mad magazine single It's a Gas got its belching out quicker and therefore more effectively. This album is too . . . long-winded?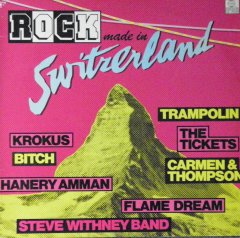 Various Artists: Rock Made in Switzerland.
Featuring all the big names (Hanery Amman, Flame Dream, Carmen and Thompson, Bitch and others . . . yes, and Krokus), this collection spared no expense on cover design.
No expense at all.
Put together by Rolli and Bertschi, the cover was hardly designed to entice those with a casual interest in rock and New Wave from a country better known for yodelling and The Sound of Music.
Still, at $2 it was a steal and without I'd never have heard the Tickets.
Or have a cover to discuss in graphic design circles.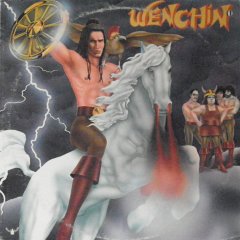 Wenchin: Wenchin.
The Buddah label was always fairly reliable when it came to bubblegum pop (the great 1910 Fruitgum Comany etc), but when the gum bubble burst in the early Seventies the label tried its hand at other more "mature" titles. But after mainman Neil Bogart left in '73 thing unwound rapidly.
So rapidly in fact that Wenchin (possibly his real name, its on some songwriting credits) got to release an album of utterly unmemorable pop-rock with horns, strings and flute which roamed from Cuban sounds to music hall.
On the back cover the undeniably handsome Wenchin -- like a young David Gilmour but with cheekbones -- stares directly into the camera from beneath his top-knot and braided bangs.
But on the front his Norse god status is somewhat undermined by the supporting cast of characters on the right. It was for them rather than Wenchin astride his fire-breathing white steed that I happily paid $2.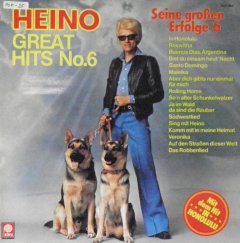 Heino: Great Hits No. 6
You'd have thought by '78 when this collection came out that even middle-aged and elderly Germans would have got over "lively and nostalgic songs by the most popular traditional style singer on today's German musicl scene". But apparently not because here Heino -- in Andy Warhol's wig and looking rather like a graduate of the Hitler Youth movement -- is clocking up his sixth such collection.
With the Botho Lucas Choir, the Bleifeld Male Chorus and the Sonntagskinder conducted by Dr Rudolf Becher, the inimitable Heino -- 40 at the time and always in shades like Roy Orbison -- works through an oddball collection which included In Honolulu, a folksong from Kenya, an oldtime waltz, Buenos Dias Argentina (a shout-out to the Nazis who fled there?) and much less.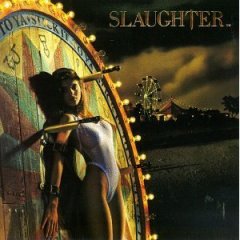 Slaughter: Stick It To Ya
American hair-metal band Slaughter had few redeeming features as their career groaned on, but this -- their debut album from 1990 -- was promising and managed to conform to all the cliches of the genre while adding a little something of their own, in a Poison/Twisted Sister kind of way.
Their cover certainly attracted attention -- so much so they replicated the idea of it on the subsequent live EP (see here).
And gee, they had their moment with a song of the Billand Ted's Bogus Journey soundtrack. What could possibly go wrong after that lucky break?
But after a couple more albums (and drug problems, a motorcycle accident and the death of guitarist Tim Kelly) they never really captured their early momentum.
Of more interest perhaps is what happened to the young model on this cover. Did a career beckon? Or just that guy on the EP cover . . .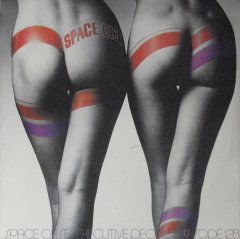 Space Case: Executive Decision
New Zealand jazz groups are always conservative, if not downright dull and literal, when it comes to album cover art.
But this one on Terence O'Neill-Joyce's Ode label in 1981 certainly got the conservative tongues wagging.
First it needs to be said that nothing in the music suggests this kind of image as being appropriate or relevant, but art designer Joop Van Heusden and photographer Ross Leigh Hawkes certainly didn't feel constrained by that.
If this is your kind of thing, then here is evidence why you really do need vinyl. When the Space Case catalogue was reissued on CD it didn't come with a cover even half as eye-catching as this.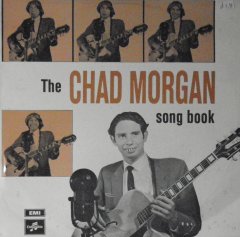 Chad Morgan: The Chad Morgan Song Book
When Australia's legendary country singer Chad Morgan made an appearance at From the Vaults with The Psychiatrist's Joy from Kingaroy, I noted he made a virtue of his obvious deficit: his large and protruding teeth.
Rather than hide them away or have expensive surgery, Morgan just thrust them out at every opportunity so you couldn't help but laugh.
And needless to say he was never going to sing grand opera.
Morgan's style was the dry, witty and understated ballad which didn't shy from the obvious rhyme, cliche or pun.
Much like Peter Cape in New Zealand in the Fifties, Chad Morgan wrote his drollery into the hearts of Australians -- but where the intellectual Cape had decent day jobs, Morgan did it by also constantly touring in a manner that would put any on-the-road rock band to shame.
People turned up to see the teeth.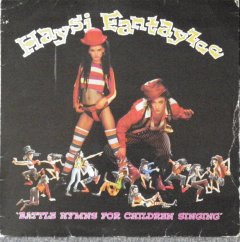 Haysi Fantayzee: Battle Hymns for Children Singing
This is perhaps cheating a little, because although this is one of those guilty pleasure albums, the front cover only hints at the unusual artwork within. It came with a handsome booklet of posing, posturing and couple of very soft porn shots by the two protagonists, Kate Garner and Jeremy Healy.
So given Kate's obvious attributes, a good cover for Boy George fans who were straight, perhaps?
But the real interest lies in who is missing from the cover.
It is their Svengali figure Paul Caplin, and -- as you may see here, where you can hear an interesting track by Haysi Fantaysee -- there is a reason he didn't grace the front cover.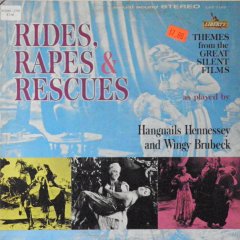 Hangnails Hennessey and Wingy Brubeck: Rides, Rapes and Rescues.
Hannails (possibly not his real name) and Wingy (Hmmm) are here "occasionally augmented by Arthur Fiddler and the Boston Poops". And yes, you read that right.
Back in the days of silent movies, accompanying pianists were often asked at auditions if they knew their "rides, rapes and rescues", meaning music to go along with the images on the screen. Hence the title here.
But . . . Music to Rape Girls By?
Recorded in "visual sound stereo" and with interpolations by your host Lindsey Armstrong -- "owner-manager of Happy Hours Nickelodeon Theatre" -- who speaks through a megaphone in the manner of Rudy Vallee.
Like many of the records above, this is an album which should not be put aside lightly, but thrown away with great force.
Elsewhere has a number of columns along these lines, click the title for the following
10 Solo Albums by Group Members
Five Odd Albums No One Should Own (but I do)
Five French Albums I'm Surprised I Own
10 Shameful Records I'm Embarrassed to Own
10 Odd Unplayed Albums in My Collection
Another 10 Odd Unplayed Albums in My Collection
10 Unusual 10 Inch Records I'm Surprised I Own
10 More Shameful Record Covers I'm Proud to Own
And Another 10 More Shameful Record Covers I'm Proud to Own
10 Rare Free Jazz Albums I'm Proud to Own
10 Somewhat Rare Reggae Albums I'm Proud to Own
and there is probably much more . . .