Graham Reid | | 4 min read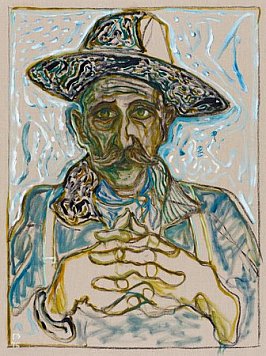 While it's feasible to live a happy and productive life never having heard a note of Britain's Billy Childish (b. Steven Hamper, 1954), the question is, "Why would you?"
Perhaps the most off-putting reason would be, "But where would I start?"
And that's fair enough because Childish has released – under his own name and that of his many bands – something in excess of 100, maybe even 120 albums, since the late Seventies.
But pulled from Elsewhere's shelf at random for this column where albums are considered is this 2009 Archive From 1959 compilation on Damaged Goods.
It is 51 songs across three slices of vinyl in a tri-fold cover with something of his personal history written by a friend and longtime fan. It comes with interesting photos which trace him from a punk-inspired singer/writer who came from an art school background (he paints prolifically and is acclaimed, that's another story) but who loved the energy of garagebands, Fifties rock'n'roll and of course punk and beyond.
Although frankly he didn't go that far "beyond", unless you count nursery rhyme and spoken word albums like The Sudden Fart of Laughter. More seriously, he has his own publishing imprint outside of music which has numerous poets and writers on its books.
But this triple set – which includes tracks from his best known bands The Pop Rivets, The Milkshakes, The Buff Medways and Thee Headcoats – favours that rock'n'roll end of his musical spectrum.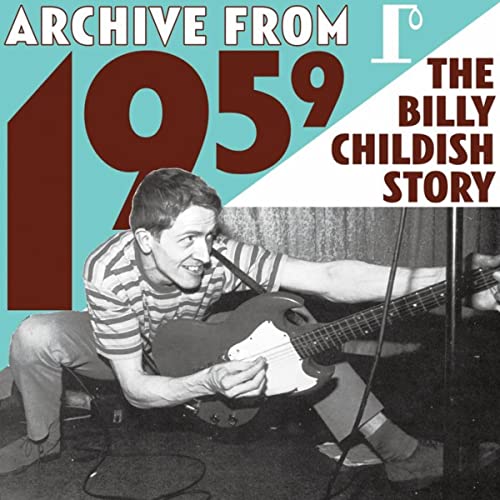 It is willfully non-chronological . . . but then Childish's career has never taken a straight line.
What you can hear is how he welded the classic Sixties garageband sound of the Sonics and Pacific Northwest bands (Dead Moon etc) with the Downliners Sect (he recorded with a later version of that classic UK Sixties r'n'b band) and the early Kinks/Troggs (check the Sixties-style harmonica r'n'b of Evil Thing, as The Chatham Singers).
Then add the anger of the punk era on songs like Thatcher's Children with his band Wild Billy Childish and the Musicians of the British Empire (which references London's Calling) . . . who also come off like X-Ray Spex/Damned when fronted by "Nurse Julie" on He's Making a Tape.
There's also the grinding Punk Rock Ist Nicht Tot (think John Cooper Clarke fronting a band which includes a concrete mixer) and We Hate the Fuckin' NME (both with Thee Headcoats, the latter a deliberate All Day and All Of The Night rip off).
They also did a zombie-thrash song about a dead girl coming back to life in She's in Disguise.
The Buff Medways' Medway Wheelers is the Jam's In the City but twisted towards something about a woman wartime cyclist. I think.
And their I'm Glad I'm Not Like David Wise is the obverse of the Kinks' David Watts which was covered by the Jam.
Clothes and appearance were important to Childish and his groups too.
The aggressive Pop Rivets appeared as Jam-influenced Mods in '78 and typically sang of the punk-celebrated Kray Twins.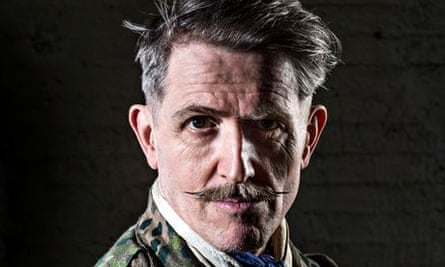 But Childish changed his look as often as he changed bands behind him: The Mighty Caesars looked like skinheads (and were akin to the early Kinks who seriously angry and full of piss'n'vinegar on You Make Me Die) and much later Childish came over all Lord Kitchener in military jackets and with an RAF squadron leader moustache.
Or like Gurdjieff with hair.
But the music on this triple vinyl rarely lets up on the gritty, often carelessly recorded, garageband noise (The Day I Beat My Father Up is like Sham 69, there's the furious Snack Crack and Every Little Thing) and that Sixties r'n'b sound (The Man With the Gallows Eyes, Cowboys Are Square, the Sect-like take on Dylan's Hollis Brown).
Childish had a sense of humour too writing songs about Davey Crockett "what's he got in his pocket" (like Hang on Sloopy in a drunken club with "gabba gabba hey" thrown in) and on Somebody Else he delivers a litany of those who seem to be doing better or feeling more assured by having more fun, fucking all the girls and making all the money, are always right or in touch with God, knowing what they are fighting for . . .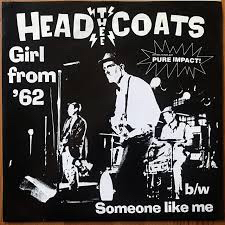 Headcoat Lane is a hilariously posh English blues. It's wonderfully satirical as well.
On this album however are left-field entries like This Wondrous Day sung by Kyra (in Flemish, a language spoken mostly in Belgium), the self-pitying Christmas 1979 (which Wham! never would have sung and is closer to the embittered Pogues) and the dreadful faux-country An Image of You by the Chatham Singers.
We leave it over you to discover I Don't Like the Man I Am by Billy Childish and the Singing Loins.
Joe Strummer's Grave is Blair-era/Cool Britannia cynicism in the CCTV/MTV age.
Billy Childish played the Star Club in Hamburg (20 years after the Beatles), was signed to Sub Pop in '92 (for one album, The Original Chatham Jack), was in a relationship with artist Tracey Emin in the early Eighties, recorded constantly if not always well . . .
It's a big story and this triple vinyl is certainly too much for most, far too vast to assimilate by anyone but the most determined listener.
But as a dip and dive – which you can do courtesy of Spotify – it's a fun, retro-ride.
As the demo of the song by the Pop Rivets said it in a yobbo oi-oi thrash: "fun in the UK".
Even if it wasn't always fun.
.
This album can be heard at Spotify here.
.
Elsewhere occasionally revisits albums -- classics sometimes, but more often oddities or overlooked albums by major artists -- and you can find a number of them starting here