Graham Reid | | 10 min read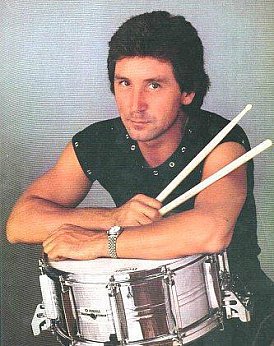 Kenney Jones has had a busy time of it lately. The former member of the Small Faces and then the Faces (with Rod Stewart and current Rolling Stone Ronnie Wood) was inducted into the Hall of Fame in April, has overseen the remastering and reissue of the Small Faces' albums -- which includes a double disc version of their semi-classic Ogdens' Nut Gone Flake -- and been actively involved in the Faces' retrospective double disc Anthology.
Two great bands in one lifetime is remarkable enough, but after the death of his old friend Keith Moon he was also invited to join the Who and for a few years held down that demanding task.
It fell apart eventually, Who singer Roger Daltrey saying Jones' style lacked drive. And in Pete Townshend's autobiography Who I Am he says when things came to a head Jones argued Townshend had kept his best songs off the Who's Face Dances in favour of his solo album Empty Glass.
So there's a bit to talk about with this polo-loving 64-year old father of six who laughs that he does remember touring New Zealand with the Small Faces on a double bill with the Who in '68.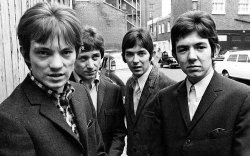 So at last the Small Faces albums have been reissued and remastered and you had a significant hand in that?
Yeah, with the record companies over the years -- Immediate, Castle and whatever then going into Universal – they rehashed the tapes and they lost their body, musical weight and character because every time they remastered something it got tinnier and toppier.
You lose the mid and the bass.
Not only that, they lost all the masters in the move from Sanctuary to Universal, that's when I knew something was really wrong. I found a whole wall of tapes and then a guy called Rob Caiger worked tireless with me. We found some tapes in Sony's offices in New York, some in Germany, and the Charly reissue label had some tucked away.
We managed to find them slowly and now we've got a better collection than we had before and we've corrected all the sound because we've added the missing parts.
It has brought Ronnie Lane's bass playing to the fore and made him sound even better, and he was pretty good anyway.
It's not just the sound that's lost in the Small Faces story through cheap compilations, but the progression of the band from r'n'b soul through pop to psychedelic music. Did you cringe at anything . . . or think some things were better than you remembered?
When we made them in the first place I cringed immediately afterwards,. You get excited and then afterwards all you can hear are your mistakes. But then you have years to get over that and only now I can really appreciate it and can get excited about listening to it.
I guess the r'n'b element is always going to appeal to young people with hormones raging and the sheer energy of your early singles.
[Laughs] It's the honest way of playing something when you are young.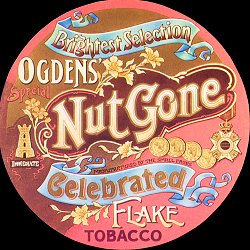 I see that Ogdens Nut Gone Flake [of 1968] in the last few years it has got its due . . . again.
Yeah, it takes a while doesn't it? It was a big success in England when it first came out but funnily enough over the years people in America are only discovering Ogdens. But they've always discovered because it's been like this cult album.
It's been there but no one knows where it came from and where its going to and when its going to arrive.
It's got a lot of character and now in America is being appreciated more and more, but also younger fans are getting into the back catalogue of the Small Faces.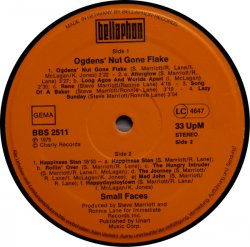 I was always given to understand Ogdens round sleeve hindered its sales?
Yeah, the cover was round so it didn't stack like a normal record and it kept rolling off the shelves. Then they tried to put it down flat and that warped all the records. Thank God for CDs, when they came out.
They put it in tins because the cover was like a tobacco tin and the CD was just a tiny bit bigger than a tobacco tin. It looked great, and right.
Useful for keeping dope in actually. I know your management with Don Arden was fraught, but did you ever make any money at the time of the Small Faces?
No, we didn't because we gave it to Don Arden to look after for us . . . and he certainly did. Don't forget we were young and didn't want to know about business. In those days you put your trust in people because that's how we were brought up. We should have not been so naïve, but at the end of the day we had a great time being young and exploring music.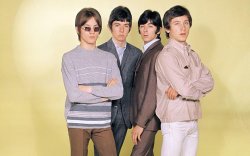 Do you remember when you actually did make money?
It was about last week, I think a cheque came in. When the Small Faces split up I'd always wanted 1000 pounds . . . and I had 800. Then the music business started to grow and when we formed the Faces and went to America we started to make money.
But I fight every day to get back the Small Faces' rights and royalties and things we were screwed out of. It got that complex.
So I shouldn't tell you this, the first single I ever shoplifted was My Mind's Eye. Let's talk about the Faces then. If the Small Faces had all those different musical elements, the Faces were also wonderfully unfocused too.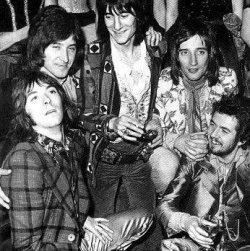 We were too drunk to play half the time but when we we did, it was fantastic and we had a great time. The Small Faces were the most creative band I've ever been in and the Faces are the best party I've ever been to.
Every time we played it was like the audience were on stage with us and we were in the audience it was one great big shindig, absolutely fabulous.
Even when we get together now it's a great deal of fun and we enjoy each others company.
Is that conducive to creativity?
I think so, because anything goes and everyone gets heard and you are free to do whatever you want.
One thing the Anthology confirms is that here was band that could do just about any idiom. But in the liner notes David Fricke says, 'the world was their barstool and it was never closing time.' Did the image get in the way of the music being appreciated you think?
Kind of, but we were trying hard to record and be creative and when we went into the studio we tried to be quite serious. The problem we had was you could never rely on anyone being there at the same time. Rod and I would always be early and Woody shows up later and Mac would arrive after that . . . and by that time we were tired so we needed to get something done in a rush.
There are wonderful songs on this collection and one stands out, because I had never heard it before is Rod and Ronnie Wood's As Long As You Tell Him.
Yeah, it's a lovely song that, got a lovely feel to it.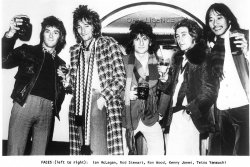 When you were listening back to this music how did you feel, as opposed to listening to the Small Faces?
It brings back all these wonderful feelings we had of doing it. They are not really commercial songs but were really heartfelt and there's a lot of character in them.
I was listening to Slim Chance's recent tribute to Ronnie Lane and that pushed me back to listen to the original Slim Chance again and there was that heartfelt quality. I wonder if that is something missing today?
I hear what you are are saying because basically everything is manufactured and chocolate box and done according to some system today, whereas we were off the wall and did what we wanted. We put our character and name and judgement on it and we were not told what to do. It was genuinely us on there.
Now you get over-commercialised and the artists don't seem to have much to say, like 'there's the song and its written by somebody else so just get on with it'.
We could get nostalgic, but there was an honesty in that period.
Yes, because we were still discovering music too. I'm not knocking what goes on now, there are a lot of songs I do like. But we were learning and breaking new ground, the first goldrush.
English musicians getting into American country was unusual then.
I agree.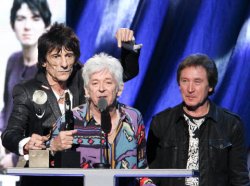 You were inducted into the Hall of Fame for both the Small Faces and the Faces? That's rare.
Yeah, double whammy all at the same time. We've got a star on one of them pavements where people can walk on your name. People were saying, 'what does it feel like?' and I said, 'does it make you legally entitled to throw television sets out the window?'
I think I saw a quote where you indicated fans had prompted it.
Yeah, the fans protested that the Faces and Small Faces needed to be in there and I must say over the years I figured they had forgotten about us and thought we were never going to be in there. All these other bands who came along way after us were there. I didn't quite get it. But better late than never.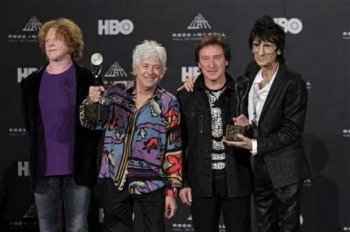 The Faces are playing occasional gigs with Mick Hucknall singing?
Yeah, because Rod is always being booked up by his management to do different things, and now its Vegas for two years or something.
When we got together it was by accident because the PRS [Performing Right Society] had a 75th anniversary and wanted to give us a lifelong achievement award. It's quite prestigious and they'd only given it twice before, one to Paul McCartney and to Andrew Lloyd Webber so I called Rod up and said it was an iconic award and he said, 'oh great I do love an award, count me in, I'll be there'.
But for some reason he couldn't be there so I called PRS and said we couldn't really accept because Rod couldn't be there and they said it wasn't just a band award but for individuals so they still wanted us.
They were doing it at the Albert Hall so I asked who was on the bill and Mick Hucknall was. So I suggested him to sing. Mick jumped at the chance because whenever I saw him at some press reception he'd make a bee-line for me and we'd chat and he was a massive Small Faces and Faces fan. He loves Ronnie Lane and when we went on the road for festivals in Europe and got to the ballads Ronnie would sing he was fantastic, Stay With Me and all those. He's not Rod Stewart and said he was just filling in until Rod was available.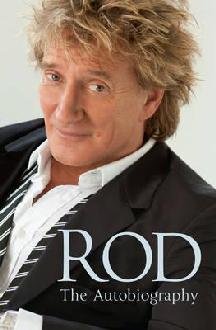 Rod's written a book which I haven't read . . .
He should have called it It's All Lies. He's alright, he's being as honest as he can. I haven't read it yet either.
I've read Ronnie Wood's book and he skims very lightly over the Faces, they get just a small chapter. You tempted to write?
I've been working on something for the last 15 years whenever they can sit me down and capture me. But we've taken it seriously of late.
I'm not in any rush because a lot of people get a book out then 18 months later they do another one. I think get it right, and you only want to write one.
Pete Townshend's got one out too – full of long words like Quadrophenia I suppose – so I will work out what's in all their books . . . and then put the story straight.
That must have been a strange experience when you were invited by Pete to join the Who. How did that actually come about?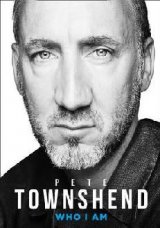 Yeah, a lot of people didn't realise that the Small Faces and Faces did a lot of touring together in England and Europe with the Who, but the press in England would have us be rival bands.
Pete would often ask me to play demos with him and I did a lot of stuff in the early days, and I did the soundtrack to Tommy when I was in the Faces.
When I got the call to join I had to say no because I was already forming the Transatlantic Band and we were just about to sign with Atlantic and were doing it with Glyn Johns who put it together.
Then I got the call from Bill Cushby, the Who's manager, who said they wanted me to join and wouldn't consider anyone else, but I had to say sorry.
Then I went in to have a chat with Pete and we chatted for two or three hours about the old days and he said, 'you are one of us, came through the Mod thing' and then I thought I should do it, but I explained it to the rest of the new band and they said I had to do it.
So I did and had no problems because John Entwhistle and I used to do a lot of sessions together anyway, so we all knew each other.
So it wasn't a shock being in the same room but what was difficult was learning the songs, because I only knew the obvious ones because I was too busy playing my own music. So I had to focus on the content of their albums. Blimey I had a whole lot of respect and Keith's stuff was more complex than you realise and I had to learn them in record time.
In the end I was just getting into it and I wasn't going to copy Keith Moon, because no one could. So I had to be me and I am a straighter drummer.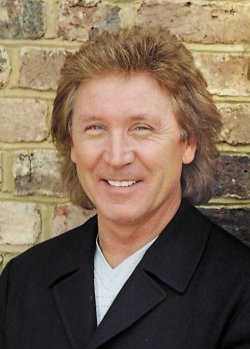 I would have given anything not to have been in that position because I loved Keith and he was nutcase but a good friend, and I miss him and rather he were alive today.
You are busy with the business end and the compilation, any other projects?
Apart from the Faces getting back together and playing in the States after the Stones have done their 50th anniversary thing – by the way Woody is in great shape – I'm working on an animation film for Ogden and I want to get that right.
I've got an open mind on the artist and it has to be more contemporary.
And I've got my own band the Jones Gang.
And a book to write?
And a book to write . . . and horse to ride.