Graham Reid | | 1 min read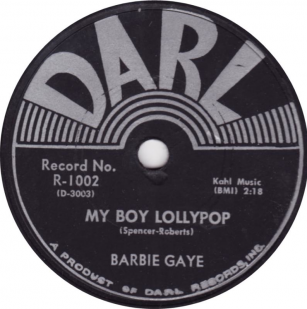 Because we are so used to hearing the most famous versions of songs -- like Blue Hawaii by Bing Crosby which pre-dated Elvis by more than two decades or Al Jolson's earlier version of Are You Lonesome Tonight -- it can come as a surprise to hear the original song before a famous name or a freak hit took it into the wider domain.
So it is with My Boy Lollypop which was a massive ska hit for Jamaican teenager Millie Small (sometimes Little Millie Small, the title becoming My Boy Lollipop) in '64 . . . the first of that style to chart internationally, and it was arranged by the great Ernest Ranglin.
But eight years before that kicked-up version was the original, sung by 14-year old Barbie Gaye (great name!).
The song was written by Robert Spencer of the Cadillacs (a revolving door membership doo-wop group) but as was so common at the time the hoodlum/record company exec and copyright owner Morris Levy also claimed credit along with one of his henchmen.
Another Mob-connected guy Corky Vastola who had music business interests heard it and gave it to Barbie Gaye, a white girl he'd heard singing on a street corner.
She changed it a little, skipped school to record it and the band gave it a kind of New Orleans rhythm -- and a persuasive sax solo -- which shifted it away from its doo-wop origins (although you can still discern that in places). It comes off as proto-ska, if you will.
It was decent enough hit for Gaye to get on shows with Little Richard and others.
After that however, Barbie Gaye seems to be lost in the fog of time.
For more one-offs, oddities or songs with an interesting backstory see From the Vaults.