Graham Reid | | 2 min read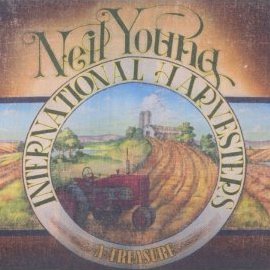 While many of us would wish Neil Young release the next long-awaited installement of his Archives series (ho ho ho, like that'll happen any time soon), in his wilful and non-chronological release schedule it was almost expected a follow-up to the terrific and raw Le Noise would be . . . a country music album.
But even so, A Treasure is a little unexpected as it comes from his on-going Archives Performance Series, that is it is live material recorded in the mid Eighties. So some important context is necesary.
This was the time when he was confusing his record company Geffen with atypical albums (ie. not rock or folk but albums like the techno Trans and then a pure country album Old Ways, although not the one released under that name in '85). Geffen famously got litigious citing "musically uncharacteristic" releases and so Young did exactly what you might expect.
Told not to do country but make rock'n'roll he delivered first his knocked-off rockabilly album Everybody's Rockin' then took to the road with a country band playing local fairs and country venues to real country folk.
A Treasure pulls together a dozen of these country songs with a terrific band which includes longtime fellow traveller guitarist Ben Keith, Spooner Oldham on piano, Rufus Thibodeaux on fiddle and others. And Young sounds like he's having a great time on material which isn't as whining as much of his more folksy, acoustic albums.
There are cliches and familiar images aplenty here as he sings of "the days of the covered wagon" and how he wishes he were "back in the saddle riding the range" on the humorous Let Your Fingers Do the Walking, and of a girl hitchhiking and her ride in the shaky-vocal Bound For Glory where they were "bound for livin' on the edge" (cue whoops and hollers).
The chiming ballad Flying on the Ground (the old Buffalo Springfield song) shifts the focus to a more Fifties country-pop sound and sounds terrific, on Motor City (which appeared on the Re-ac-tor album with Crazy Horse) he sides with the working class Right when he sings of too many Japanese cars in America (whoop, holler), and the throwaway Soul of a Woman is a countryfied take on Crazy Horse's ragged rock glory.
There's hard banjo pickin' and flyin' fiddle on the lively, autobiographical Get Back to the Country (where he says he knew he'd always be there again) and the eight minute Southern Pacific is an exciting railroad song (which he and Crazy Horse would later do with lesser results on Re-ac-tor).
Of course he also does Are You Ready for the Country? (off Harvest). That makes sense. And Grey Riders right at the end is an intense, dark revision of Ghost Riders in the Sky with Young in thrilling, desperate voice and which has an explosive coda.
So although this is Neil gone "country" -- and comes with a few caveats about the cliches in both music and lyrics -- it is actually more than a stop-gap in his on-going releases. It's a good one.
Young releases (and reissues) far too much for most to assimilate and the quality level varies wildly. Does anyone ever listen back to Living With War or Greendale, or remember Fork in the Road of just two years ago?

But A Treasure almost lives up to its title, y'all.
Like the sound of this? Then check out this.