Graham Reid | | <1 min read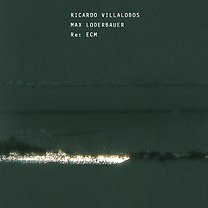 The usually restrained ECM isn't a risk-averse label -- how well some remember the textural noise of Lask and the guitar abuse of David Torn -- so when they open the vaults for manipulation you know the result will be nothing like the Verve and Blue Note remix albums.
Here this Berlin-based electronica duo improvise with pre-existing tracks by John Abercrombie, Miroslav Vitous, Enrico Rava, Arvo Part and many others over two discs but only sparingly draw from them fragments, melodic lines or a brush of cymbals. Nothing aimed at the dancefloor with these guys.
They keep their contributions equally discreet, subtle and restrained. They become part of the process of studio improvisation but the less-is-more attitude wins out. Some will bemoan the almost complete absence of the source material in many places.
But the unique result is a music with an enticing weightlessness and an accumulation of small details.
Recommended to open ears.
Like the sound of this? Then try this.