Graham Reid | | 2 min read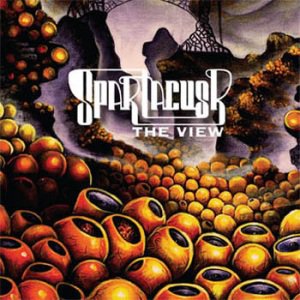 Halfway through this weirdly psychedelic and constantly surprising album -- inconveniently released at the end of last year when people were buying greatest hits for Christmas and rock writers were compiling their "best of the year" lists -- is the oddball piece Golden Sands.
Musically it opens with astral-flight synth and then establishes a subtle, repeated groove -- first conceived in late '68 at a guess -- but then things get very strange: The eerie, descending vocal line sounds straight out Eraserhead.
When I first heard this last November on a NZ on Air Making Tracks panel it was a song (I think) they had applied for funding to make a video for. My vote went to them. This was so unusual I wanted to see what a video-maker could come up with. It would have to be very bent.
And bent is what this album is like: Familiar ideas are twisted and morph into strange sonic shapes; lyrics take you into unusual places or infuse the ordinary with disconcerting meaning; one track doesn't necessarily follow the other in any sense of logic.
And yet The View -- the Wellington band's second album after When the Fever Takes Hold -- has an internal logic of its own and layers of intricate patterning which make it a return-to album.
The opener Rapata -- after a doorbell ring as a kind of "Welcome into our world" set-up -- hits a driving post-dubbery pace of dense bass, echoed effects, squirreling synth lines and widescreen scouring guitar. The distant and treated vocals link the swamp and outer space.
And after a slight pause it seems to morph into the organ-propelled Mutant Mutants which has a similarly unsettling effect with sonic references to Fifties sci-fi electronic soundtracks and just a little bit B-52s New Wave pop as well. Ryan Prebble singing "Follow the scent of the flowers and there you'll meet and greet my fine company" sounds as menacing as anything by Nick Cave.
With members drawn from Fly My Pretties and the Nudge (Ryan Prebble), Rhythm Hawks (singer, organ player Shanti Costar), Luke Buda's band (bassist Tim Prebble) and other bands (as well as some CV collaborations with artists and filmmakers), Spartacus R can call on some impressive firepower, and they deploy it to fine effect.
Only the title track sounds undernourished, and the nine minute You and Me in 3D sounds more designed for the light show which it undoubtedly gets live. Neither add much to what the other seven tracks already offer.
Their aces are in weirdness like Milk and Cookies (subtle surf'n'spaghetti western guitar twang behind lyrics ostensibly about baking), the glacially slow ambient-style sonics and baritone Stream Runs Dry (a vocal like Nancy Sinatra and Lee Hazlewood's love child raised by Jim Morrison and Johnny Cash), and the even more quietly paced-out Inner Space (like early Pink Floyd).
Spartacus R mostly deliver a genuine psychedelic album of the kind from the late Sixties (albeit with the guiding intelligence of the Now) where the strangeness happens within a song structure. These -- with the exception of You and Me in 3D perhaps -- aren't just tripped-out grooves.
Start with Golden Sands. I dare you to walk away after even just one hearing. I made the video in my head.
It was very, very unusual.
Like the sound of this? Then check out this.