Graham Reid | | 2 min read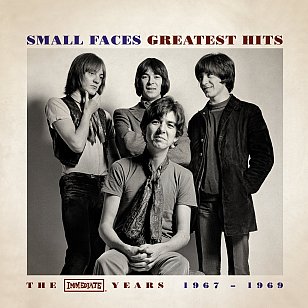 As we all know certain songs hold a special place in our lives. For me the Smal Faces' My Mind's Eye is very significant.
It was the first single I shoplifted.
In fact it was the only single I ever stole. The economies of stealing and selling meant albums were by far more sensible to swipe (a story I shamelessly tell here).
But I was such a fan of the Small Faces I just had to have it, and I still do.
At their best -- which was rather often -- the Small Faces were that rare amalgam of soul, pop, rock and power pop. Their English whimsy on Itchycoo Park and Lazy Sunday were fun but I was always a bit take-it or leave-it over such songs.
And so were they.
In fact the Small Faces story is one of them feeling misrepresented by their singles, especially their first success with Sha La-La-La-Lee which they felt was far more tame and poppy than the white rhythm and blues/soul band they were (and had been heard on their first single Whatcha Gonna Do About It).
Stevie Marriott could really belt out a song and the band behind him -- Ronnie Lane, Kenney Jones and Ian McLagan -- locked in like few others at the time. They were a proper "band".
As part of manager Don Arden's stable they were primed for the pop market however, and so after their self-titled debut and that thrilling single All or Nothing (which in retrospect sounds like a statement of intent for Marriott's subsequent and rather wayward career post-Small Faces) they left and signed to the Immediate label, founded by Stones manager Andrew Loog Oldham and Tony Calder.
Immediate wasn't quite as conscientious as they might have hoped but they did have more freedom . . . although even here they found themselves defined by those singles Itchcoo Park and Lazy Sunday, when they might have preferred the exceptional Here Comes the Nice and visceral Tin Soldier to be more prominent in their legacy.
This 20 track collection -- remastered from original mono tapes in a hardback cover with a 24 page booklet of photos and each track detailed -- picks up their Immediate singles (A and B sides, some EP tracks) and showcase their diversity as well as spotlight individual strengths (McLagan's keyboard work especially).
Four of the tracks -- Lazy Sunday, Rollin' Over, Mad John and The Journey -- are from their fine Ogden's Nut Gone Flake which any sensible collection should have (see here).
The advantage of this compilation is that while it includes their most popular hits (you know the two) it also has their salute to a speed merchant Here Comes the Nice, the wonderful Tin Soldier and Afterglow, and the wonky The Universal which was Marritt's garden demo (complete with dog barking) embellished in the studio.
When they hit the raw soul-rock end of their spectrum (Rollin' Over and Afterglow both excellent examples) or just rocked out (the B-side Wham Bam Thank You Mam) the Small Faces were unbeatable.
There is a considerable Small Faces reissue in progress -- the booklet advertises a whopping limited edition vinyl singles set -- and although there is some crossover this, their self-titled debut album and Ogden's are all individually or collectively worth getting if you were ever a fan, or are just curious about the band beyond Lazy Sunday/Itchycoo Park.
This collection in hand doesn't have My Mnd's Eye on it because that was their final single for Arden before they signed to Immediate.
But I don't care about that.
I've got a copy.
For more on the Small Faces this DVD is wroth seeking out.