Graham Reid | | <1 min read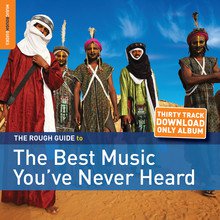 Perhaps because I flatter mysef and the smarts of Elsewhere visitors, I'd like to believe the title of this 30-track download-only album (available here) through the Rough Guide imprint is just a little misleading.
Scanning the names here (if not the specific tracks from important albums) I see the likes of longtime favourites Etran Finatawa, Bob Brozman (interviewed in depth here), Nuru Kane, the great Debashish Battacharaya, Padan Das Baul and others whose music has appeared on these pages (and can be found, along with other luminaries, at World Music in Elsewhere).
But then on a second glance there are many more names which perhaps justify that title: Achanak, Samba Toure, Saba, the Kolpakov Duo, Dozan . . .
And so, without spoiling it by telling you who those people are and where they come from, that does make this expansive collection something very worthwhile as both a voyage of discovery as you get your aural passport stamped, and allows you to thrill to the likes of Hanggai (hear here), the Ahmad Sham Sufi Qwaalli Group, Axial . . .
Your thoroughly enjoyable learning curve begins here.
Like the sound of this? Then check out Planet Rock. Or this.