Graham Reid | | 7 min read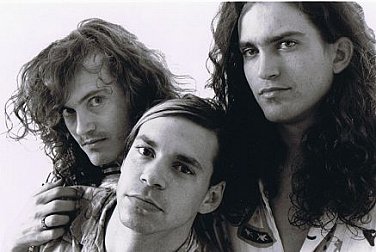 It's an old truism and therefore probably quite false, but it goes like this; ask musicians their influences and you can pick their sound.

It certainly doesn't hold up when you speak to Curt Kirkwood of the Meat Puppets from Arizona.

After he's ticked off The Beatles, Joe Walsh, Yes (!), and Black Sabbath, he then confuses things further by adding in the free-jazz group The Art Ensemble of Chicago, part-time chess professional and avant-garde saxophonist Anthony Braxton, and jazz guitarist John Abercrombie.

Then he adds as an afterthought: "But I love George Jones above any other singer."

So there it is, art-rock, Brit-pop, heavy-metal and classic country all baked together by Kirkwood, his brother Cris and drummer Derrick Bostrom under a blistering Arizona sun.

The list may not make a picture of their music any clearer but it certainly explains why the Meat Puppets have been one of the most consistently unpredictable and enjoyable bands of the Eighties.

Signed to the small independent SST label in California in 1980, they leapt on to vinyl with an album of head-banging, hard rock, then crossed it with a touch of country music for their second outing.

Their 85 Up On The Sun skittered from the barely accomplished dirge of the title track through very peculiar psycho-gypsy cow-punk – or something like it. However you tried to describe their sound, it came with a lot of hyphens.

Mirage, from 87, settled into a country style with a couple of songs the Traveling Wilburys would be comfortable with. Very folksy too.

Later that year they turned up the volume for Huevos, which pitched itself somewhere between Creedence Clearwater and ZZ Top. It also had guitar solos which were even more unfashionable then than today.

The Meat Puppets never failed to deliver the right amount of unpredictability -- the Moby Grape of the Eighties, as someone said.

They also had lyric sheets which were no more helpful than: "laughing gold carried on silver, open robe waving by the trailer, this is paradise . . ."

Things also seemed to get fairly psychedelic under the Arizona sun: "The music turned to emerald-feathered goblins . . ."

Needless to say, they are terrific.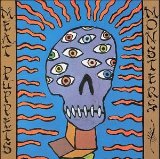 Their new album, Monsters, keeps just enough country and delivers the melodies and guitar solos with hard-boogie intensity. Shades, a six-pack and barbecue are the preferred fashion accessories for this music.

Kirkwood, guitarist and cover artist for the Puppets, flicks through his back pages to account for the strange blend of musical ideas which has become the band's sound.

The country one is easy.

When the family first shifted to Phoenix with their stepfather (he was in the horse racing business)

they lived at a place with the seedy-sounding name of Turf Paradise.

"That's where the guy wrote The Race is On, and Marty Robbins came from Phoenix. Waylon Jennings got a good start here and Tumblin' Tumble Weeds was written here too. There's a lot of country music in Arizona."

But the big influences were the stadium rock superstars who would rumble through from time to time. Being off the track for smaller acts, says Kirkwood, meant you got just the biggies – like Yes, Rod Stewart with the Faces and so on.

And that's what has made the Meat Puppets one of the great live acts -- at least all the press on them is unanimous on that count: "Thats the difference between us and a lot of others. We can do live what we do on record – and then some. The people I liked the best were bands like the Mahavishnu Orchestra and The Grateful Dead, people who can really wail live."

However, after a series of pleasurably peculiar albums and EPs added to great live shows, they still haven't broken the surface in the way you might expect. There's a reason.

"Well, that's a very tender subject," says Kirkwood, then talks openly about his annoyance with SST and the lack of distribution and promotional clout a small label has.

The Puppets and SST have both been hurt by rumours the band were going to sign to a major label and break out much like REM -- a useful reference point for their similarly cultish following and regional-hero status - with the Monsters album.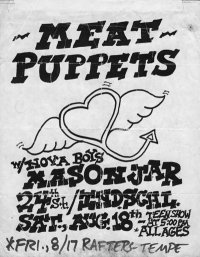 Kirkwood admits he took the tapes of Monsters to a lot of different companies who had been sniffing around them, but a rumour they had already signed a big deal put them offside with SST, so it was back to SST with the album which Kirkwood says has best captured their live energy.

"I've vacillated between anger and temperance -- because when we tour people tell us they can't get our records, so I say bad things about SST -- but then there you are down in New Zealand, and you've got the album and it has only been out in the States about six weeks, so maybe it's alright.

"But I still think distribution is a problem. They don't think so and say, 'Well, sue us'. If they distributed better and sold more albums, we could afford to. It just goes around like that."

The major label interest is still there however, even though Kirkwood says some of the company reps sent out had a problem with the group.

"Our shows are very different. On record our lyrics seem seriously contemplative, but on stage we really let go. It sounds arrogant to say it, but there's really nothing like us. We're in a different realm and that's why a lot of people have trouble writing about us. They try to compare - and you can't.

"I'm really into Disney and my comparisons would tend to be cinematic ones. It's a multimedia presentation and I've perceived the best rock stuff that way. I guess that's the Bowie influence. The first show I ever saw was Bowie and that Diamond Dogs stuff. I saw that as a teenager."

But his earliest influence and you can still hear flickers of it on Monsters, was the Beatles.

"If I get into an artist enough," says Kirkwood, "I have dreams about them. The Beatles were the first. When I was a kid I dreamed they came over to my grandpa's, hoisted me up on their shoulders and sang For He's A Jolly Good Fellow. I loved the Beatles and after they broke up I remember a void until Led Zeppelin and Black Sabbath came along."

Strange dreams, an odd cross-pollination of musical influences and the desert sun also make for some downright indecipherable lyrics. Nothing the Meat Puppets have penned sounds remotely grounded in any kind of conventional reality. They've certainly never gone close to anything as solid as politics.

"None of that stuff is that interesting. It's participated in by very few people on any realistic basis. I perceive it as evil -- just strong-arming at any level. Thinking people are way beyond politics."

And unlike fellow Phoenix rockers Alice Cooper and The Tubes, the Puppets are quite happy to stay where they are. It's a bigger city now than when they were growing up, the left-field acts come

through and recording studios are good.

Yet Monsters was recorded in Los Angeles and Kirkwood says that decision was easy. He'd been doing some test recording at a place imaginatively called The Record Studio in Orange County and it seemed inexpensive.

Orange County near Disneyland - the focus of all Kirkwood's fascination?

"Yeah, it was real close, but we felt like the water in the studio might have been tainted by the sewage from Disneyland. Maybe we were getting more than just the proper attitude because of the Disney run-off.

"That might be a strange coincidence. People will say 'Yeah, riiiight'. But let's be honest. Monsters is definitely the closest we've come to hitting the panoply of medium forms of styles and moods."

He's right you know.
For an overview of other Meat Puppets albums go here.