Graham Reid | | 5 min read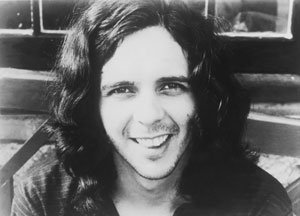 If rock listeners know keyboard player, guitarist and songwriter Bobby Whitlock at all, it's because he was in Derek and the Dominos, the band in which the Derek was Eric Clapton and delivered the exceptional album Layla and Other Assorted Love Songs in 1970 . . . before drugs and disagreements saw them implode rapidly.
On that album Whitlock co-wrote five of the 14 songs with Clapton, and a few others for a subsequent album which never happened (but appeared in the 40th anniversary box set).
The 22-year old Memphis-born Whitlock had come a long way from picking cotton in Arkansas, being brutalised by a preacher father (who abandoned the family when Bobby was in his early teens) and making a living as best he could by hanging around Stax studios in Memphis where he watched the greats like Booker T, Albert King, Rufus Thomas, Sam and Dave, William Bell and the Staple Singers.
He eventually got to record a couple of singles then, at the suggestion of bassist Duck Dunn, hooked up with a band lead by Delaney and Bonnie for their debut album. He became part of their touring band known as Friends and when they were invited by Eric Clapton to open for Blind Faith, Whitlock became part of an insider set around rock royalty.
Blind Faith split up, Clapton joined Delaney and Bonnie and Friends on a casual basis, then when Whitlock decided to quit he called up Clapton in England and asked if he could come over and hang out. He stayed with Clapton for weeks, they jammed and wrote together, then Clapton called in others: bassist Carl Radle (who had been in Joe Cocker's Mad Dogs and Englishmen band) and drummer Jim Gordon (from D&B) turned up.
Clapton later said, "All we did was jam and jam and jam and night would become day and day would become night, and it just felt good to me to stay that way. I had never felt so musically free before."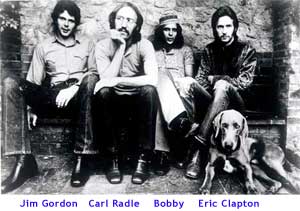 Then the call came from Clapton's friend George Harrison to work on what would be his solo album All Things Must Pass. They all trooped along.
"I never played piano before," Whitlock said of those sessions. "I was an organ player; they are two different instruments altogether. You want to hear me learning to play piano, listen to the jams on All Things Must Pass.
"We had been together as the core band for Delaney and Bonnie but we didn't become Derek and the Dominos until George's sessions. The idea of the group -- which originally included Dave Mason [Traffic] also -- was no horns, no chicks. A rock'n'roll band!"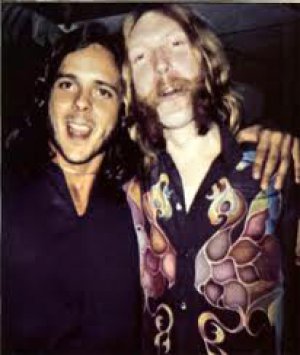 With Phil Spector from the Harrison sessions producing, the band that was Derek and the Dominos recorded two songs as their first single -- Tell the Truth and Roll It Over both Clapton-Whitlock co-writes -- and played a few lowkey shows.
When Clapton subsequently went to Miami to record his first solo album with producer Tom Dowd -- whom Whitlock knew from Stax days -- the band joined him and the legendary Layla album (with Duane Allman, right, with Whitlock, dropping by for the title track) was created.
As the Dominos took a break then fell into disarray, Whitlock used the time to write and get together players for his first solo album.
The first person he invited was Clapton, the second was Harrison, then Klaus Voorman came in to play bass, Radle dropped by for a couple of songs, Delaney and Bonnie, saxophonist Bobby Keys (Buddy Holly, Stones, Lennon), the Jims Price, Gordon and Keltner, . . . another supergroup.
"George had turned to me after we did A Day Without Jesus and said 'What's next?'. I hadn't planned on doing another number and didn't have one in my head. I told him that I don't know what's next. I drew a blank.
"Here I had Eric Clapton and George Harrison in my first session and I'm drawing a complete blank!
"I guess that's the best thing could have happened because I had opened myself up for that creative influence to come into play. George said, 'Why don't you just make something up?' I was sitting at the organ and said, 'OK B minor' . . . we all started playing and it fell together as if it had already been written . . . it was a truly amazing moment."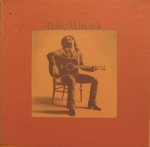 Astonishingly his star-studded self-titled debut was rejected by Atlantic Records so Whitlock bought himself out of his contract.
He went off to the south of France to hang out with the Stones while they recorded Exile on Main Street where he met their producer Jimmy Miller.
Through some convoluted record company machinations Miller connected Whitlock with Dunhill Recrods who not only picked up his debut but signed him up for a second album, Raw Velvet, which Miller would produce.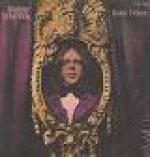 Clapton -- and Delaney and Bonnie -- turned up for a song on that one (Hello LA, Bye Bye Birmingham), but elsewhere Whitlock had in the Edwin Hawkins Singers who brough their gospel-soul to the sessions, and he also has the Los Angeles Symphony providing strings on two understated originals.
Both of these albums not only showcase Whitlock's raw but melodically soulful Southern voice, but he brought together gospel elements with country-rock and jamming rock'n'roll.
He was also a dab hand at ballads -- witness Song For Paula on the first album dedicated to his partner Paula Boyd, sister of Pattie who was married to Harrison and the source material for Clapton's emotionally fraught Layla about his unrequited love for her.
And as much as he could turn things up in the company of Clapton and Harrison, when the mood comes down -- as on the delightful The Scenery Has Slowly Changed with Clapton, Gordon and Voorman -- he could excel in thoughtful country-framed reflectiveness.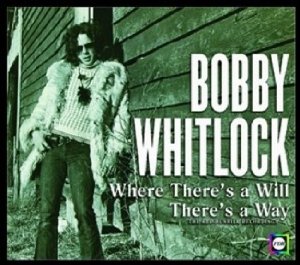 Whitlock's two albums have been reissued on a single disc (through Future Day/Southbound) under the title Where There's A Will There's A Way and it is an ear back into that period when rock'n'roll and rockin' soul found a common footing.
And he could slip in Hoyt Axton's Ease Your Pain seamlessly.
Whitlock's voice is frequently soulful in the manner of a young Joe Cocker (there's also something of the Mad Dogs/Shelter People about his songs and arangements too) but in places you can hear music which would be familiar to followers of the Faces or Black Crowes.
On Write You a Letter from Raw Velvet you can also hear how much of an ear he had for the Stones (especially Jumpin' Jack Flash) as Rick Vito peels off the distinctive Richards licks.
Whitlock's solo career never quite reached these heights again although he continued to record and had a creditable career in session work. These days he lives in Austin and is still playing, his songs continue to be covered and a couple of years ago he wrote his autobiography with Marc Roberty. His old pal Eric Clapton contributed the foreward.
Bobby Whitlock played on two of the greatest signpost albums in rock and also delivered these two excellent, if largely overlooked albums, under his own name.
All before he was 25.