Graham Reid | | 4 min read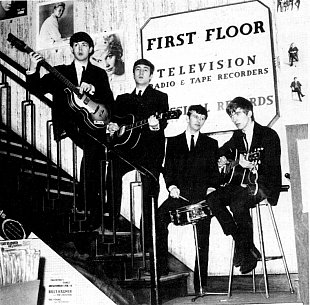 While often jokingly referred to as "the Greatest Story Ever Sold" (a reference to the 1956 Biblical epic film The Greatest Story Ever Told about the life of Christ), there is a part of the Beatles narrative of truth, myth and legend which has gone largely under-explored.
In their much analysed and discussed career, those many sessions they spent recording for the BBC haven't been put under much close scrutiny.
Yet they spent hours and hours in BBC radio (and later, television) studios, and from early '63 onwards were also dealing with Beatlemania and their EMI recording career.
Through their manager Brian Epstein's persistence, on March 7 1962 – with Pete Best still their drummer, before they had a recording contract and a full seven months before their first single Love Me Do -– they recorded four songs before a live audience in Manchester for the BBC's light entertainment show Here We Go, a title which would become highly apposite.
It was the start of a long association with various BBC programmes and in total the Beatles made 275 recordings of 88 different songs between that first session and their final one in June 65.
This is a phenomenal output and commitment given they were also touring at home and abroad, recording, and filming A Hard Day's Night and Help! in addition to many television appearances.
But, as with their time in Hamburg and at the Cavern in Liverpool, these radio sessions made them the road-worthy and studio-savvy band they were. Little wonder when their time came they could go into Abbey Road and record their debut album Please Please Me (released April 63) in about 16 hours.
As a measure of their workload consider this: On July 16 1963 they recorded three Pop Go the Beatles programmes for the BBC they recorded 18 songs in a marathon seven-hour session, the following day they recorded another four songs and the day after that began recording their second album. The next day they went to Wales for two concerts, the following night to Lancashire . . .
Their stamina was extraordinary and their enthusiasm for work unmatched by others at the time. In 1963 they appeared on 39 radio shows.
They also knew a lot of songs before they started writing their own, and at that first BBC session they sang a Lennon original Hello Little Girl dating from about 1960 (which wasn't broadcast), Chuck Berry's Memphis, Tennessee and Roy Orbison's Dream Baby which had only just entered the British charts. Most tellingly they also played the Marvelettes' Please Mr Postman, the first time any music on the Tamla label (the forerunner to Motown) had been played on British radio.
It would appear later on With the Beatles.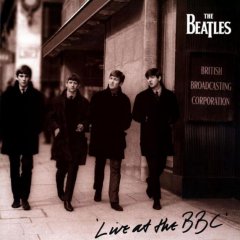 Regrettably nothing from that period before their first single was preserved, but later broadcasts were kept and provided the 59 songs which appeared on the double CD Live at the BBC (which has just been reissued in a remastered version).
It appeared in 94, went to number one on the UK charts (three in America) and sold five million copies in six weeks.
Remarkable for a band which hadn't existed for almost 25 years (it own a Grammy for best historical album), and it was a double disc.
At the time Ringo Starr said, "You tend to forget that we were a working band. It's that mono sound. There were usually no overdubs.
"We were in at the count-in and that was it. I get excited listening to them."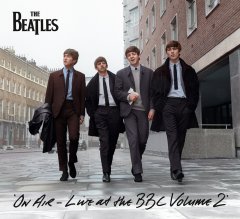 Last week a rather belated companion volume of their BBC recordings On Air; Live at the BBC Vol 2 was released (reviewed here) and it reminds again what a peculiarly distant time their early career was.
These were the days of steam trains, only two channels on British television (both in black and white), mono recordings and pop singers performing on bills with dancing dogs and jugglers.
Hmm, maybe in these days of New Zealand's Got Talent maybe that last one doesn't seem so remote?
On Air has another 63 songs which include 37 previously unreleased performances.
Again what comes through is their love of black American music (Little Richard, Chuck Berry, more Motown, Arthur Alexander) alongside Buddy Holly songs (Words of Love), standards (Beautiful Dreamer) and of course their own blossoming hit-spinning career (She Loves You, This Boy, I Want to Hold Your Hand, a studio outtake of I Feel Fine and a piece of Paul McCartney juvenilia, the little heard I'll Be on My Way).
As McCartney recently noted about these sessions: "There's a lot of energy and spirit. We are going for it, not holding back at all, trying to put in the best performance of our lifetimes."
And sprinkled throughout are snippets of some of their on-air banter and quips which were an important and endearing part of the shows. Their unashamedly Northern accents were a rarity on BBC radio at the time, and the Liverpudlian wit was enormously popular.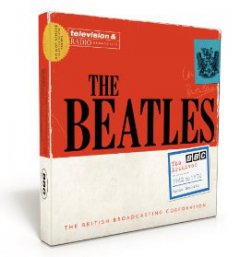 On Air -- which comes with an introduction by Paul McCartney -- has been compiled by former BBC producer Kevin Howlett who has also just published an authoritative account of the Beatles association with the BBC which changed both parties, The Beatles; The BBC Archives 1962-1970.
So this less scrutinised aspect of the Beatles career is getting a spotlight shone on it again.
As Howlett says of On Air, "this collection of archive radio recordings casts the same spell and provides an uplifting reminder of why the world first fell in the love with the Beatles".
And those first sessions with Pete Best are also covered in Mark Lewisohn's just published Tune In: The Beatles; All These Years, Volume 1, a 930 page tome which only gets the Beatles' story to New Year's Eve 62, the year before the floodgates burst and Beatlemania washed over the world.
From then on their names would be written across the consciousness of popular music, culture would change, Lennon and McCartney would write over 200 songs and their voices would become as distinctive and recognisable as their faces. And it all began more than half a century ago and was captured by that most BRitish of institutions, the BBC.
Interestingly when they auditioned for BBC producer Peter Pilbeam a few weeks before that first recording session in early '62, he was unimpressed by McCartney, liked Lennon's voice and concluded they were "an unusual group, not as 'Rocky' as most, more C&W, with tendency to play music."
Whatever that meant we might never know, but his final word in capitals said everything: "YES".