Graham Reid | | 9 min read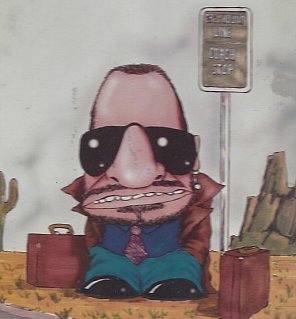 Even before their protracted divorce, the various Beatles had been releasing albums under their own names.
The first was Paul McCartney who, with considerable help from George Martin, wrote the soundtrack to the 1966 film The Family Way.
George Harrison did the uneven but sometimes interesting soundtrack to the '68 Joe Massot film Wonderwall (released on Apple as Wonderwall Music) which embraced Indian music, blues, psychedelic sounds and even a little deliberately cliched cowboy pop. It's an album to discover.
The following year he released the controversial Electronic Sound album which Moog pioneer Bernie Krause said included a whole side of him – uncredited – just showing Harrison the instrument's potential.
John Lennon – with Yoko Ono – released a few avant-garde (and avant-gotta-focus) albums of spoken word, random radio noise, silence, some singing and more . . . or less.
Ringo Starr however – the fourth best singer in the group who didn't write songs – maintained a fairly sensible silence.
Until March 1970 when -- just a month before McCartney's solo album with its self-written "press interview" where McCartney announced he couldn't see himself working with the Beatles again -- he released Sentimental Journey, a collection of standards he'd heard as a kid.
And with that, Starr announced a solo career which wasn't experimental or avant-anything, but retro, populist and a bit of self-indulgent personal enjoyment. He said his mum chose the songs she wanted to hear him sing.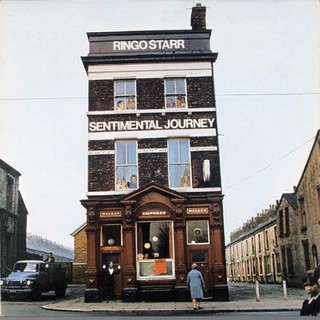 As only a Beatle could afford to do, he commissioned some of the greatest arrangers (Ron Goodwin, Quincy Jones, John Dankworth, Oliver Nelson, Elmer Bernstein) and friends (Maurice Gibb, Klaus Voorman, McCartney) to help out on a selection which included Night and Day, Whispering Grass, Bye Bye Blackbird, Stardust, Love is a Many Splendoured Thing . . .
He beat Rod Stewart to the punch by more than three decades.
Few would claim it to be a great album however, despite the title, Starr doesn't sound cloying or mawkish but rather at home on songs as familiar and as comfortable as a pair of old slippers.
And on the cover our man isn't there posing like a lounge crooner, it is Ringo outside the Empress pub on the street where he grew up with montages of family members at the window. And even though he is in a tux he is so small and indistinct on the cover – that's him bottom left of the building – it announced, "this isn't about me, it's about my family and home".
That comes through on the album where he sounds at ease and sincere, and it is was the only album by a former Beatle at that point you might have played in mixed company and more than once.
And – perhaps because of its familiarity, or simply because it was still-lovable Ringo – it went top 10 in the UK.
Unfortunately his second solo album – the excellent Beaucoups of Blues later in '70 – enjoyed no such British chart action and even scored lower than Sentimental Journey in the US. Which must have been disappointing because it was a fine country album recorded in Nashville with excellent session players (guitarists Jerry Reed and Charlie Daniels, Ben Keith and Pete Drake on pedal steel, Elvis' drummer DJ Fontana and his backing singers the Jordanaires, and others).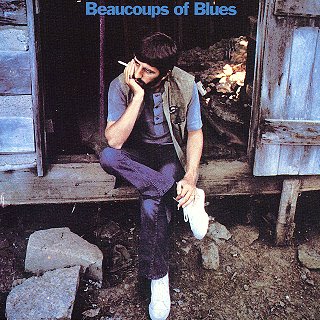 What many then -- and now -- didn't quite understand was how popular country music was in Liverpool when the Beatles were growing up. Harrison was a big fan of Chet Atkins and Carl Perkins, and in his Starr turns on Beatle albums Ringo had sung Perkins' Matchbox, the old Buck Owens country hit Act Naturally and his own Don't Pass Me By which owed a debt to country music.
Once again, Ringo had delivered something unexpected and over the years the album has risen in critical opinion as a charming and enduring collection on which he brought his sad-sack persona to songs like Love Don't Last Long, Fastest Growing Heartache in the West, Losers' Lounge, Waiting and others.
Yes, there is also Silent Homecoming which milks the sentiment, but otherwise Starr's solo career was looking to be rather interesting.
(Elsewhere did a major consideration of Beaucoups of Blues, peppering in the background.)
And if the albums didn't set the chart alight, his singles certainly did.
Between '71 and the end of '73 he had four top 10 singles in the UK and USA (It Don't Come Easy, Back Off Boogaloo, Photograph, You're Sixteen), with Photograph and You're Sixteen number ones in the States.
Neither Harrison or Lennon could claim that kind of singles' success and McCartney was barely in front.
In terms of chart-topping singles, Ringo was, as some wag quipped, "ahead by a nose".
But it was his next album simply entitled Ringo (1973) where – with considerable help from his friends – Starr established himself in the pop realm.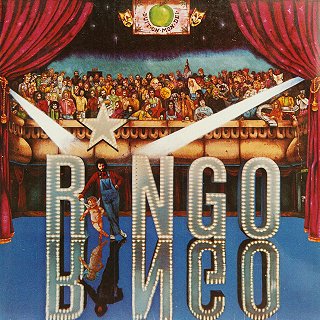 Both Photograph and You're Sixteen came from the album and with Lennon, McCartney and Harrison contributing (albeit separately), Ringo was a broad promise of a possible Beatles reconciliation, hence the interest in it.
Unfortunately, despite the heavyweight presences (which included his new friend Marc Bolan, Harry Nilsson, most of the Band, Steve Cropper, Billy Preston and others), the album hasn't aged as well as it might have.
Lennon's opener I'm the Greatest is a lame, autobiographic piece – with a few Ringo-references – which he palmed off on Ringo probably because he'd used the best such stuff on his own Plastic Ono Band album.
It is however a crowd-pleaser (the crowd on the cover?) . . . but after that there's not a lot enduring, even beyond the playing time, of Randy Newman's Have You Seen My Baby (other than James Booker's piano and Tom Scott's horn arrangement); Harrison's countryfied Sunshine Life For Me (perhaps only notable for the presence of Band members, the fiddle and hoe-down percussion); Oh My My written by Ringo and Vinnie Poncia is an enjoyable album-filler with Billy Preston and Scott's horns . . . and for the first time we hear Ringo's weak vocals padded out by multi-tracking (again on their blandly already-forgotten Devil Woman where the heft is lifted by Scott's team players) as would become his aural signature . . .
Not unexpectedly, in retrospect, was Ringo's own Step Lightly (a rare solo credit) which looked back to the Beaucoups of Blues country-ease which is simple (in melody and lyrics) and gets by on its quasi-musical hall soft-shoe elements.
Paul and Linda McCartney's contribution Six O'Clock is quite a lovely if unmemorable sub-Wings off-cut.
One of the most enjoyable songs (on an album of largely disappointing songs) is the Harrison-Mal Evans co-write You and Me Babe which is one of the those relaxed Ringo vocals with lyrics which were emblematic of the period, and of the years to come: "The pleasure really was mine, I had a good time, singing and drinking some wine, and when the sun sets in the sky and you close your sleepy eyes, I'll be in some nightclub getting high, that's no lie . . ."
And that proved to be unfortunately true.
The Ringo album – with heavy friends, overly-arranged songs and a great gatefold cover with artwork by Klaus Voorman was very close to Ringo's last hurrah on the charts in the Seventies.
And it was only 1973 . . ,.
"They've turned out the lights . . . are we reaching the end, so it's off we go" he sings at the end, and then he does a farewell to "your friend and mine, Ringo Starr".
And it was.
His next album Goodnight Vienna tried to repeat the fiscally rewarding/chart performing formula of the Ringo album but it seemed an even more weak photocopy of a fairly bland image in the first place.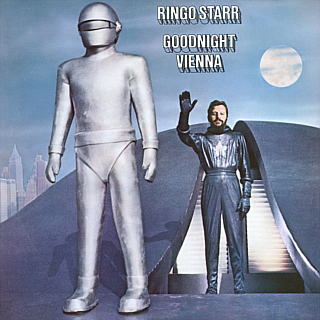 The multi-tracking to cover has vocal weaknesses was more evident, the songs were even weaker (again a Lennon opener, the unbelievably dull rockn'n'roll-by-numbers title track which good-hearted drummer probably didn't have the gumption to reject).
And there's little after that which elevated the album, despite Ringo's somewhat sloshed optimism.
Hanging out with Marc Bolan and being attuned to glam didn't pay off with Oo-Wee (another co-write with Poncia which starts as Glitter Band and defaults to Scott's showbiz horns) and then he jerks back to his country persona on the schmaltzy Roger Miller song Husbands and Wives (given his impending marital break-up it might have had more gravitas but it declines into barely sung cliché).
Despite the upbeat and almost rocking' autobiographical Snookeroo (written by the Elton-Taupin team) which celebrated Starr's Northern roots ("I was born in a north of England, I was raised in a working town . . . I could spend my life with a factory girl, because a factory girl's quite nice") even the singer knew it was all a pop-culture lie.
By the tuneless second side (despite country writer Hoyt Axton's No-No Song being something of an ironic "hit") this was the beginning of the end.
Nilsson's maudlin Easy For Me is an interesting hark back to the sound of Sentimental Journey.
Reviewers were polite – "he's so awful he's simply wonderful" opined Creem – as Ringo's marriage to his childhood sweetheart Maureen went public, his drink and drugs problem became well known, his film roles had diminished since his Starr turns in the Beatles' Hard Days Night and Help! and into mostly dismissed stuff like Candy and Blindman.
By '74's Ringo's Rotogravure (which came with a wee looking glass to read the back cover Abbey Road graffiti) Ringo's solo career was all but over as an artist of any consequence.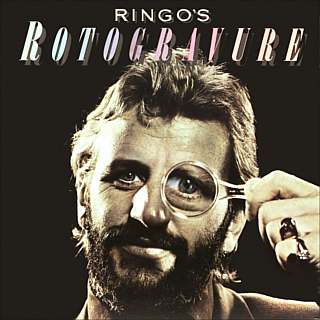 The album was hit-free, in photos at the time the man looked desperate behind the shades which would become his hallmark and yet . . .
Ray Columbus writing in the Listener described it as "probably the most ambitiously packaged album . . . Polygram have pulled out all the stops to promote his debut album for their company".
Thereafter Columbus politely encapsulate the Beatles carer from "the dingy cellars and clubs of Hamburg" to critical-avoidance of any serious judgement.
But the album did contain You Don't Know Me At All written by New Zealand's Dave Jordan . . . which is bloody awful, frankly.
Despite that local touchpoint – and Ringo's segue from A Dose of Rock'n'Roll into his singalong cover of Hey Baby, known in this country for the Underdogs' satirical version of the Bruce Channel sub-hit – it is a lazy album by any measure.
And by this time the names Lennon (contributing the astonishingly idiotic Cookin, embarrassingly elevated by some Lennon/Starr revisionists), Clapton, McCartney, Nilsson et al in the liner notes were meaning less and less.
However, in a better world – when he was sober and engaged by his country possibilitiess – his song Cryin' (co-written with Poncia) coulda been something. It was one of his more ambitious, honestly sentimental-country songs . . which tellingly fades out because the idea is exhausted . . .
Producer Arif Mardin seemed like a hired gun taking the cheque and polishing up a studio gathering. But as Quincy Jones memorably said, "You can't shine shit".
The end of Ringo's solo "career" was over, just four years after it had begun.
But there was more to further facilitate the decline . . .
Ringo The 4th in '77 (his sixth album) was a matter of so little musical consequence that most attention alighted on how well Mardin had done making booze-afflicted Ringo sound disco-vertical . . . and speculation on whose legs were wrapped around Ringo's neck on the cover (his then-partner Nancy Andrews' friend Rita Wolf should you care).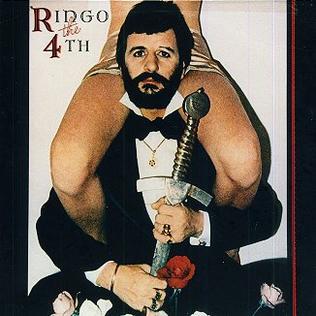 Pals on this one includeddd guitarist David Spinozza, bassist Tony Levin, drummer Steve Gadd, keyboarddf player Richard Tee, singers Melissaa Manchester, Bette Midler, Luther Vandross and many others, the Brecker brothers . . .
However as Michael Seth Starr (no relation) noted in his Ringo biography With a Little Help, "the photo shoot, unfortunately, was the only memorable element of the album . . .".
Because of who he was, Ringo would never have any trouble getting studio help.
Who wouldn't want to say they'd appeared on an album with a Beatle?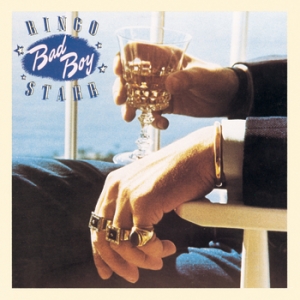 His final album of a decade which had started so promisingly was Bad Boy ('78) which pulled in some old pals – not a former Beatle, Arif Mardin, Nilsson et al among them, but Dr John and Elton's bassist Dee Murray joining the hangover.
And, appropriately, the cover shows just one ring-covered hand and the other holding a glass.
His wasted Eighties awaited …
.
There is more about Ringo Starr's more recent albums at Elsewhere starting here.
.
Most of the albums above are on Spotify here.
.
Illustration by Guy Body.