Graham Reid | | 1 min read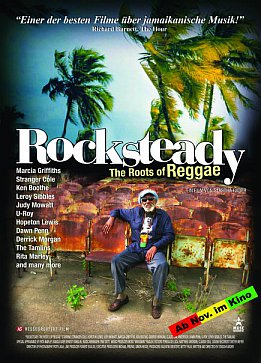 Somehow, between the reggae revolution and the ska revival, the rocksteady style which was prominent in Jamaica in the late Sixties never quite got its due.
This beautifully shot and cleverly conceived doco should rectify that because while it contains fascinating historical (and contemporary footage) of Jamaica, it is the generous spirit of the musicians -- many elderly -- which is as persuasive as the bouncy rhythms and socially responsible lyrics.
Through the agency of largely ignored greats like Stranger Cole (what a lovely man!), Hopeton Lewis and Derrick Morgan to the regal Judy Mowatt (seen shopping in a market), Dawn Penn and Rita Marley, this doco takes you to the heart of this seductive music which laid the groundwork for the subsequent style, reggae.
The premise was to get a bunch of the originals together to re-record some of their hits (the cellphone going off stops a session but they pick it up without dropping the mood) and a subsequent concert, which is the extra feature on the DVD.
Director/writer Bader takes his camera into the Tuff Gong studio and the artists' homes and gardens, lets them speak for themselves and doesn't get in the way of the warm music.
So here all of Bob Marley's I-Threes (Rita, Judy and Marcia Griffith), ska pioneer Ernest Ranglin meeting up with people he hasn't seen in four decades, and so many of those glorious rocksteady songs: Silent River Runs Deep, Tide is High, Stop That Train . . . .
Stranger Cole says at the start he was worried that this music he loved would be forgotten if their story wasn't told. He needn't worry now.
This enlightening, funny, moving and honest film has ensured that if anyone wants to know about the magic of rocksteady and its prime movers they need only come here -- and be bewitched by the self-effacing musicians and the rich colour of Jamaica and its people on the screen.
Rocksteady, "calm and easy" as Cole says.
An essential music doco which should take its place alongside Wim Wenders' Buena Vista Social Club and Martin Scorsese's No Direction Home about Dylan.