Graham Reid | | 4 min read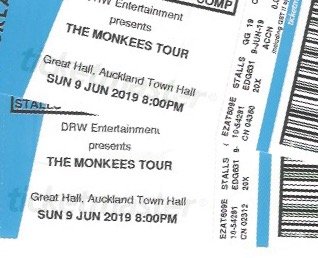 Two days after telling a friend I was a bit over all the touring nostalgia acts – not the least the UK punk-era bands trotting themselves out again – we went to see
the Monkees
at the Auckland Town Hall.
Well more correctly, Mikey Dolenz, Mike Nesmith and their five-piece band (plus two women backing singers) in a concert announced as the "Mike and Mickey show" by the MC . . . the word "Monkees" only been said twice during the whole concert.
So why, given the scorn I'd heaped on nostalgia acts, go to a Monkees' show when Dolenz is 74 and Nesmith even older?
Well, because we inherited two tickets from a friend who went overseas (which seems an extreme measure to avoid a Monkees' concert) but also because – unlike those punk acts, the relics of a musical movement which was anything but nostalgic -- the Monkees in their day delivered enjoyable pop hits.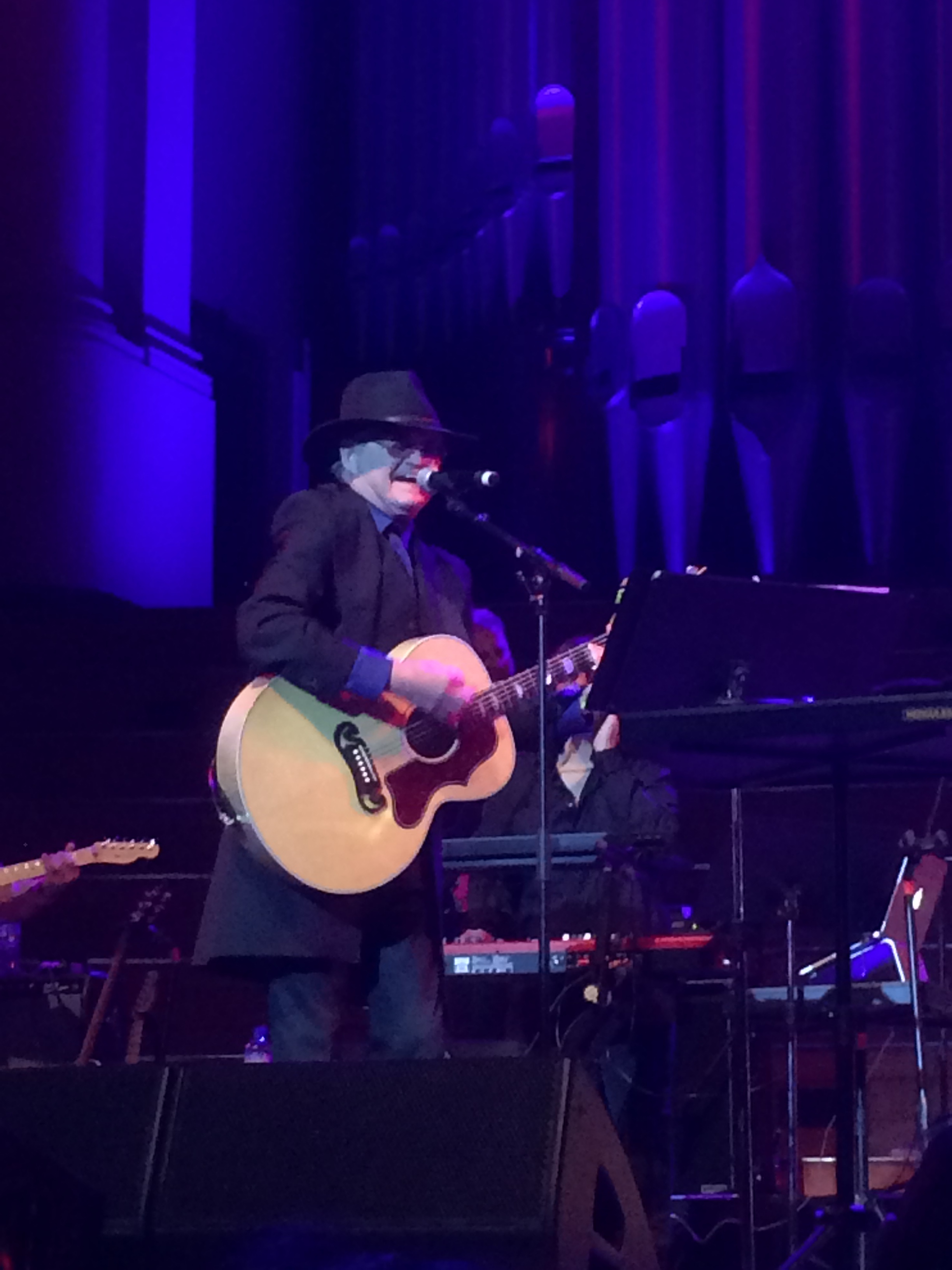 If the UK punks have anything to offer it is the same old phlegm and fury from Thatcher-era Britain but the Monkees, unashamedly, were about fun, entertainment and catchy pop songs.
And that never dates.
In addition, this version of the Monkees – the sole remaining members after the deaths of Davey Jones and more recently Peter Tork – had Nesmith there, a gifted country-rock songwriter who'd penned excellent songs before the Monkees (Different Drum) and enjoyed a fine solo career afterwards.
That might explain why Nesmith – the most reluctant Monkee and averse to reunions for decades – got the lion's share of the songs they played (about two thirds at a guess).
Dolenz repeatedly referred to certain songs being written by "Nes", and the deal to get him back on the road might have swung on that.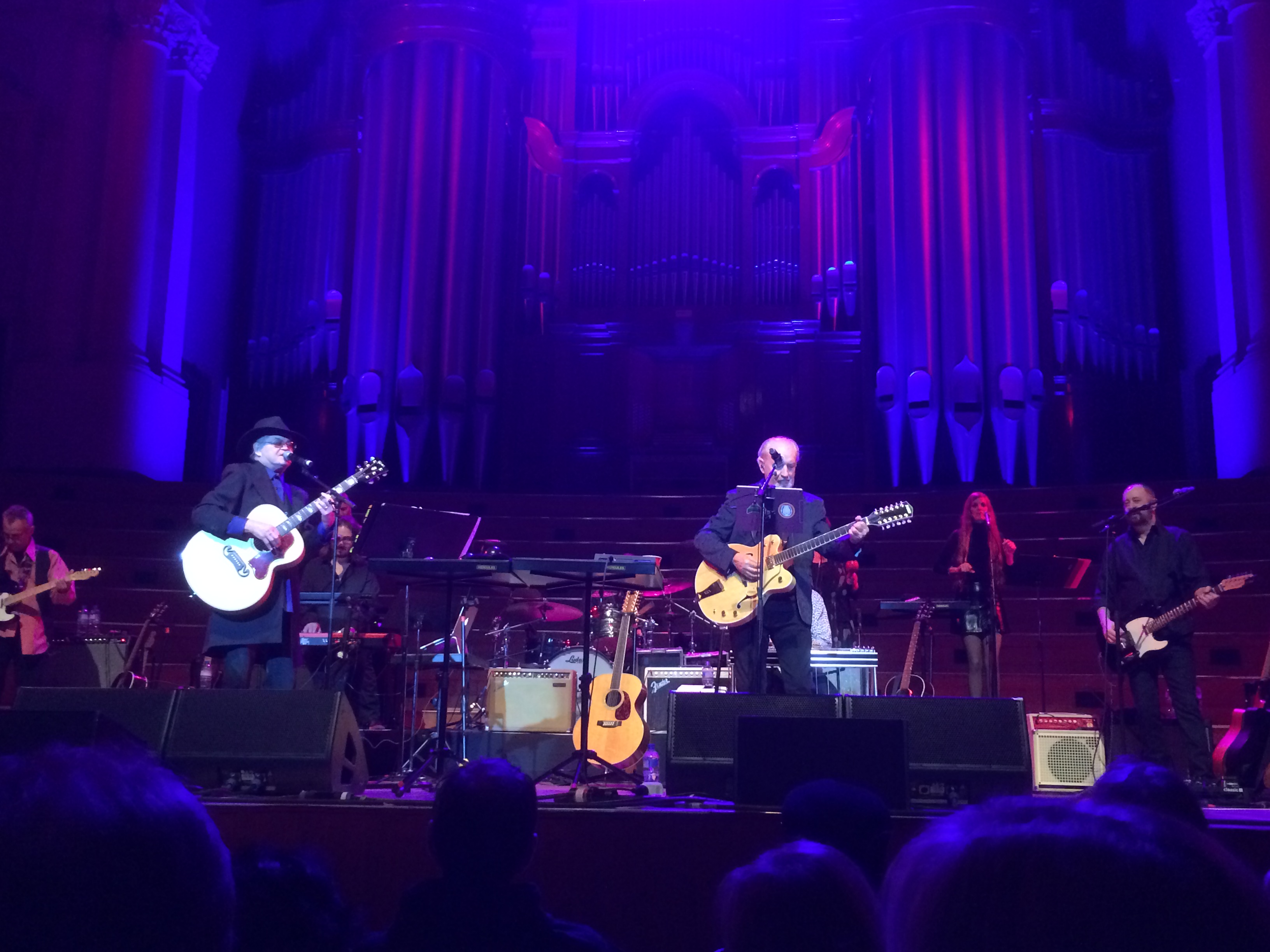 As Dolenz noted, way back when they were being handed songs by the likes of Boyce-Hart, Goffin-King and Nilsson to cover for "the television show" (unnamed) and albums, Nesmith came to him and suggested he (Dolenz) start writing songs: "Because that's where the money is."
If that seems cynical, the show didn't come off like that.
Certainly they played a number of their best known songs: Last Train to Clarksville, Mary Mary, Randy Scouse Git, Little Bit Me Little Bit You, Pleasant Valley Sunday and of course a singalong on Daydream Believer at the end.
But it was more in the details around those songs, some of which – like the jangle-free Clarksville, Dolenz breathless on the wordy Randy Scouse Git – revealed the shortcomings of age, evident also in a few missed cues also.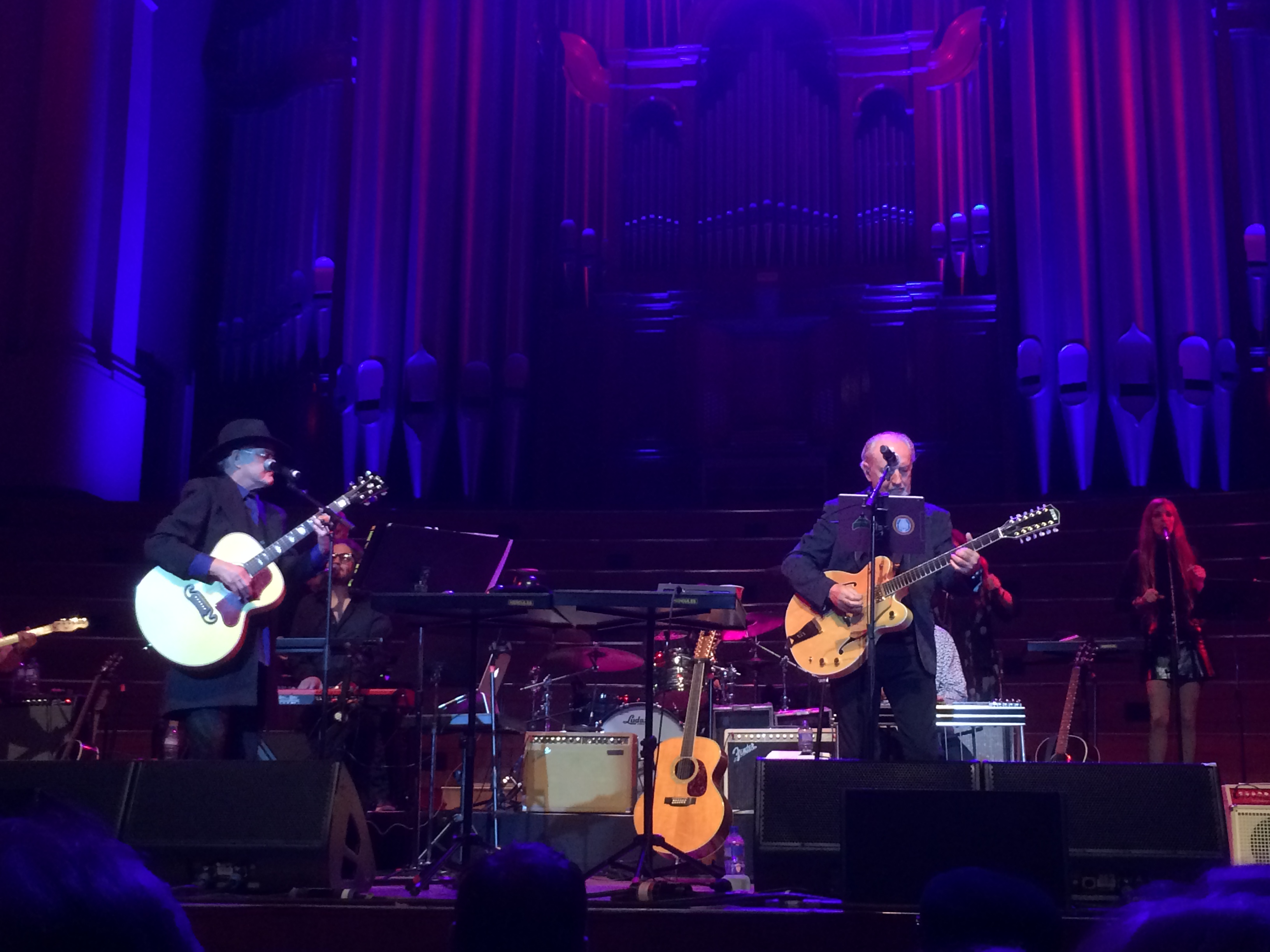 But at other times – like the storming Stepping Stone (covered by the Sex Pistols we remind ourselves) and Nesmith's Papa Gene's Blues in the acoustic set which opened the second half – this concert rose to some well above fair-to-middling.
Nesmith may look like an aging architecture professor with a secret penchant for Spike Milligan humour (the twinkling eyes, nonsensical asides, sometimes willful undermining of Dolenz's more business-like professionalism), but at times his voice soared, came off an an impressive country crooner on Tapioca Tundra or sparkled with delight, as on the unexpected treat of his solo hit Rio when he smiled with wicked amusement for the lines "but then again I just might".
So it was the material beyond the hits which impressed: a nice reading of the late Tork's For Pete's Sake which closed the TV show; Me and Magdalena penned by Ben Gibbard of Death Cab for Cutie for last year's Monkees album Good Times!; Dolenz on the dreamily psychedelic Goffin-King Porpoise Song from their career-killing home-movie Head (a song which prompted some interpretive dance hand manoeuvres from the backing singers, the considerable senior of the two being Dolenz's younger sister).
Unfortunately the Noel Gallagher-Paul Weller contribution to Good Times!, Birth of an Accidental Hipster, confirms that two great songwriters together do not necessarily write a great song, Dolenz, Nesmith and the band struggled with its time and tone changes.
But the band were fine – Nesmith's son Christian on guitars, and his wife Circe Link the other female vocalist – because most often the default position, even on songs like Clarksville was country-rock.
And Nesmith was quite the charmer, possibly a little stoned and the more impressive of the two. Pity he didn't do Lucy and Ramona, the young band members looked like they might have enjoyed letting loose on that one.
By the end the music had been served, history acknowledged, small japes and humor enjoyed and without requesting an encore the audience of mostly – but not exclusively – seniors filed out.
The past is another country and they did things differently then, like clapped in time, laughed and sang more loudly, and the Monkees songs came in a more youthful and joyful context.
Would I go and see another nostalgia show?
I doubt it . . . although John Cale (a little older than Nesmith) and Mo Tucker (Dolenz' age) with a kind of Velvet Underground and Cale solo set?
But even then, nah.
Nostalgia doesn't age well, and nor do we.