Graham Reid | | 7 min read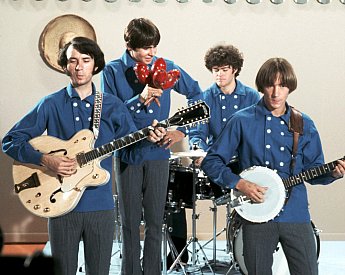 The point about the Monkees is that most people miss the point about the Monkees.
Back in the late Sixties some people – and some even today – got very exercised about the Monkees not playing their own instruments on their early albums. Gee,and can we start an alphabetical list of artists who didn't? The Association, all the vocal acts on Motown, the Beach Boys . . .
And then there was that almost existential conundrum: Were they musicians pretending to be musicians on a television show in which they acted, were they actors pretending to be musicians on a television show about a band of musicians . . .
The point about the Monkees – who appeared for the first time half a century ago this year – is that they were entertainment.
They were silly fun with songs, a surrogate Beatles for a new generation which missed Beatlemania and didn't get – because they were just 14 – the innovations of Rubber Soul and Revolver.
But even for those who had begun with the Beatles and therefore had an appreciation of the art form which is the 45rpm single, the Monkees delivered the goods.
Nothing wrong with Last Train to Clarksville, the theme to their television show (always smart to mention yourself in a song, right Bo Diddley and the Verlaines?), I'm a Believer, Pleasant Valley Sunday, A Little Bit Me A Little Bit You, Daydream Believer, I'm Not Your Steppin' Stone (a garageband rocker covered a decade later by the Sex Pistols), Valleri . . .
If you can't get the two minute-plus genius of those songs then you are far too old for pop music, one of the building blocks of rock.
Okay, they didn't write most of those hits (now who would we exclude from the pantheon because of that failing, we'll start with Elvis shall we?). And yes, maybe they didn't play on them (but the Wrecking Crew did!) so . . .
But they were terrific pop singles and isn't making terrific songs all we ask of pop stars?
And let's look at who wrote their early material: the great songwriting duos of Tommy Boyce/Bobby Hart and Gerry Goffin/Carole King and Cynthia Weil/BarryMann, Neil Diamond (before he stepped out on his own), David Gates (before he formed Bread), Jeff Barry, Harry Nilsson, John Stewart . . .
That is an implosion of pop talent right there.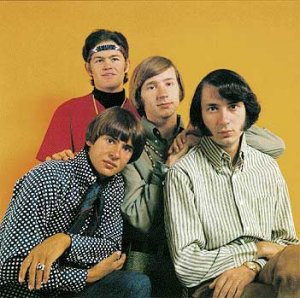 Then they started to write their own stuff. Mike Nesmith from Texas gravitated naturally towards country-rock (he'd already written Different Drum, the first hit for Linda Ronstadt when she was in the Stone Poneys), Peter Tork had been a folk singer in New York where'd met Stephen Stills (who recommended he try out for the Monkees auditions after he'd been turned down) and Mickey Dolenz had been a child actor but proved an efficient drummer with a natural rock'n'roll voice (he would write Randy Scouse Git the morning after a party the Beatles had thrown for them in London).
Davy Jones had been a British child actor and although he didn't write he could pull off their quirky music hall-styled songs and soppy ballads (much as McCartney could do with When I'm 64, Martha My Dear etc).
That is an implosion of pop talent right there.
Let's deconstruct the Monkees for latecomers: They were a bunch of young men brought together as a readymade group (this won't be unfamiliar in the post-Simon Cowell world) and they had their own television show where they all lived in a big house together (see the Beatles' Help!) and got into merry japes and sit-com vignettes usually up against conservative types (is this ringing any bells if you've seen A Hard Day's Night?) and . . .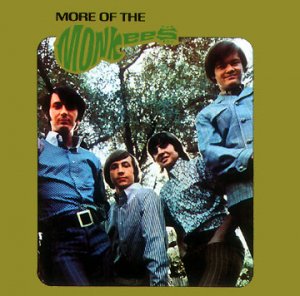 So yes, manufactured pop off a production line (viz Berry Gordy's Motown).
So far, so little surprising.
The producers Bob Rafelson and Bert Schneider had been huge Beatles fans and first thought of the Lovin' Spoonful to play the imaginary band, but the members' personalities weren't distinctive enough so they had auditions.
It was made clear from the start that Nesmith, Dolenz, Tork and Jones would simply be actors and wouldn't play on the songs they were given. But with two – and then three – songwriters in the band . . .
At some point early on it was decided they would use their own names so, as Nesmith (always the most reluctant to accept the constraints) said recently, "That was the start of the Pinocchio thing, because they said if you're real people use your real names.
"That was a choice, to conflate our real selves with the TV show. My character became Mike."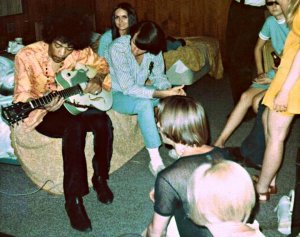 What was surprising is just how far they rode it: into writing and playing their own material, taking charge more of what they recorded and their touring . . .
At Dolenz' insistence they had Jimi Hendrix Experience open for them on a tour in '67. It was, of course, to be a marriage made in Hell because young Monkees fans had no interest in, and were probably terrified of, Hendrix's music and stage performance.
Hendrix didn't think much of the Monkees music ("dishwater") but he and his manager realised he needed to tour in the US to capitalise on the success the Monterey festival had brought.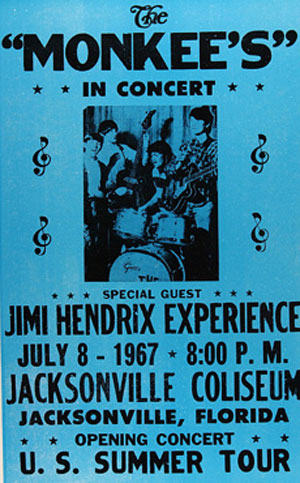 But the Monkees were genuine fans -- Nesmith had first heard Hey Joe when John Lennon brought a copy along to the dinner they were having with Eric Clapton and Paul McCartney.
They said they just wanted to watch Hendrix every night , so although it might have also been part of positioning them more as serious musicians, their intentions were honourable … even though their fans screamed for Davy during Jimi's set.
Hendrix and the Experience last eight of the scheduled 29 shows on the tour.
"I was sorry to see him go," wrote Dolenz in his autobiography. "We did have some great times, running around the New York City psychedelic scene like kids in a candy store, tripping at the Electric Circus and jamming until all hours of the night in the hotel room."
There is no evidence to support the rumour that the conservative Daughters of the American Revolution had demanded Hendrix be kicked off the tour.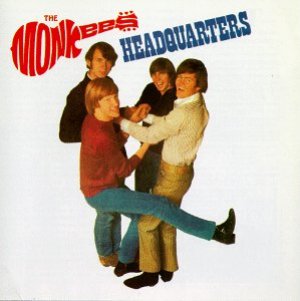 The first album where the Monkees started to take control of their recording career was Headquarters in '67 (produced by Chip Douglas, bassist with the often tongue-in-cheek Turtles) and it's an excellent, often stripped down pop album where all their various voices come through. Nesmith increasingly became a confident country-rock singer-songwriter and recorded Monkees songs in Nashville with the likes of Norbert Putnam, Charlie McCoy, Lloyd Green and other top flight session players..
The television series was cancelled in '68 . . . and to their undying credit they made the post-modern film Head (written by a somewhat stoned Jack Nicholson and which included cameo by the likes of Frank Zappa and included brutal images from Vietnam) which effectively killed them off as teen pop stars.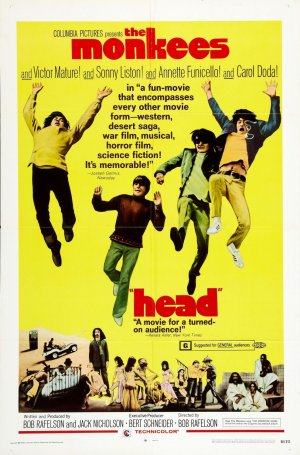 They parodied themselves, so there was no going back to television after the surreal Head, a movie that bewilders and amuses and repulses to this day.
By that time they counted among their friends and peers various Beatles, the Byrds, Donovan, the Laurel Canyon crowd and many others who heard and accepted the talent, and didn't care about the manufacturing of their image.
Tork quit, then Nesmith and then. . . various versions of the former members toured and recorded together (not Nesmith however) and there were sometimes reunions.
And they haven't gone away . . . in a week's time of this writing, in this anniversary year, there is going to be a new album (Good Times!) produced by Fountains of Wayne's mainman Adam Schlesinger.
And alongside songs by Boyce-Hart, Goffin-King (the Byrds/Easy Rider song Wasn't Born to Follow), Nilsson, Diamond, Dolenz and Nesmith are songs by River Cuomo of Weezer, Andy Partridge (XTC), Ben Gibbard (Death Cab for Cutie) and Paul Weller with Noel Gallagher on a song entitled Birth of an Acidental Hipster.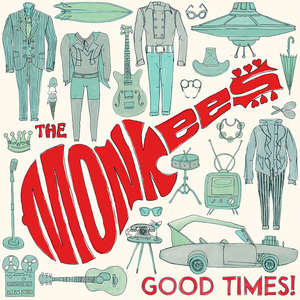 It seems that, as always, the musicians were always more hip to -- and accepting of -- the Monkees than the prissy critics.
Reluctant Monkee Nesmith is back in the fold (albeit briefly) for the album and the voice of Davy Jones -- who died in 2012 -- is being beamed in (Lennon-like as in the Beatles' Free As Bird and Real Love) from the great beyond.
And don't you love that the album title comes with an exclamation mark?
Just like the Beatles' Help!
But the Monkees legacy was the smart pop of that three year period in the transitional and turbulent psychedelic years of the Sixties, and a television series which – like Help! – remains just as juvenile and amusing as it was at the time.
As Time's James Poniewozik said recently, "It was far better television than it had to be; during an era of formulaic domestic sitcoms and wacky comedies, it was a stylistically ambitious show, with a distinctive visual style, absurdist sense of humour and unusual story structure."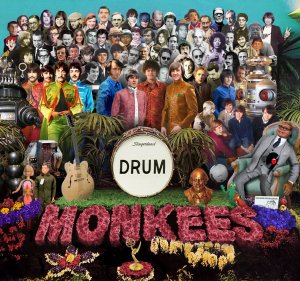 The Monkees were manufactured television musical entertainment which became real.
Post-modern or what?
Subsequently Mike Nesmith had an impressive solo career and also as a songwriter before moving into film, video and film production; Peter Tork's career in folk and folk-rock was less successful and he was always up for Monkees reunions; Mickey Dolenz went back into television and film doing voice-over work and the occasional acting appearance; and Davy Jones had an intermittent singing career and acting roles (sometimes playing himself, the pop idol).
He died in February 2012.
But the Monkees' music and television shows live on . . . and the further away from them we get – now 50 years – the better they seem to have been.
Because the point of the Monkees was very simple.