Graham Reid | | 3 min read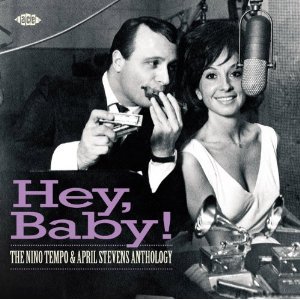 Right up until opening the booklet to this 24 track anthology of this duo who had the huge hit Deep Purple in 1963/64, I always thought Tempo and Stevens were a couple. The love lyrics of their originals certainly suggested that.
But they were brother and sister, born to a first generation Italian-American family in Niagara Falls. Their father was a grocer and mother an aspiring beauty queen when younger, and their two kids were not only ambitious (and with a very supportive mum) but were also precociously talented.
On a bet from his grandfather, at age five Nino clambered onstage and sang when Benny Goodman's band played in Buffalo (he got to sing every night for the rest of the week) and made it in Hollywood in movies like The Story of GI Joe (with Robert Mitchum in '45) in bit parts (The Girl Can't Help It, Beakfast at Tiffany's) and as a Benny Goodman-like character in The Glen Miller Story.
Stevens had a decent career as a singer in the Fifties until she retired (her lover didn't want her to be in the spotlight) while Tempo started doing well as a songwriter for the likes of Rosemary Clooney, Eydie Gorme and Steve Lawrence. He was also spending a lot of tme in the studios as a musician (for Phil Spector and as Bobby Darin's saxophonist).
When the siblings got together to sing as a duo around 1960 they could call on the Wrecking Crew, Darlene Love and other famous friends. However it wasn't until '63 when -- in the final 15 minutes of a session -- they knocked off the breathy Deep Purple (co-produced by Tempo and Ahmet Ertgun who was a great supporter).
Deep Purple went global (it was renamed Purporrot in Germany) and was a US top-seller at the time of the Kennedy assassination.
This non-chronological collection kicks off with that MOR gem but it is what is elsewhere which is very interesting: All Strung Out from '66 is pure Beach Boys (with stacked up vocals and echo), Sweet and Lovely has that slight swamp-funk quality of Charlie Rich's Mohair Sam (although writen and recorded a few years previous and with soul-sister backing vocal) and April's Wanting You from '67 is Motown-influenced soul pop.
And their version of I Love How You Love Me in '65 must be one of the first pop songs to have a bagpipe riff hold it together. (The arrangement was faithfully adopted but sung with much more urgency by New Zealand's all-girl group the Fair Sect's the same year).
And if Warren Zevon's Follow Me wasn't aimed at having the Monkees cover it I would be very surprised, it's part last Train to Clarksville and I'm a Believer . . . and you can just hear Mickey Dolenz doing it.
The small print here is fascinating: the duo covered You'll Be Needing Me Baby in '66 written by David Gates (later of Bread), Tempo co-wrote with Jeff Barry (the urban soul of Sister James from '73) and Stevens' sensual and sexy Soft Warm Lips (the closest America got to Je t'aime?) from '53 was written by well-known jazz arranger and longtime New Zealand resident, the late Russ Garcia.
They also sang Bruce Channel's Hey Baby which New Zealand's Underdogs had an unexpected local hit with and has subsequently become -- in a punched up version -- a sonic punctuation at rugby games. It wasn't a hit for Tempo and Stevens however, and they were off Atlantic Records and at White Whale (home of the Turtles) where Tempo was given a free hand.
There are oddities here (the purring Love Kitten, Wings of Love where Tempo shaves off a little of the Tokens' version of The Lion Sleeps Tonight/Wimoweh) but also their lovely version of the Mann-Weil ballad The Coldest Night of the Year (again a nod to the Beach Boys). There is also material you are surprised weren't hits in the mid Sixties (Alone Alone, Out of Nowhere which is another Monkees-like pop song, the Spector/Brian Wilson-influenced Boys Town Where My Broken Hearted Buddies Go).
But by then the smooth sound of Nino Tempo and April Stevens had been shoved off the pop charts by the British Invasion and the American fight-back. Groups with guitars were in . . . and brother-sister acts -- especially this one who seemed to belong to the pre-Beatles era -- were marginalised.
Unfairly you might say on the strength of this excellent collection.
And the final track is a weird, sexy spoken word piece by Stevens (now 75) which is like a Fifties Playboy reader's idea of the weather forecast girl in an ideal world.
Fascinating collection from MOR, dream pop and lightly psychedelic angst to jazz (Amazon River from '93), funk and . . . the weather girl.
Like the sound of this? Then check out this.