Graham Reid | | 1 min read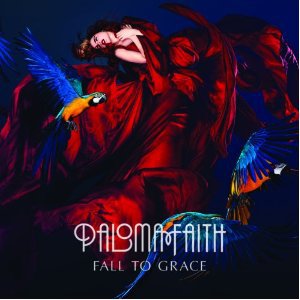 As Poloma Faith's contemporaries Duffy and Rumer have shown, the difficult second album is much harder to survive than even the cliche suggests. Duffy's Endlessly was woeful and Rumer simply sidestepped the challenge by releasing a covers album Boys Don't Cry.
Faith however -- who impressed on her debut Do You Want the Truth or Something Beautiful? -- almost comes through the fire on sheer gutsy energy alone. There's no denying the soul-kick and melodrama of Picking up the Pieces which opens things here. Lyrically it addresses that uncomfortable feeling in a new relationship (comparison with a former lover) and she manages to convey the uncertainty as well as the angry declaration that "now she's gone, I'm picking up the pieces she left behind".
Perhaps Nellie Hooper's production might have been a little more spare to throw that voice further up front, but as a single and opening statement here it hooks you in as slice of powerful soul-pop.
Later she also nails the restrained ballad Beauty of the End and the slow burning When You're Gone, although the constrained 30 Minute Love Affair shoves more towards orchestrated New Wave (think Lana Del Rey filtered through Cyndi Lauper) and the piano ballad Just Be sounds stilted. Agony is slight despite the effort she puts into it, and you'd wish the faux-gospel and melodramatic Streets of Glory at the end had been dropped.
But when she gets to that intersection of Al Green, Etta James and Kimbra (yep, she's become a touchstone) -- on Black and Blue despite some embarrassing lyrics, Let Me Down Easy -- Faith really brings this one home.
She's also at home on the dancefloor (despite the slightly gauche lyrics about her insecurities when looking in the mirror on the otherwise mirrorball-friendly Blood Sweat and Tears) and over sonic effects serves up the kind of old school Elton John ballad on Let Your Love Walk In. So the album pushes quite a number of buttons. Too many for coherence, it has to be said.
If some of the elements sit a little uneasily -- annoyingly mannered enunciation in places, and you'd hope for a less kitchen-sink production next time, she hardly needs it with that lung capacity -- it seems Paloma Faith has managed to get over the difficult second album hurdle. Just.