Graham Reid | | 2 min read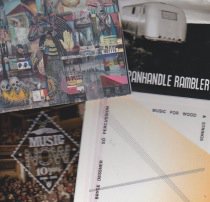 With so many CDs commanding and demanding attention Elsewhere will run this occasional column which scoops up releases by international artists, in much the same way as our SHORT CUTS column picks up New Zealand artists.
Comments will be brief.
Bryce Dessner/So Percussion; Music for Wood and Strings (Brassland): One of the most innovative and exploratory guitarists around, Dessner -- of The National but who has done extramural projects with the Kronos Quartet and Steve Reich, and founded the decade-old musicNOW Festival, see below -- here with the So percussion ensemble plays what he calls the "chordstick". These are akin to retuned electric guitars played like a hammered dulcimer, and are capable of very subtle sounds. This 35 minute work appears as nine separate movements but also as one long selection. With echoes of minimalism (Section 3), allusions to Japanese or Korean traditional sounds as much as old American music, and with a compelling sonic palette of drones, scrapes and melodic passages, this really is a low-key winner which might have you easing back to Fripp and Eno, Fred Frith, gamelan albums and others. Recommended, and not as challenging as it might sound. Check out the clip.
Various Artists: musicNOW 10 Years (Brassland): Bryce Dessner (on whose label this appears) founded this innovative festival a decade ago and he sure has impressive pals: here are Sufjan Stevens, Robin Pecknold (of Fleet Foxes), My Brightest Diamond, Dirty Projectors, Tinariwen, Bonnie Prince Billy, Grizzly Bear . . . These artists often perform with others outside their usual orbit or are commissioned to write something. The sound is uneven (Pecknold appears to have been captured on a cassette recorder at the far end of the room) but the musical quality -- from soft folk to old country and edgy alt.rock rock to Sahara blues -- is excellent. Consider it the SxSW for artists prepared to experiment. For more on this album see here.
Rose Windows; Rose Windows (SubPop): The 2013 debut by this band from Seattle Sun Dogs was a swirling mix of psyche-rock, hefty riffery and Middle Eastern exoticism. So they were always going to get a fair hearing at Elsewhere and -- because if it ain't broke -- here they are again, still sounding a bit like Moby Sabbath fronted by a Grace Slick fan, although they have pulled back quite a bit on the metal edge and exoticism. Not quite the winner that Sun Dogs was and they come up a little short in the Truly Memorable Song department, but their colorful caravan rolls on and this is very pleasant diversion (their folk-flavoured comin' down album in places), if not exactly essential.
Joe Ely; Panhandle Rambler (Rack 'Em/Southbound): Although a longtime Elsewhere favorite, the great Joe Ely here -- on a well produced collection with excellent players -- doesn't exactly excite. It would be foolish to expect him to have the fire he once possessed or even change the successful template of storytelling Texas music with Spanish influences. But if you are familiar with Ely this will be perhaps just a bit too familiar. Some fine songs of course (the mythical-autobiographical Wonderin' Where, the brooding Burden of Your Load, the Dylanesque classicism of Magdalene written by Guy Clark and Ray Stephenson, the mysterious Cold Black Hammer), but enjoyable though this is, these are much travelled pathways.