Graham Reid | | 2 min read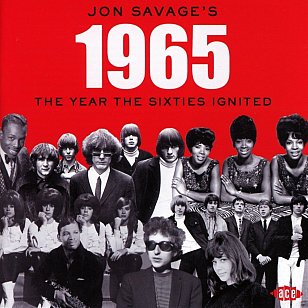 Our longtime From the Vaults column usually pulls out a single oddity, an interesting track or an artist with an unusual backstory . . . but here is a whole album which could fill our Vaults column for many months.
Because this is whopping 48-song double CD (on Ace through Border in New Zealand) turns the spotlight on a remarkable year in pop music when – as Beatlemania was on the wane, at least for the Beatles, and Dylan's head was turning electric – pop music still had its roots on black r'n'b and soul, as well asFifties references, but was also easing past holding hands and simple beat-era pop and into more musically interesting and lyrically mature areas.
It was the year of the Beatles' Rubber Soul, the Stones' singles The Last Time and Satisfaction (the latter the pivot between pop and rock?) and Dylan's Bringing It All Back Home and Highway 61 Revisited among many other breakthroughs.
The Byrds launched folk-rock, the Small Faces brought white soul into pop (Whatcha Gonna Do 'Bout It) and the Kinks, the Who and many others were unleashed on an unsuspecting world.
This collection however obviously has no Beatles and Stones (copyright), just one Dylan track (From a Buick 6) and just one apiece by the Who (the explosive tension-release of Anyway Anyhow Anywhere), the Jeff Beck-era Yardbirds (Heart Full of Soul written by the gifted Graham Gouldman), Manfred Mann (Dylan's If You Gotta Go, Go Now) and the Hollies (the thrilling treble-heavy guitar sound and vocal harmonies of I'm Alive).
But critic and compiler Jon Savage is suitably eclectic in his selection . . . because back then radio was also less attached to genre and advertisers. So Wilson Pickett's In the Midnight Hour and the Supremes' Motown soul ballad My World is Empty Without You would be there naturally alongside the Animals' brutal It's My Life, the Byrds' I'll Feel a Whole Lot Better and the Kinks' See My Friends B-side See My Friends (which introduced the Indian-influenced drone months before the Beatles' sitar-coloured Norwegian Wood).
All these terrific songs are here but so too are less expected items: the great Del Shannon with his desperate and dense pop epic in just 2.30 on Stranger in Town; the then-virginal Marianne Faithfull with Come and Stay With Me (her deflower-me come on); Martha Reeves and the Vandellas' Nowhere to Run; the Seeds and the Leaves coming out of the r'n'b garage with Can't Seem to Make You Mine and Too Many People respectively; the Barbarians' capturing the longhair moment and the jibes from shorthair morons with Are You A Boy or Are You A Girl; Lee Dorsey with Can You Hear Me; Donovan's Hey Gyp; the addictive Nawlins' sound of Iko Iko by the Dixie Cups . . .
And the wicked Wilson Pickett with In the Midnight Hour.
For those who like marginalia here too are Vashti Bunyan (who has been rediscovered by left-field folkies) with the moody Jagger-Richards composition Some Things Just Stick In Your Mind (guitarist Jimmy Page as a session player); the Birds' raw take on Holland-Dozier-Hollands' Leaving Here (Ronnie Wood on guitar), the Anglos' big band-cum-soul on fire with Incense (produced by Jimmy Miller), the Everly Brothers' excellent obscurity The Price of Love (with earthy and bluesy harmonica), the Vejtables' obscurity Anything (which you could imagine Marlon Williams covering); the subsequently much covered Seeds track Can't Seem to Make You Mine; the Pretty Things pulling back from raucousness with the folk-rock blues of London Town . . .
Pity there's no PJ Proby though . . . but there is James Brown with Papa's Gotta a Brand New Bag, Marvin Gaye, the Shangri-Las, Sir Douglas Quintet . . ..
And here too are one-off hits like the addictive Concrete and Clay by Unit Four Plus Two which launches this selection.
Jon Savage's 1965 is a much more interesting and representative radio station of that year than any of those which pretend to play "the hits of the Fifties, Sixties and Seventies" or whatever.
The real story was always being told not just by the stars of the moment by the fellow travellers and bit players . . . . and they, along with key hits, are well represented here.
Aside from a terrific and all-encompassing collection, this is a remarkable reminder that music was never meant to be balkanised into categories and genres for the convenience of marketing people.
Accept no substitute when someone tries to sell their idea of a year's greatest hits distilled as comfortable radio-play nostalgia.
This ain't no Spotify playlist and ain't no Classic Hits, this is just the way it was.