Graham Reid | | <1 min read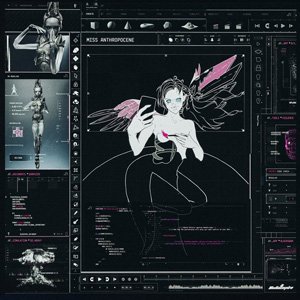 Some musicians transition from being an enjoyable pop figure into An Important Artist. Rare ones – such as Jimi Hendrix and Billie Eilish – arrive with a significant debut album, but most take time getting there. Even David Bowie played Zelig-like roles through glam pop and faux-soul before his innovative "Berlin Trilogy" in the late 70s that announced his graduation from a significant figure in pop culture to An Important Artist.
The transition in these cluttered days of ubiquitous social media is probably measured by the artist going from goofy Instagram pictures to a Guardian profile.
Grimes – 31-year-old Canadian Claire Boucher, who studied Russian literature and neuroscience at Montreal's McGill University – has always delivered ambitious electronica-cum-R&B pop. These days she's also famous as the pregnant partner of tech mogul Elon Musk.
However, her new album, Miss Anthropocene, sees her elevation towards the pantheon of Important Artists. In a cover as coded as the music, Miss Anthropocene takes its title from an amalgamation of "misanthrope" and the Anthropocene, the epoch in which humans began to directly affect Earth's ecosystems.
These are big references and this, Grimes' fifth album, opens with the stentorian gloom and gloriously disorientating six minutes of So Heavy I Fell Through the Earth. It signals a desire for gravitas. What follows are . . .
To read the rest of this review go to the Listener here.
You can hear this album in an expended edition with remixes on Spotify here.