Graham Reid | | 4 min read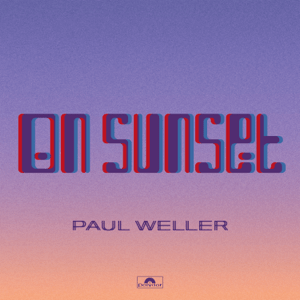 From time to time Elsewhere will single out a recent release we recommend on vinyl, like this one . . .
.
Paul Weller's albums are a bit like films by Woody Allen or Ken Loach. If you miss one it doesn't matter because another will be along soon.
On Sunset is his 15thsolo album but it has been five years since we seriously checked in with his progress (for Saturn's Pattern) and there were two other albums (A Kind Revolution, True Meanings) and an EP in the interim.
Note to self: Check what Woody and Ken have been up to lately.
But a cursory listen to a few tracks from On Sunset suggested this was a very good time to come back to the 62-year old who has always pushed himself forward even as others were hailing him as The Modfather, a compliment but one reviving his past and not his ever-changing musical moods.
And yet, to be fair, Weller has most recently juggled the past in retro-fitted songs as he explored other musical possibilities and addressed the concerns of his age (among them, not becoming nostalgic).
If he seemed to be akin to a post-punk McCartney (two successful bands, a substantial and diverse solo career) his recent brief EP In Another Room (sound collages and experimental passages) nudged him closer to Thom Yorke's soundtrack music.
Weller's range is admirably wide and – with no real frisson of nostalgia – On Sunset touches on many points in his past (In Another Room's edginess among them on the seven minute-plus opener Mirror Ball).
And over the 10 songs he creates an impressive tapestry from his musical colour chart.
Most noticeable and approachable are the three songs which feature Style Council keyboard Mick Talbot where Weller's white soul comes through, notably on the slightly funky Baptiste where he acclaims the redemptive power of soul music.
There, on the breezy Village (an irony-free song extolling the virtues of contentment, a rare theme in popular music) and the easy-going Walkin' (with some odd synth sounds), Weller sounds utterly at home within the genres, a man of questions but almost at his ease.
The oddest piece is the whimsical Equanimity which harks back to a kind of jaunty faux-music hall/Edwardian style which was common in the late Sixties (Small Faces, Beatles, Kinks, Bonzos) when British psychedelia had an edge of eccentricity.
In the context of this album – which in other places has real lift-off – it is an odd fish.
And the jury is out round here on Old Father Tyme. We get the idea, the soul-horns sound and elder statesman sentiment ("in this time of confusion, hang on to what is real . . . old Father Tyme, he don't care") . . . but not the song itself.
However the best – and that is most of this – can be found in the challenging Mirror Ball, those three with Talbot, and the terrific six minute-plus centrepieces of More (a laidback groove with French singer Julie Gros which morphs into a thrilling tripped-out psychedelic second half) and the lovely title track.
Both have exceptional string arrangements which reminded this listener of the soundtrack to The Old Man and The Gun by jazz composer Daniel Hart (a track from which we recently posted at From the Vaults).
On the title track – which again picks up a cruising groove – he considers Sunset Strip which he knew from Jam days and how so much there (and within him) has changed since and "just how long it's been".
This is a man accepting his age and past with equanimity.
Earth Beat errs more towards his recent experimentalism in its opening passages then resolves into a standard r'n'b Weller song. It's good, but it suffers from being in this impressive company.
Yet Weller crafts an uplifting, almost Bowie-like, ballad in the elevating Rockets right at the end.
It is a critique of our world of money and politics ("if you can join the dots") but is positively life-affirming because "love's still in control" * before the cinematic strings sweep in. It is lovely and when those uplifting strings come in this is just glorious. One of the finest songs in his extensive and expansive fortysomething career.
There's a lot of Paul Weller's illustrious past on this ever-so-slightly uneven collection but for the most part it exists here as stepping off point for him, a place of departure and somewhere to confidently return to.
While you are waiting for that next Woody or Ken film, On Sunset is an enjoyable and intelligent album to reconnect with Weller if he's been a little off your radar.
By the end – after that subtle and charming Rockets – you'll hope there's another Paul Weller album along soon.
* Update. My hearing of this lyric was far too optimistic, doubtless because of the uplifting music. The actual line, now that I have the vinyl with a lyric sheet, is "the institutions . . . old but still in control".
.
For other Recommended Record reviews see here.
.

You can hear the Deluxe edition of On Sunset with extra tracks at Spotify here.
.
It is also on CD, vinyl or double vinyl (which we recommend) at your favourite record store.

.
Incidentally Paul Weller's 22 Dreams was in Elsewhere's best of 2008 list and his Wild Wood of '94 has long been an Essential Elsewhere album.
.

In 2017 we cast an ear back over his then-recent catalogue as well as solo albums such as Sonik Kicks (2012) and there are other articles about his Jam and Style Council careers starting here.